U of L professor warns of the dangers of mental disorders
Extreme mood swings, six medications, several hospitalizations, suicide attempts, and more than four surgeries are just some of the things that Dr. Jim Jones, law professor at the University of Louisville, has endured while living with his mental illness.
Jones came to IU Southeast Feb. 9, 2014 to speak with students about his struggles with his mood disorder.
Jones started having symptoms when he was in high school. He said he was not officially diagnosed with bipolar until 1985 at the age of 32. Before he was diagnosed he said he had a severe case of duodenal ulcers at 15-years-old.
"My illness is severe," Jones said. "I have tried to commit suicide and have lost a job over it."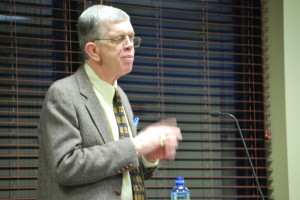 Jones said that he kept his illness a secret for 28 years until 2008 because he was scared to stigmatized. He said many families are embarrassed when they find out a loved one has bipolar disorder.
"Bipolar is categorized as a psychological disorder," Michael Day, IU Southeast doctor of psychology said. "It's a condition that affects our moods primarily."
Day said that symptoms of bipolar disorder include strong mood swings, depression for more than four days, or being extremely happy, which is called a manic episode.
While Jones was working for a law firm in Jacksonville, Fl. he said a judge had convinced him to seek help for the first time to help with his depression and mood swings. In 1978 Jones said he didn't think he would live past the age of 30 because of his thoughts of suicide.
"I made my first attempt of suicide in '83," Jones said. "I ended up being committed to the hospital."
He said six months later he was sent by air ambulance to Highland Mental Hospital in Asheville, N.C., which is a more secure facility, due to having issues with thoughts of suicide and self mutilation. He said this was the first place where a doctor put him on Lithium Carbonate. He said this medication is used to treat episodes of manic.
"You can go from normalcy to ending your life," Jones said. " you can tank in a hurry."
Jones said that it is very important to seek help. He said that a person's first priority should be to take care of himself and to be properly medicated.
He said it is important to seek help immediately if you or someone you know suffers from a mental illness like bipolar disorder.
Jones said that it is essential that a person surrounds themselves with people who will be there and to get the right help.
"There's an increased risk for drug and alcohol abuse," Day said. "For some people it leads to loss of job, loss of relationships, and loss of money if they don't seek help."
Day said that people that don't seek help are more likely to have a potential to fight. He said they also are more likely to offend others around them without meaning to. Day said that someone who thinks they may have the disorder should learn about the disorder first.
"Talk to people, do research," Day said. "You want to look at reputable source because it is different than mood swings."
The DSM5 (Diagnostic and Statistical Manual of Mental Disorders, Fifth Edition) says that 0.6 percent of the population is affected by bipolar disorder.
Jones said that he see five to six students a year but statistics suggest more students have the disorder.
"It's just like any other chronic disease," Jones said. "You can still be like any other member of society."
Todd Manson, associate professor of psychology and co-advisor of Psi Chi, said it is important to have people talk about their mental illness to try and break the stigma.
"It's important to get students to realize of the have issues they need to seek help," Manson said. "It's good to encourage others to seek help and not stigmatize.
Manson said that he thought what Jones does is extremely important. He said presentations like this help breakdown discrimination and helps students seek help for themselves.
Manson said that PSI CHI holds events like these for students because they may be working with people with bipolar disorder. He said it helps breakdown discrimination and helps students realize they can overcome disorders such as bipolar when people share experiences.
Day said that people with bipolar can be very successful while having their illness as long as they have the proper treatment. He said that Dr. Jones is a very good example of someone who has been successful.
" I have never missed a class," Jones said. "Like the energizer bunny I have always bounced back."