The Art of Adaptation: IU Southeast's fine arts program is on display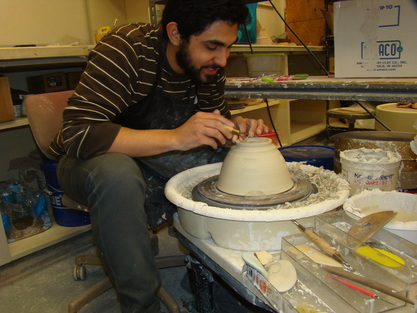 As the school weeks go by and the seasons change, so does Knobview Hall. New creations by fine arts students and faculty alike are put on display, ranging from paintings to 3D-printed pieces.
The Ronald L. Barr Gallery rotates its selections, highlighting art of all disparate kinds. The artists of campus attend opening events for their works, showing off their creations for family, friends and strangers alike.
The fine arts program never remains static, continuously providing new works for students to observe and enjoy – but not all of its changes are apparent on the surface.
The fall 2014-spring 2015 academic year has seen numerous new additions and adjustments to the fine arts program, with more on the way. New courses have been added to the class schedules.
New events have been held, and recurring ones have been altered. The fine arts program even has a blog, which is available for contribution by all of its students.
These changes have been perceived and handled differently by students, faculty and alumni alike.
Chelsea Markuson, fine arts junior, said the atmosphere in her fine arts classes is different from the norm.
"There is a creative atmosphere that is shared," Markuson said. "Students play music of their choice on Pandora, which is conducive for creativity. It helps with getting in the zone."
Markuson said that creativity and collaboration are crucial to the program, and that her art classes are "always a journey."
"It can be a solo endeavor, but I believe the young artist should be surrounded by like-minded students," Markuson said.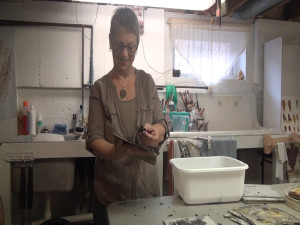 Markuson said she believes the fine arts program is becoming more contemporary. She believes the involvement of Chancellor Ray Wallace may play a part in this, describing him as "quite the artist."
"I see them definitely adapting a more contemporary approach, one that is not as constricting," Markuson said. "There is a push toward focusing on contemporary aspects of our location."
One of the new additions Markuson said has been added this semester is a blog for the fine arts program, located here. The blog began operating on October 7, and students and faculty alike are able to contribute. Markuson was published in the 2013 edition of the IUS Review, and her piece "Cyborg Module 2" is currently on display in the library. She said it is inspired by repetitive rhythms within industrial types of music.
"I can visualize the sounds, and then my mind puts out how to line draw them," Markuson said.
She said it will be on display until February 6, and that having it on display has been exciting.
"It's kind of surreal for a young artist to have work in the public's view," Markuson said
Markuson said she is currently taking ceramics, and that seeing her art become 3D has been a new experience.
"I see my sketch come into 3D form through clay. As an artist who mainly focuses on 2D art, this has opened my mind while also being challenging," Marukson said.
Wende Cudmore, fine arts alumni, graduated in 2013 after starting school in 2004. She said the campus has grown considerably since she first began attending.
"It was my first experience on a college campus," Cudmore said. "Younger students treated me as [an] equal."
She said returning to school was "on her bucket list" for years prior, and she eventually had to make the leap.
"It took some pushing, but when I was in, I was unstoppable," Cudmore said.
Cudmore said she would recommend Brian Jones as a professor, but notes that he is retiring next year.
"He finally saw my studio after all these years," Cudmore said.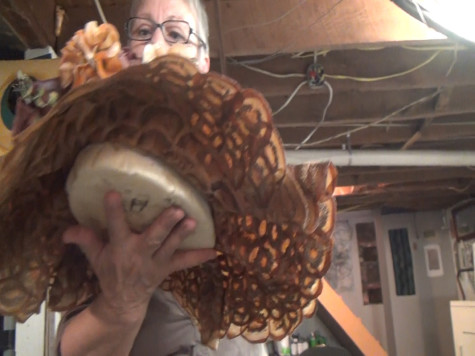 Cudmore said she attended a lecture a few years ago, in which life after graduation was discussed. She said that most students did not follow their passions, and she wanted to buck the trend.
"It really surprised me and inspired me to make my basement into a studio," Cudmore said. "That left an impression on me."
Cudmore said students about to graduate should continue to be proactive and work towards their passions.
"Make things work in spite of rejections," Cudmore said. "Something will come up. Creativity and problem-solving can allow students to get into jobs others can't."
Chanda Glendinning, visiting assistant professor in ceramics, is currently teaching the program's ceramics classes. She said this is her first semester teaching at IU Southeast.
"I moved to New Albany on August 1," Glendinning said. "I really like it. I've always liked this region."
Glendinning said many other members of the faculty are also from different areas of the country.
"They are from other areas, so the students are my natives," Glendinning said. "I am originally from western New York."
Glendinning said she will be teaching two sections of 3D Design in the spring, as well as a ceramics course for non-majors. She said the major and non-major iterations of the course have no differences and that it is "only for enrollment purposes."
She said one reason for the lack of differences is that the ceramics course for majors may fill up, and excess major students are then placed in the non-major course. She said it is also important to take the education of non-major students just as seriously and hold them to the same standards.
"You never know if any of the non-major students will be crossover students, so it's important for them to have the same foundation," Glendinning said.
Debra Clem, professor of fine arts, said her projects are different each semester and depend on student ability. She said the still life paintings of fruits and vegetables are "most successful" and help build students' confidence.
"Still life paintings depend on students' personalities and abilities," Clem said.
Glendinning said she believes all students should take at least one fine arts course.
"It's good to take anything that makes you think critically," Glendinning said. "That applies to all areas of your life."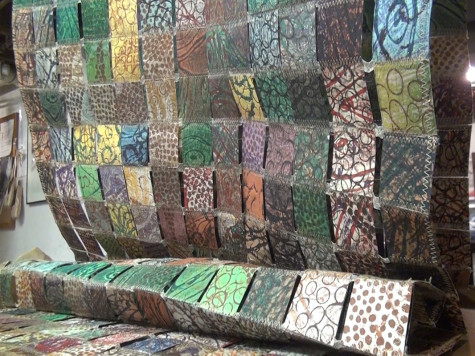 Glendinning said she warns students that the fine arts classes are "not a vacation," but feels the experience is worth it.
"Any fine arts class will challenge you, but there's something really great about being hands-on and making something," Glendinning said.
Markuson said she considers IU Southeast's
fine arts program to be one of the best in the region.
"Getting an art education has a great impact," Markuson said. "It is important to be able to articulate about yourself and the world."
Glendinning said the department's faculty roster is "small but very strong." She praised Barbara Kutis, assistant professor of fine arts, in particular.
"She approaches her classes in a much more contemporary fashion," Glendinning said. "She's been burning it up lately."
She said she is glad to be at IU Southeast and that the department works well together.
Looking to the future, she said Tiffany Carbonneau, assistant professor of fine arts, will be teaching a pair of classes in the spring 2015 semester that are focused on digital arts and interactive media.
About the Contributors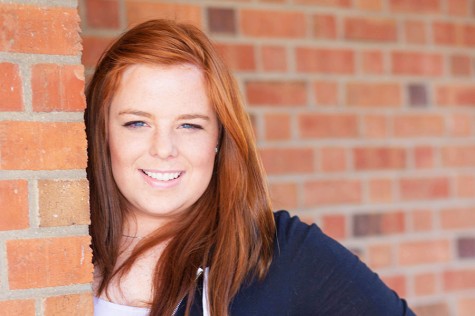 Haley Warwick, News Editor (Spring 2015); Staff Reporter (Fall 2014)
Hello Horizon readers! My name is Haley Warwick and I am your news editor for The Horizon news source! As news editor I want to know what's going on...