Luv the doors: IU Southeast decorates doors for homecoming contest
Homecoming is knocking. This week student organizations had the opportunity to  compete in a door decorating contest; an event that has been a tradition for nine years. The contest is part of homecoming week and allows students to be creative while showing their support for IU Southeast's homecoming.
Each door is spirit week oriented and they are judged on theme, content creativity and school spirit. The cabinet of the chancellor will judge the doors. Judging takes place on Thursday and the winner, who will receive a spirit stick and a $100 for their organization, will be announced at the homecoming game on Saturday.
Vice President of staff council, Cari Ann Edwards stressed the importance this contest has within homecoming week.
"I think it's one of the events everyone looks forward to participating in each year. It has been around for nine years now. This year different offices have gotten very competitive," Edwards said.
Each organization has tied in spirit week in their own unique way. The Asian pop culture club's door features a grenadier throwing baseballs in a baseball diamond.
Cendra Stacy, criminal justice junior, explained the club's design.
"Baseball is an important spring sport at IUS. It's also a popular sport in Asian culture. We wanted to tie in our club while showing our grenadier pride," Stacy said.
Grenadiers were a common theme this year. A back shot of a grenadier holding his hands above his head to form a heart is displayed on Sigma Kappa's door designed by Justice Burda, pre-nursing freshman.
"The whole concept for our door this month was that we wanted to show our love for IUS. The grenadier making a heart sign seemed like a cute way to tie in the homecoming theme," Burda said. " I think it shows that Sigma Kappa really cares about the university. We'll scream it, we'll shout it, there's no doubt about it, Sigma Kappa loves IUS."
Some organizations used lights to illuminate their doors. Phi Sigma Sigma outlined the state of Indiana with white lights and red tissue paper flowers.
The inside of the state reads "Hoosier valentine".  Shania Bennett, undecided freshman, designed the door. 
"
"I think it's one of the events everyone looks forward to participating in each year. It has been around for nine years now. This year different offices have gotten very competitive," Edwards said. "
"We decided to use lights because we wanted to stand out. We thought using the lights mixed with the paper flowers would be a creative way to illuminate our door.  We wanted to tie in our Hoosier pride with Valentine's Day in some way since Homecoming takes place on Valentines Day this year," Bennett said.
Phi Sigma Sigma wasn't the only organization to decide to incorporate Valentines Day into their theme.
Alpha Phi's door displays a sweetheart box with paper cutouts of candy hearts spilling out onto the door. Written on the candy are hashtags revolving around homecoming. Hayley Love, nursing sophomore, came up with the concept for the door.
"We were all trying to incorporate the holiday to try and get everyone into the Valentine's Day spirit. We wanted to incorporate the hashtag 'I luv IUS' to support homecoming," Love said. "I think everyone has an equal chance of winning, especially because everyone has very creative displays. This is a friendly competition that allows all of the organizations to work together to show IUS our creative sides and our dedication here on campus".
The Dining Hall decided to incorporate all three of these themes. Their door's theme revolves around a grenadier holding the homecoming king's crown. Lights illuminate the outline of the door and heart arrows are featured to incorporate include Valentines Day.
Jessica Pilkerton, secondary education senior, explained that The Dining Hall created their door as a way to promote the Mister and Miss IUS competition.
"Since The Dining Hall is in charge of Mister and Miss IUS we only saw it fitting to have a grenadier holding a crown represent us," Pilkerton said. "Our door is important to TDH because this is our first opportunity to get involved in something like this because we just got an office. We're full of school spirit and this is a way we can show it," she said.
Brittany Murray, communications junior, believes this contest is important because brings life to the Student O, where the offices of many of the organizations on campus are located.
" I think decorating doors is a creative way for organizations to show school spirit. A plain door just looks boring. It brings something to the student O that just makes it seem more at home to me," Murray said.
About the Contributor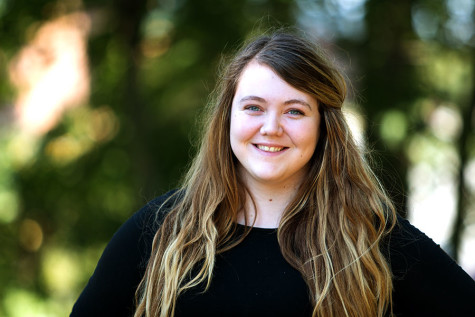 Kaetln Harrison, Staff Reporter (Fall, Spring 2015)
Hi! My name is Kate Harrison. I'm a staff reporter for the Horizon and an English and Journalism major at IUS. I'm also the Member at Large for my sorority,...