Snow days for IUS: students and faculty weigh in
Students, faculty and staff received a break from IU Southeast when a snowstorm caused the campus to close for two days.
IU Southeast was closed on Monday, Feb. 16 and Tuesday, Feb. 17 due to the storm. The snow days forced on-campus activities to be canceled or postponed.
New Albany, Louisville, and other towns in Kentuckiana and the surrounding area received several inches of snow. The snow caused dangerous travel conditions.
In some places, the snowfall lasted from Sunday, Feb. 15 to early Feb. 17.
Some students, staff members and faculty members said they enjoyed the snow days. Others said they will be glad when classes resume.
Shelbi Tate, psychology senior, said the snow days have helped her relax.
"Going to school and working full time gets stressful and snow days provide a day of relaxing and Netflix," Tate said.
Tate said she would appreciate a longer break from classes.
"I would like to have Wednesday off as well so I can get some more relaxing time," Tate said. "It will also give me time to get ahead in my reading for class."
Additionally, Tate said the snow storm's impact surprised her.
"I heard that it was supposed to get bad but I never expected it to be as much as it was," Tate said. "I cannot remember the last time there was a mandatory order to stay off of the road."
IUS Police chief Charles Edelen said in an e-mail that the safety of the students, staff and faculty always comes first. He also said that he hopes IU Southeast will be able to return to normal as soon as possible.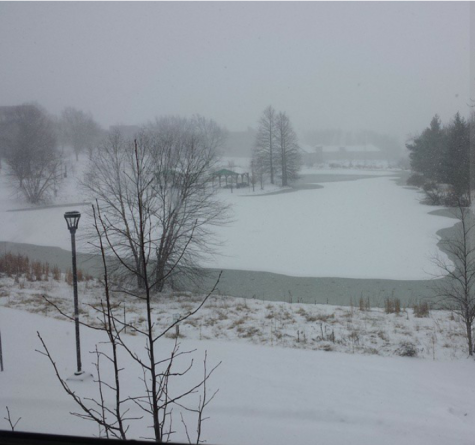 "I'm hoping the weather cooperates and we are able to return to a regular schedule," Edelen said. "I know the snow days cause an issue for the students and their education.  And that's the reason we are all at IU Southeast."
Rhonda Wrzenski, political science professor, said in an email that she thinks snow days are important for students' safety.
"I think it is important to have snow days when so many students are commuting into campus," Wrzenski said. "We do not have as much snow removal equipment in this area and that can mean delays in getting roadways cleared, especially in remote areas.  I think it is wise to prioritize the safety of our student body, faculty and staff."
Wrzenski said she was not surprised by the snowstorm due to the forecast.
"I had been watching the weather alerts leading up to the snow and reading the winter weather warnings," Wrzenski said.  "I was not surprised when we got so much snow because I knew we would be below freezing this time around and that the chance of precipitation was over 80 percent."
In an email, Ryan Malone, psychology senior, said he has used the snow days to study for a class, but he has still enjoyed the snow days.
"I love snow days," Malone said. "It gives me a chance to enjoy life that would normally be taken up by school."
Ashley Celestine, nursing sophomore, said she dislikes snow days because they cause her and her classmates to get behind in coursework.
"I think (snow days) should be properly scheduled into our classes, because we have to fit in the missed days rapidly," Celestine said. "I would like to go back to school so we do not get behind."
Greg Phipps, sociology professor, said in an e-mail that one part of New Albany received about 10 inches of snow. He also said he wants IU Southeast to be open on Feb. 18 so students and faculty will not get further behind.
In an email, history and international studies professor Yu Shen said she thinks IU Southeast should only be open on Feb. 18 if the weather and the road conditions will be good. She said the students' well-being is the most important factor, and teaching cannot be done without students.
Joshua Bleeker, fine arts senior with a concentration in painting, said in an email that he would be fine if classes would resume on Feb. 18.
"I honestly wouldn't mind going back this Wednesday," Bleeker said. "Snow days are awesome, but it's only a matter of time before cabin fever hits."
Becca Dirck, psychology junior, said she appreciated that students, faculty and staff were promptly informed of the snow days.
"I'm glad IU Southeast didn't wait until five in the morning to cancel classes," Dirck said.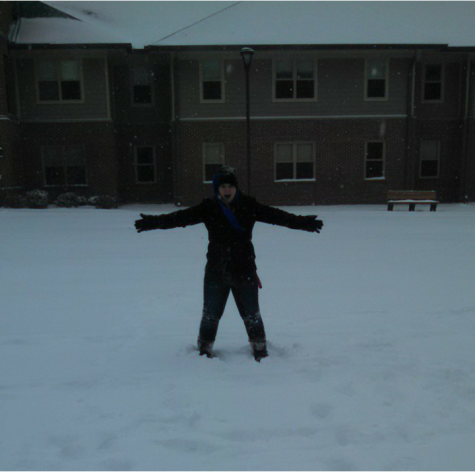 Dirck said she has been enjoying the snow days, but she is unsure if she wants more time off.
"On one hand, I miss my friends, but on the other hand, the time off from classes has been really nice so far, even though I'm pretty much stuck in my house," Dirck said.
Dirck and Bleeker said they were not surprised that the snowstorm came.
"I was hoping we could get through winter without a huge snowstorm, but considering where we live, I kind of knew it was going to happen eventually," Dirck said.
"As far as Ohio River Valley weather goes, it's anyone's guess," Bleeker said.
At this time, it is unknown if IU Southeast will be open, closed or delayed on Feb. 18. Information will be posted on The Horizon's Twitter and Facebook pages when it becomes available.