17th annual International Festival: music, dance and cuisine from around the world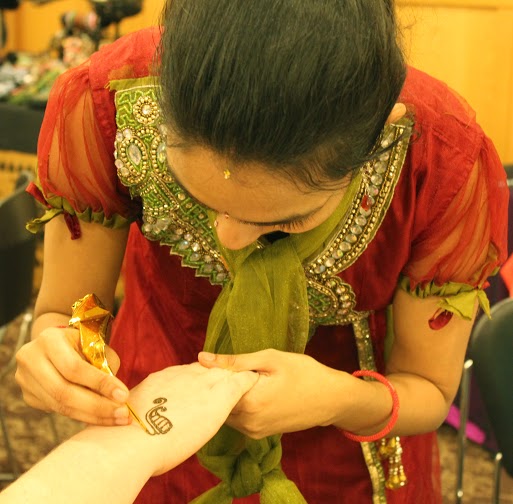 The sound of bagpipes traveled, Bollywood dancers shimmied and the smell of bangers and mash wafted through the air during the IU Southeast International Festival.
The 17th annual International Festival occurred on Tuesday, March 10 from 5 to 8 p.m. in the Hoosier Room in University Center North. The festival featured music, dance and cuisine from countries around the world.
International Festival attendees could sample a variety of international dishes, including Greek olives, Italian gnocchi, German apple strudel and dishes from several other countries.
Additionally, several dance groups performed during the International Festival. The groups included the Louisville Lion dance team, the McClanahan School of Irish Dance, Flamenco Louisville and others.
Valerie Scott, psychology professor and co-director of the International Programs department on campus, said the International Festival helped bring diversity to the IU Southeast campus.
"I think it's a mix of being exposed to new culture and new food that people otherwise could not experience," Scott said.
Rebecca Eberhardt, psychology and criminal justice senior, said she enjoyed sampling the food at the International Festival.
"There was food I've never even heard of, so it was nice to just try it," Eberhardt said.
Trevor Allen, history and political science freshman, said it was his first time attending the International Festival. Allen said he enjoyed the diverse experiences.
"I like the music and I like the food," Allen said "It's just getting to experience different cultures. I think that whole thing appeals to me."
Some students, faculty members and staff members volunteered at the International Festival. Criminal justice senior Catherine Daugherty and communications sophomore Sierra Harris volunteered as cashiers.
Daugherty said she enjoyed volunteering at the International Festival because she was able to see all the sights.
"I volunteer at all kinds of random stuff a lot, and it's just really interesting to see everyone," Daugherty said. "You see all the dancers coming down from upstairs, and all their outfits and everything's just really cool too."
The International Festival was open to students, faculty, staff and community members. Harris said she thinks the festival was successful because several community members attended.
"There's a lot of people coming out to see it," Harris said during the International Festival. "It's not only students who (are coming)."
International Festival tickets cost $5 for students and senior citizens, and general admission tickets cost $8. The proceeds from the festival will benefit IU Southeast's study abroad scholarships.
The International Festival was sponsored by many IU Southeast departments, programs and organizations, including International Programs, the Non-Traditional Student Union and the Office of Equity and Diversity. Several local businesses, including The New Albanian, Coffee Crossing and others, were donors.
Scott said the International Festival benefitted attendees in several ways.
"I think it makes students aware of the international programs and the fact that the campus is beyond just our walls," Scott said. "Education is beyond our walls. And it brings people from outside the campus also. I think it's an opportunity for people to get together."