Waterfront Wednesday: How WFPK Turns A Sleepy Patch of Grass into Louisville's Hottest Music Venue
Variety is something that is reflective of content and with as much content that there is circulating popular radio daily, some find it troubling that no matter the genre, a significant proportion of today's music follows a specific formula. However, not all are in pursuit of rhythms and tunes that are manipulated by means of studio over­production for the sake of mass consumption, and this is where non commercial, listener-supported radio stations like Louisville's WFPK, triumph.
Founded in 1954 and originally broadcasting as a strictly classical music station, WFPK underwent several changes, and in 1993, adopted its current format, one that has sustained for over 20 years thanks to the devotion of listeners interested in experiencing a wide range of music.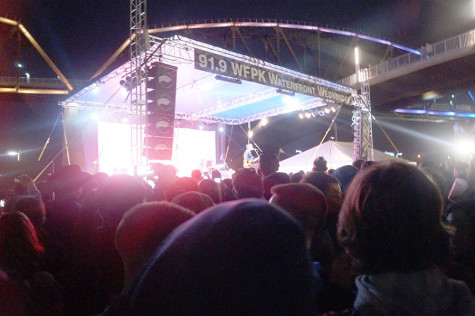 In addition to offering a collection of artists for people from all variations of life, WFPK has also gone out of its way to host a range of events, each of which cater to both those within and outside of the Louisville metropolitan area. With strong participation in events such as the upcoming Forecastle Festival and sole leadership in the local favorite, Waterfront Wednesday, the station continues to make an impressive name for itself, in spite of the many commercialized radio stations that are offered to listeners.
Stacy Owen, program director at WFPK, is one of many involved, who are doing their best at making sure that more and more people develop a relationship with the station and the music that it promotes for Waterfront Wednesday, which runs April through September. Owen works as a talent scout and beginning in January she starts thinking about WFPK's calendar, getting an early start on the events that will soon be listed for the upcoming season.
"I start talking to representatives at the labels that I know, talk to managers, look online for new people, and watch release schedules to see if anybody interesting has a new album coming out in the spring and summer," Owen said. "[I] have a look [at] our play lists and make a wish list­ a lot of little pieces of the puzzle have to come together."
In recent years, the Waterfront Wednesday series has cultivated an overwhelmingly positive response from not only fans of the music scene, but from the musicians involved as well. Owen is grateful for the success of the event and the tradition that is becoming synonymous with it. Bands and labels from across the country have been expressing strong interest in getting involved.
"A lot of times I'll have more bands to choose from than I have slots available," Owen said. "It's a pretty good problem to have."
Brad Ling, local musician and part-time retail employee, is one of many who are as enthusiastic about WFPK as those running the station are. Although his interests mostly stem from all of the possibilities that events such as Waterfront Wednesday can create for the lesser known talents.
"[WFPK] brings some much needed attention to the music scene, especially when it comes to local bands," Ling said. "Paying attention to the community is important and they seem to be one of the few local radio stations that care about what's good, but not on the radio. Not what is or isn't topical."
As someone who spends most of his time studying and then practicing music, Ling is grateful for the interest that the station has expressed towards alternative, but locally driven music. Being given the opportunity to play at an event like Waterfront Wednesday for a crowd of hundreds may seem like a pipe dream for Ling, but stations like WFPK make his aspirations seem all the more plausible.
"I don't see that fortune in my cards," Ling said. "But radio stations like WFPK help reinforce that somebody is always listening to the little guys."
This past Wednesday evening was opening day for WFPK's Waterfront Wednesday and despite the cold temperature, the Big Four Lawn was packed with people, most bundled up tightly, but all excited to be at the opening day of what has become something of a tradition around Louisville.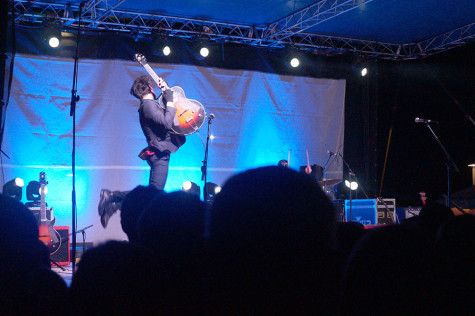 The event was headlined by the alternative folk group, 'Shaky Graves' and the concert was very well received from both those coming out for the music and those looking for different way to spend their Wednesday night.
Claire Lother, 24, celebrated her first Waterfront Wednesday by enjoying the company of friends, a variety of fried foods, some sweet and some not-cheap beers, from short lines, and music that turned out to be as exciting as it was new to her.
"It was a lot of fun and I heard some bands that  I definitely wouldn't have heard otherwise," Lother said. "I've known about the concerts held on the waterfront for a few years now and regret waiting so long to finally come see what all of the buzz was about."