Grenadiers beat IU East to win third straight
The IUS volleyball team played against KIAC conference opponent IU East on Thursday, Sept. 10. The Grenadiers beat the Red Wolves in a decisive three set sweep (25-19, 25-13, 25-19).
After starting the season off with a 1-3 record the Grenadiers have now won three straight games, winning each in straight sets.
"We talked about what we needed to focus on in order to take the strengths away from the other team because they obviously got a great outside hitter and a solid Libero, so we really tried to focus on keeping the ball away from those two players," Eric Brian, IUS volleyball head coach said, said. "So part of it was strategy and the other part was focus on maintaining a high level of energy and not get complacent with the first set or winning two cause we wanted to win it in three."
The team looked fantastic as Hannah Barker, junior setter, led the team with 28 assists. Freshmen Monica Loftus and Hannah Joly, and sophomore Michala Beasley all led the team and the game with ten kills each.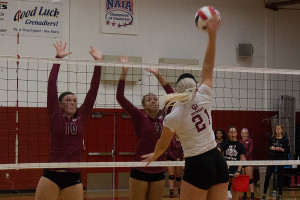 Going into this year a key factor for the Grenadiers was to work on the team's communication. Thursday night the team's communication against IU East was impressive.
"It was awesome," Katie Fischer, junior middle blocker, said about her team's communication against the Red Wolves. "Couldn't ask for better communication whatsoever."
In the third set the Grenadiers started off down 11-8. The Red Wolves looked poised to win the set, but the Grenadiers communicated with each other and played great defense to win the set and the match.
"The other team came out frustrated, and they were ready to fight for the set so we just had to fight back harder and finish it with an awesome win," Fischer said.
The defense looked amazing as well as the team had a total of four blocks. Joly had two of those blocks, and Fischer and Beasley had one block each.
"I think that this was the first time that we put three solid consistent sets together and our defense was outstanding," Brian said. "I think the defense was the difference in the match."
The Grenadiers will next go on to play in the Rumpke Invitational in Georgetown, Kentucky starting Friday, Sept. 11 against St. Catharine College.