"America's Got Talent" singer performs at IU Southeast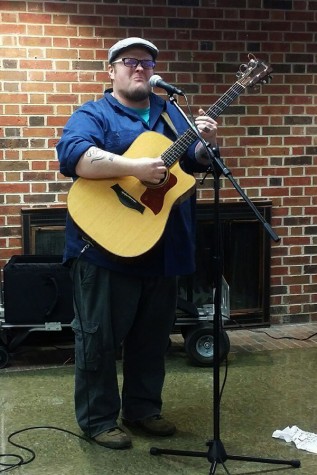 Nothing has kept Cas Haley from doing what he loves most, not even a skiing accident that left him unable to sing for eight months.  Haley has been performing for over two decades, and he was seen on season two of "America's Got Talent" in 2007.
On Tuesday, Jan. 12, Haley performed during the lunch rush in The Commons as part of the Student Program Council's event, IU South Beach. This event was held to provide a warm and welcome environment to the spring semester for returning and new students.
While reuniting with friends and classmates, students were able to listen to Haley and tie dye shirts for free.
Alyssa Hendershot, business senior and president of the Student Program Council, said the event was one of her favorite ways to help kick off the new semester.
"Every year we host an event to welcome students back to campus, and make new students feel more comfortable with their new learning environment," Hendershot said. "This year we were lucky enough to get Cas to come and perform for us."
According to Hendershot, the SPC has been attending the National Association of Campus Activities for over 10 years to find artists and performers with a warm beachy feel to get students not to dread going back to classes in the cold.

"It's a great place to find people with the sound and vibe we're looking for," Channell Barbour, associate director of Campus Life, said. "Haley was immediately interested and we contracted him right away."
Haley said he loves traveling and performing for different audiences.
"If I had to describe my style of music, I would call it a mix of reggae and soul," he said. "Island-inspired southern soul. That sounds fairly accurate. I've been playing since I was 12 years old, so over 20 years. Music is definitely a big part of my life."
Haley is also a family man, and he said that without his family, he would have nothing.
"I've been married to my amazing wife for 16 years, we met in high school," he said. "She's given me a beautiful family and I wouldn't trade it for anything. I hope to be able to continue doing this for a long time."
To hear Haley sing one of his songs, "More Music More Family," watch this video.