Students engage in combat during Nerf War
To prepare for the spring semester fraternity rush, Kappa Sigma held an event called the Nerf War.
The fraternity held the event on Tuesday, Jan. 26 at 7:30 p.m. in the Hoosier Room.
The Nerf War was open invitation, meaning anyone — not just current or prospective Kappa Sigma members — could join the war. Roughly 20 people attended the event.
Jerome Finn, business junior and Kappa Sigma president, said some attendees were members of the fraternity, and others were seeking to join the fraternity. Finn also said it was the first time Kappa Sigma has held a Nerf War.
"We do this for recruitment and to meet potential new members," Finn said.
Steven Robertson, psychology freshman, was one of the fighters in the Nerf War.
"I was just passing through and it seemed fun," Robertson said.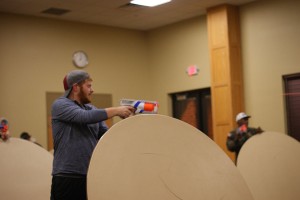 The Nerf War consisted of combat rounds. Throughout the Nerf War, attendees could choose from a variety of Nerf firearms, including revolvers, crossbows and a Nerf Gatling gun.
During each round, some members of Kappa Sigma stayed by a podium to be commentators.
Each round consisted of new team lineups and rule changes. As the rounds progressed, the students took cover as Nerf darts flew in both directions.
Alex Williams, history freshman, had turned the tables on their sides before the Nerf War, so students could take cover and shoot from behind them.
For most of the rounds, each team had a wall fighters had to touch if they got hit in order to rejoin the battle. The structured rounds were fought similar to dodge ball, paintball and tag.
Each round of the Nerf War was accompanied by a hard rock song or a heavy metal song, which acted as a timer. When the song ended, a team was declared the winner of the round.
The last round had no rules. During the match, fighters could engage in pistol-whipping, a combat practice of hitting an opponent with the butt or grip of the gun.  The fighters shot until they were out of Nerf gun ammunition or until they became too tired to continue.