Unexpected finish to senior day
The IUS men's basketball team ended their season on a strange note on Feb. 20, 2016. The men's game was deemed a no contest due to some unexpected halftime activities.
During the halftime warm up session, Carlow's seven foot player, John LeGrande, dunked the ball. He then hung on the rim a little bit too long. After the dunk, the whole goal was bent to the left.
The Grenadiers were up by almost 30 points at halftime behind sophomore guard Demetrius Stanton, who had 24 points in the first half. But the first half was all they would play.
"In all the years I have been here, I have never seen something so unfortunate," Athletic Director Joe Glover said.
The game was delayed for 30 minutes as the athletic staff tried to figure out what their next step was.
"We pulled both coaches aside and tried to see if we could come to a compromise," Glover said.
There were rumors going around the gym that they were trying to move the game to New Albany High school, which is right down the street from the IU Southeast campus. Glover said that there was nobody there that could help them.
The other option was shot down too. Glover said he called the company that takes care of the goals to see if they could come in and get it fixed during the wait.
"The only option we had was to end the game," Glover said.
The last viable option was to put the bleachers up and play on one of the side courts, but that was also shut down.
"There was no way for us to play on the side courts," Assistant Athletic Director Denny Williams said. "The side courts did not have all the out of bounds lines and the 3-point line was missing on both sides of the court."
According to Glover, the goal will be taken care of Monday morning before the girl's have their scheduled practice.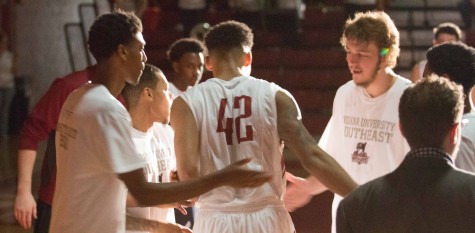 Homecoming and senior day was ended early for senior forward Jordan Thompson. Before the game ended early, Thompson was leading the team with seven rebounds.
"It was hard to end the game," Thompson said. "I just wanted to come back out and finish my season just like I started it."
The game ended with a score of 62-35.
The Grenadiers finished the season with a record of 9-19 with one no contest.
The Grenadiers just missed the KIAC conference tournament by two points with the loss to Point Park University on Friday night.