Day of Silence 2016
Students covered their mouths with duct tape and their own hands to symbolize the silence forced upon those who are different.
The Gay-Straight Alliance held a Day of Silence event on Thursday, April 14 from 12:15 to 1:10 p.m. in front of McCullough Plaza. This event was in honor of the Day of Silence. The purpose of the event is to show support for the lesbian, gay, bi-sexual, trans-gender and alliance community.
Jordan Wingard, psychology sophomore, said she planned the Day of Silence event. Wingard said The Day of Silence is something she participated in throughout high school, and when she found out no one volunteered for this event as previously planned, she stepped up to the plate.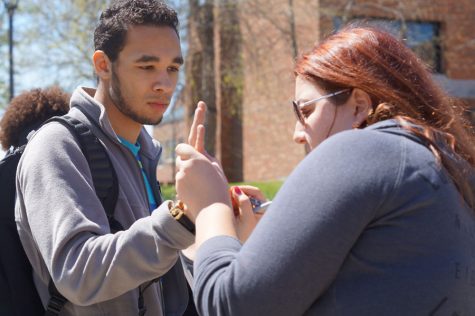 Wingard said the Day of silence is something she feels strongly about because she has a cousin who is transgender. She said her cousin suffered from so much bullying that she dropped out of high school.
"The Day of Silence is a national youth movement which protests the silence faced by lesbian, gay, and transgender people and their allies," said Wingard. "The pledged silence is supposed to echo the silence out of fear of those in the LGBTA community."
Savannah Oldham, pre-nursing freshman, stood behind the booth and encouraged those who passed by to pledge a day of silence.
Oldham said she was there not only to support her sorority sister, Wingard, but also to support others in the LGBTA community.
Oldham said the event was important to her because of the silence some of her family had to suffer through, because of their LGBTA status.
"I think it's important that we represent everybody," Oldham said.
Oldham said she hoped the event would give support to those who felt they couldn't come out and be themselves.
"Hopefully they'll come out and see that we do support them, especially on the IUS campus," Oldham said.
Taylour Corbett, secondary education freshman, encouraged those who walked by to participate in the event.
"Love has no gender," Corbett said.
Corbett said she hoped the event would bring awareness and acceptance.
Thalia Tolentino, business freshman, said she was very proud of her sorority sister, Wingard, who planned the event.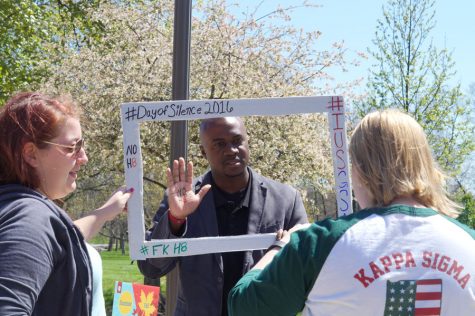 Jason Meriwether, vice chancellor for enrollment management and student affairs, let volunteers write "NO H8" on his hand and agreed to take pictures.
Meriwether said he had heard students talking about the event and he wanted to come out and show his support. He said it is important for IUS students to lend their voice to something that is impacting so many campuses.
"Although we use the term Day of Silence, we are giving voice to stopping harm against students on our campus and every other university," Meriwether said. "This is a big deal."
Wingard said this event is to show that those who are not in the LGBTA community have their backs.
"I really want to have a strong bond with those who are different," Wingard said. "I want them to know they are not alone in this."