Clark County Sheriff Jamey Noel visits IUS
Clark County Sheriff Jamey Noel came to IU Southeast to talk to criminal justice students about his career path and his experience with the A&E program "60 Days In."
He talked to students in UC 127 on Tuesday, April 12th.
Jennifer Ortiz, assistant professor of criminology and criminal justice, said she invited Noel to speak to criminal justice students, focusing on his experiences in law enforcement and career opportunities in the Clark County area.
"I know Sheriff Noel is a bit of a national celebrity because of '60 Days In,'" Ortiz said. "Tonight's event is meant to focus on network and criminal justice careers."
Ortiz said she serves on the News and Tribune's panel, "Inside 60 Days," where the staff analyzes each week's episode. Ortiz said the panel takes questions from social media and discusses them.
Noel said he graduated from IU Southeast in 2008 with a bachelor's degree, and he has served on the police force in southern Indiana for 20 years. He said has held a variety of positions ranging from trooper to undercover detective to sheriff.
Noel said he is head of the Michael L. Becher Adult Correctional Complex in Clark County, where he organized a special undercover program. He said ordinary citizens volunteered and were placed in the jail to live among the prisoners for 60 days.
Noel said this experience was a success and shed light on the life of an inmate, and it gave Noel and corrections officers a peek into the lives of the inmates after they are released.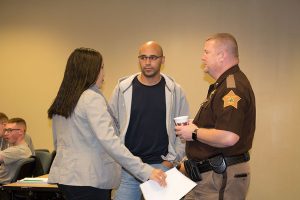 Noel said after the volunteers finished their 60 days in jail, they experienced a variety of symptoms: vomiting, anxiety, sleeplessness and depression. Noel said the correctional system was unaware of the severity of these symptoms in released inmates, and it has since developed programs to help released inmates deal with the symptoms.
"The '60 Days In' program helped us with the knowledge of what these prisoners are going through after they are released and gave us a better understanding of inmate behavior," Noel said.
Noel said there are three types of people who seek a career in the corrections department: people using it for a stepping stone to law enforcement, people who have a passion for the work and people who seek the government benefits.
Noel said the inmates pick up on the third type of person who isn't fully committed to their job, and they will try and take advantage of that person.
"The inmates aren't stupid," Noel said. "They pick up on these things and try to use it against the corrections officers."
Noel said students should get the highest level of education they can attain. He said this puts a person in the best possible position to get a job.
"Your education is something that nobody can take away from you," Noel said.
Before becoming the Clark County sheriff, Noel lost the sheriff election in 2006. He said he blamed his lack of education for his defeat, so he enrolled at IU Southeast to finish his degree.
"All of my shortcomings were no one's fault but my own," Noel said.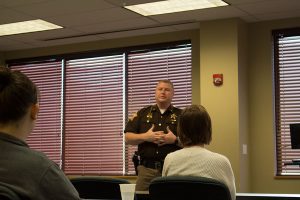 Noel also said a student's education level is a good way to separate one individual resume from the pack. He said one invaluable asset to have as a criminal justice student is a minor in a foreign language, particularly Spanish.

"Even the ability to recognize which language the inmates are speaking is beneficial," Noel said. "If you recognize the language, you can take your phone out and type it in Google Translate. Being able to speak and recognize the language is a huge advantage."
Noel told students they should also have a backup plan if their law enforcement careers should end quickly.
"God forbid you're placed in a shoot-don't-shoot situation and you make the wrong decision," Noel said. "You're always one bad decision from losing your job."
Noel said students should always be thinking of their next career goals, and they should give themselves every advantage possible to achieve them.