Better Writing on Campus
The lights are low and the sounds of music waft around the room. Peaceful beach scenes play on the surrounding computer screens. A stark contrast to the construction currently happening just outside the front doors of Knobview Hall, a tranquil and collected environment is set in the Writing Center at IU Southeast.
The staff in the Writing Center strive to make it a place that beckons to students majoring not only in a writing concentration, but every major. The staff want the student body as a whole at IU Southeast  to know that the Writing Center is not just a place to learn how to construct better essays and term papers.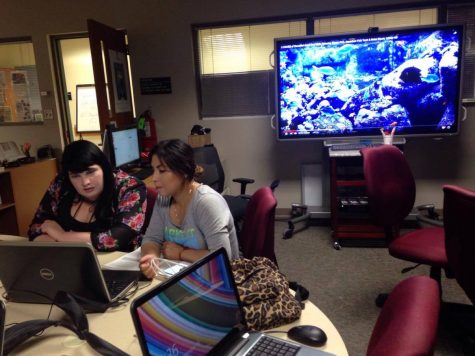 Leigh Ann Meyer, director of the Writing Center, has a habit of speaking softly, wanting to continue the soothing setting of the low key atmosphere.
"We call it safe zone; all students are welcome," Meyer said. "Whatever they want to say or be, they are welcome. We want this to be a place they want to be."
The staff want it to be known the Writing Center is a safe place.
"The environment is essential. We have music. We have lights lowered. We have a lot of students who have a lot of stress," she said.
"A lot of what we do is helping with writing but sometimes, there is much more to it than that. Everyone can benefit, even if it's just to come in and calm down," Meyer said.
Meyer said  the Writing Center is no typical place.
"There is never a typical day and there is never a boring day, and that is what attracts students," she said. "Writing Center Theory and Practice, W397, students just come and hang out and watch a day sometimes. We do so many things in here. We hold classes; we have workshops. We have consultations, both face to face and online. There's online tutoring and face to face tutoring.  We don't ever know what the day will bring when we walk through the door."
Nathan Neutz, computer science sophomore and W397 student, said  being a part of the class is really about helping the Center.
"The class is about much more than just observing and learning better writing. It is very writing centric, but we also learn how to come back into the Center and improve the Center as a whole," Neutz said.
Since taking over the Writing Center in January of 2008, Meyer said there has been a shift in the student body that walks in.
"Writing courses used to be the most common in here," she said.
Not anymore.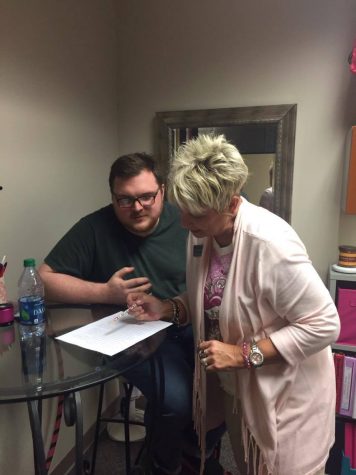 Meyer said the largest concentration to utilize the services offered by the Center continues to be writing.
"However," she said. "We have many other students now in other majors like nursing, education, business, history, political science. We're also getting student consultants from other majors. Since 2008, we have really been connecting and collaborating across the disciplines on campus," she said.
Connecting and collaborating is not just done to bring in new and different majors. No matter the major, the need to connect to each individual student who walks through the door is what makes the Center a unique and safe experience for the students at IU Southeast.
"Our first job is to get connected and make students feel that yes, they can do it. It isn't always about the writing the first time people come in," Meyer said.
To make that connection, the staff make it a point to learn about each student that enters the Center for help, learning what they've done that day, if something is troubling them, and what else they can help with outside of the realm of writing.
"It is about helping the students decompress," Meyer said.
Meyer went on to explain that people who are not familiar with the Center come in expecting it to be more like a tutoring center. In actuality, it is not purely a place to have your essay proofread. In fact, until recently, they did not like to only proofread papers for students.
"The most common thing asked in here is 'can I get my paper proofread?' They say that because sometimes, they aren't really sure what kind of help they actually need. We aren't proofreaders we teach how to proofread," Meyer said. "Instead of just grabbing the paper and proofreading, we say 'hey, let's sit down and talk about it.'"
Why is it so important to sit down and talk before heading into a student's paper?
"The content is on the student," Meyer said. "They have to understand the content. We provide fresh eyes and an objective point of view, but they have to know the assignment and their audience so that we know they are headed in the right direction."
Meyer prefers to call the people in the Writing Center consultants over tutors.
"Good writing is good writing. We are not here to tutor. We are here toconsult. To be the outside reader," Meyer said. "To say, 'This doesn't make sense. Let me read this to you and maybe you can explain it to me.'"
So what would keep a student away from the Writing Center and what they have to offer the student body at IU Southeast?
"Writing is personal," Meyer said.
"The biggest reason students don't come in is that writing is so personal. It is hard to take criticism on writing," she said. "Our criticisms are always constructive. Most of the time, it is the student's fear of what might happen; what could happen."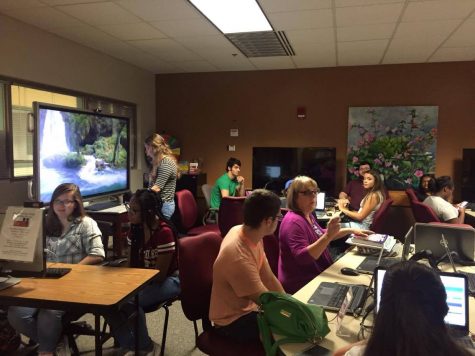 Meyer said making sure students feel comfortable to share their writing comes back to making that lasting connection with a student when they first arrive at the Center.
"We have consultants in here that like to explain and break it down," she said. Students think we will immediately grab a pen and start tearing it up. They are very hesitant to come and ask. Rarely do we ever mark on the student's papers. We talk and let the student do the marking."
Meyer said she wants the student body at IU Southeast to not only know that the Writing Center is there to utilize, but that it is there to encourage and be a calming place where there is no judgement. A place where there is no such thing as 'I can't'. The Writing Center is a safe place where students can be themselves.
"I want to put a banner of Dory right up there on the wall," Meyer said. "Instead of 'Just keep swimming' it'd read 'Just keep writing.'"