"The Terrorist's Son" discussed before Zak Ebrahim's visit to IUS
Lack of attendance caused two organizers to talk about possible themes in "The Terrorist's Son" in Orchard Lodge on Oct. 4, at 7 p.m.
"The Terrorist's Son" is a memoir written by Zak Ebrahim, who explains what life was like growing up in the household of a terrorist and how his father, who was convicted of the 1993 bombing of the World Trade Center, wanted him to follow in his footsteps.
The discussion of different themes was a way for students to preview the book before Ebrahim comes to IU Southeast on Oct. 11.
Courtney Block, user engagement librarian at the IUS Library, was one of the organizers of the event.
"When Zac was a kid, he overcame a lot of stuff, like a lot of ingrained stuff," Block said. "To me, the large theme is overcoming obstacles."
Andrew Utley, residential life coordinator and another organizer of the event, also pitched in on the theme of the memoir.
"It's about actually saying who you want to be and making that decision of who you want to be," Utley said.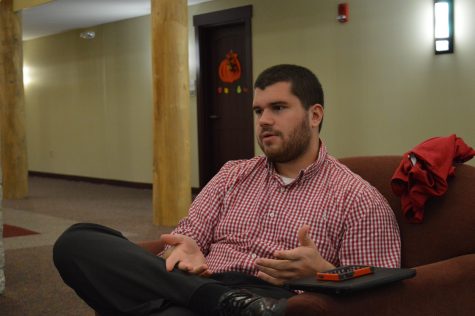 Block and Utley further discussed how the book's theme ties into the struggles that college students could face.
"College is such a critical time," Utley said. "It's that time that you are defining who you are as a person. That's where you make those decisions of 'I want to be this person' or 'I don't want to be this person.'"
Utley also said many students, especially those at IU Southeast, come from a small town where everyone is almost the same.
"They get to college and it's an eye-opening experience for them, and they get to experience diversity," Utley said. "You can be who you are."
Block said although IUS is a smaller campus, students still meet other students from all kinds of different walks of life.
"Exposure to diversity and how that influences choices that you make about your own thoughts and feelings and attitudes that shapes who you are," Block said. "I think it's applicable to all walks of life especially in college where you're still trying to figure it all out."
Utley and Block went into further detail about how Ebrahim's resistance to pressure given by his family ties into their opinions of the theme.
"He actually mentions his uncles too," Utley said. "They were raised to hate in that way, so there was no physical threat, it was all more 'you grew up with this; we want you to do this.'"
Block made a point to clarify that although Ebrahim lived in a Muslim community, and faced pressures from family members to follow in his dad's footsteps and become a radical jihadist, his family's actions do not reflect the entire Muslim community as a whole, but rather a smaller radical group within the religion.
"They were so ensconced in that Muslim community," Block said. "There were uncles and other people who had a really direct influence on the kids' upbringing."
Block said Ebrahim eventually broke away from the pressures of his uncles and other family members whenever his mom took him and his siblings to Florida.
"He get's that job at Busch Gardens, the theme park, and he encounters people on a daily basis from all walks of life," Block said.
Block went on to discuss how diversity played a huge role in his questioning of his father's actions and the pressures put upon him from his uncles.
"I think his questioning of things started a lot longer than that," Block said. "But I think it really came full-circle when he got that job and saw that this ingrained suspicion and stereotypes of people who are not exactly like you are wrong."
Ebrahim will visit IU Southeast on Oct. 11, in the Ogle Center at 7:30 p.m. There he will further talk about his life and his book, "The Terrorist's Son." Following the event, Ebrahim will be signing books in the lobby of the Ogle Center.