Louisville FC tops Charleston Battery, advances to Eastern Conference finals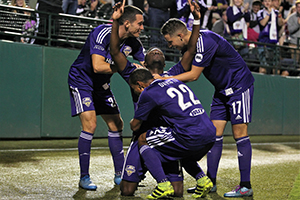 With a home crowd of 6,581 the number two seed Louisville City FC advanced to the Eastern Conference finals after defeating the Charleston Battery 1-0. One step from the final match to declare the USL champion for 2016.
The only goal scored in the game came from Kadeem Dacres with an assist from defender Sean Reynolds in the 53rd-minute.
"I had a tough angle and I really didn't see anyone in the middle at the time," said Dacres. "My whole thought process behind it was just striking it on target."
Head coach James O'Connor said, "We fully deserved to win the game," "I'm really, really pleased for all the players."
"I thought in the first half, we had some really good chances," O'Connor said. "We got into good areas. We just have to pull the trigger a little quicker. I thought we had some quality passages of play — just couldn't quite get the shot off quickly enough, and they defended really well. But all in all, look. To get to the conference final again, the guys deserve enormous credit. They really do."
"I don't really get to assist or score goals that much, so it definitely feels good to have a point on the season," said Reynolds.
The club now has one final hurdle to get past to reach the final match. The LCFC is going to have to do something they have never done before. They will have to beat the number one seed in the Eastern Conference, the NY Red Bulls II.
"We're 0-4 against New York the past two years, so it's definitely something all of us have in the back of our mind, " said Reynolds. "It's like a bug. It's like a chip on the shoulder. You've been beaten four times by the same team, and you want some revenge. New York's a good team."
"They played good football all season, and we always knew they were going to be up there," said Dacres. "We're ready for them. We're pretty much ready for them. They're the top team, and they're doing well. We respect them, but we'll have something ready."
The Louisville City FC have never beaten the NY Red Bulls II.
    The USL Eastern Championship will be played on Oct 15 at 6:30 p.m. after the MLS double header with the NY Red Bulls taking on the Columbus Crew at 3 p.m
To watch the full interviews with Dacres, Reynolds and O'Connor go to:
and