IU Southeast men's and women's basketball teams kick off homecoming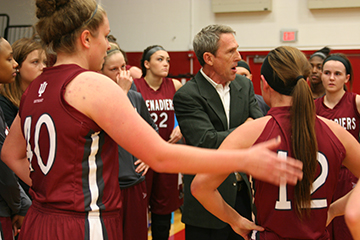 As the band played, the people in the stands cheered and signs were waved, the excitement that filled the gym fueled the players to play hard at the IU Southeast homecoming game Nov. 5th.
The women's basketball team fell short by a score of 51-65 after they faced Cumberland University. Leaving their record at 0-1.
Although the women's team lost, this is their first game of the season with a long road ahead of them.
With performances by Jocelyn Mousty with 12 points and 10 rebounds and Ariana Sandefur with nine points.
Senior forward, Mousty said her critique of the game was that the team should of made shots in the beginning of the game because of the time limit.
Mousty did also have some positive things to say how the team played.
"I do think that we fought back," Mousty said. "We did have a chance to cut it down to six and it did not work out in our advantage, but we did fight back. We're going to have to work coming back and finishing and after that we'd be solid" Mousty said.
Coach Robin Farris said he was pleased with the defense and how they held it at 38 percent during the game.
"I'm happy with that. Anytime you hold a team under 40 percent that's good." Farris said
However with the offense, Farris said he wasn't so pleased with shooting at 26 percent. Rebounds and layups are some of the key components that Farris said the team has to work on.
"A lot of easy shots and layups around the basket in the first half especially." Farris said "I feel like the layups are the only way that we're going to come back and win this. You got to get out and transition and try to get some of those easy baskets" Farris
After the girls game the men's basketball team went up against Miami Middletown with a win of 93-62. Leaving their new record at 2-1.
With performances by junior guard, Demetrius Stanton with 15 points and seven assist, junior guard, Jacob Mills with 10 points and junior guard, Joe Feree with 15 points from five threes and freshman guard, Jamie Johnson with 21 points.
After the team headed out of the locker room head coach Wiley Brown said although they did win this game, coming out flat is something he does not want the team to do and worrying about the score of the team is something that you cannot do.
"You want to be a championship contender, worrying about the score is something you can't do," Brown said "We didn't get our rotations on defense and we turned the ball over, you can't do that. Championship team comes out and doesn't come out to play the score. They come out and play and have fun and be sharp." Brown said
Although brown did critique this game he said he feels as if his players are getting there and getting the hang of things.
The referees that watched over the game called a lot of foul play during the game, however coach Brown said that the refs make those calls close and fair. He also said that it is good that the players play with refs early in the season.
"The good thing about playing these refs early is that you can see how the referee's call," Brown said "So we know these refs and we know they're going to call it tight. Passing and shooting is what we can control. What the refs call, we can't control." Brown said.
Stanton said he felt as if the team played hard defensively and offensively throughout the game with good shots on basket. Although team mate, Joe Jackson disagreed with some of the referees calls during the game, he said he still thought the team played aggressively.
The women's team stays home Nov. 11th as they play Trinity Christian College at 5 o'clock while the men's heads over the river to go up against Kentucky Christian University at 8 o'clock Nov. 15th.