Campus Boogie Returns to IU Southeast
It was not long ago that the Campus Boogie stopped being an annual event held during Homecoming week, but this year it made its return.
Campus Boogie was held in the Hoosier Room at 8 p.m. on Wednesday, Nov. 2. It was hosted by the Student Program Council (SPC).
Alyssa Hendershot, supply chain management senior and president of the SPC, said it was the organization's idea to bring back Campus Boogie.
"It was sponsored by an individual a couple years back and it ended about four years ago, so we got together as a group and decided it was time to bring it back," Hendershot said. "Then we got with the Homecoming Committee and made it hopefully a fun kick-off event."
Hendershot said the event was not what they had wanted it to be, but she said she still thought the event was successful.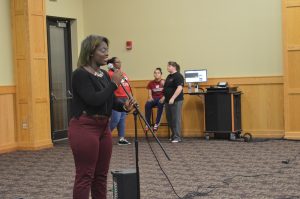 "It was going to be a dance competition where you have a mix of songs and you dance for a couple of minutes," Hendershot said. "And then you got your name put on a plaque at the end of the day."
While there were a couple of dance acts during Campus Boogie, the majority of the acts were singing acts.
Lauren Allen, music freshman, sang Carrie Underwood's song, "Blown Away."
"I have sung that song for about a year now," Allen said. "And it took me awhile to get it because her voice is so strong."
Allen said that she chose that song because she loved the story it told. Underwood's song is about a daughter who leaves her alcoholic father passed out on the couch and locks herself in a cellar during a tornado.
"It has a story to tell and music is another way that you can tell a story," Allen said. "It's just a really good song."
Allen also said this was the first event at IU Southeast that she has sung at. She said she was given the opportunity to sing during lunch one day, but fell ill and had to cancel.
"I was given an opportunity earlier on in the year to sing," Allen said. "But I got sick and had to pass it up, and I didn't want to pass this one up, so I went ahead and took it."
Allen was not the only one who sang at Campus Boogie. Martina Andrews, sociology senior and winner of the best singer award, sang an a cappella version of "Need You Bad" by Jasmine Sullivan.
"I actually love Jasmine Sullivan as an artist," Andrews said. "So it was kind of easy to pick her and pick one of her songs that I have sung over and over again."
Andrews said she chose to do an a cappella version rather than have the music play in the background because she wanted to make it her song. Andrews said she would rather incorporate her creativity into the performance of the song.
Andrews won the best singer award with her performance. She said it was humbling to win the award around so many people she did not know.
"It makes me happy to win the best singer award," Andrews said. "That's humbling of course, but it just felt good to have other people be happy for you."
Like Allen, Andrews said she has not sang at any campus events other than during presentation shows for incoming members of her sorority, Zeta Phi Beta.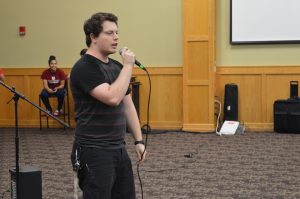 Andrews said her passion to sing originated during her time as a child.
"It all started in church," Andrews said. "But singing has always been a passion of mine because it's like another world I can go to when life necessarily isn't treating you right."
Allen said her love of singing started from the time she spent singing with her grandma.
"She always told me that I would hum to songs before I could speak," Allen said. "I grew up on music, and the fact that I have the opportunity to pursue that as a career, I didn't want to pass it up."
Andrews said that she wanted all singers to be themselves. She also said that singers should not try to be like other singers.
"No singer is like anybody else," Andrews said. "If you want to sit down in a chair or if you want to cartwheel across the stage, whatever you want to do, find your own way."