Finishing What She Started
After decades of success as a police officer, Laura Schook returns to IU Southeast in search of something more
One Sunday in 2015 Laura Schook decided to attend a different church than her regular one.
Upon entering, Schook bumped into a man she had went to high school with, a man whom she arrested for dealing crack cocaine.
Having served several years in prison for his crime, the man called his children over and asked them to come meet Schook, the woman he said saved his life.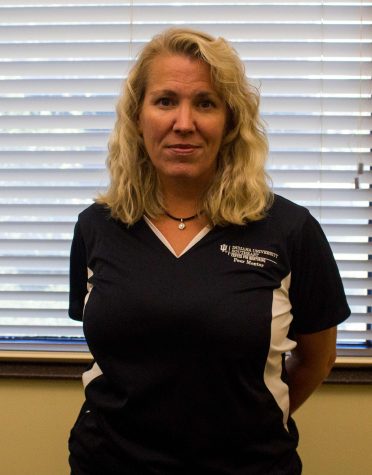 That story was one from her more than 20-year service as a police officer.
In 1995 Schook began attending IU Southeast. That same semester she was offered what she described as her "dream job without a degree."
This was when she joined the New Albany Police Department, withdrawing from college that semester.
Schook said she was hired on by the department and was assigned to perform undercover narcotics work, a position that she earned before she had attended the police academy.
According to Schook, this was a first for the NAPD.
"The department had never taken a rookie fresh from the hiring process with no formal training for the sole purpose of buying drugs," she said.
Schook received her first commendation from the department for the undercover narcotics work during her first year.
She said the chief told her that most officers would not see as many Class A felony arrests in their entire careers.
"I had 27 class A felony arrests before I wore a uniform," Schook said. "I took all of this in stride. I had no idea of the significance of what I had done until years later."
In 2004, Schook was awarded the Medal of Valor for her actions while responding to a call along Spring Street after being stabbed by the assailant.
While serving as an officer on the NAPD, Schook specialized in undercover narcotics, bike patrol, crimes against children, sexual assault investigation, hostage negations, and crisis intervention.
There was an eight-year period during her career, starting in 2004, that Schook received several in-the-line-of-duty injuries, ranging from a blown-out knee to a broken back. However, "all my injuries never stopped me from wanting to protect and serve," Schook said.
"In the fall of 2010 I decided to go back to school," she said.
At first, Schook was attending classes part time, but once she separated from the force in 2015 she began attending classes as a full-time student.
Today, Schook is a senior with a 3.89 GPA and is working on finishing up a B.S. in criminology with a minor in psychology.
Schook said that she has been significantly involved in campus activities at IU Southeast, including serving as vice president of the IUS Criminal Justice Student Association, receiving the Chancellor's Honors Program Scholarship and being a member of the IUS Honors Program.
Due to her scholastic and extracurricular achievements, Schook has received some scholarship assistance during her educational process at IU Southeast.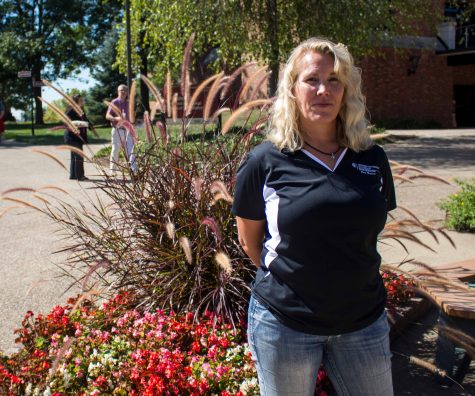 She has received the Frank Denzinger Scholarship, named after the fallen Floyd County Sheriff's Department officer who was killed in the line of duty in 2007; the William Lowe Bryan Scholarship, named after IU's 10th president; and lastly the Dr. John Reisert Scholarship, which honors a founding board member and public servant. It is awarded annually to a non-traditional student.
Angela Salas, professor of English and director of the Honors Program, said that Schook is worthy of the praise that she receives.
"Ms. Schook is a fine Honors Program student, as well as a kind, thoughtful, and intelligent person," Salas said. "Ms. Schook has proven herself to be the sort of person who always brings more with her than she takes from a situation."
In addition to Salas, Rebekah Dement Farmer, Honors Program adviser, said that Schook's outlook and personality have contributed to her many successes.
"I've had the good fortune to have Laura in an honors seminar," Dement Farmer said. "She never hesitated to challenge herself, and she never shied away from difficult conversations or difficult concepts. She recognizes her weaknesses, and that, in itself, is a commendable quality."
Schook is also a jeweler, making jewelry out of spent bullet casings. You can find her jewelry in a few different stores throughout Louisville.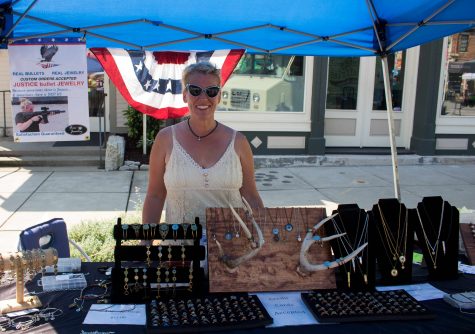 Schook said that some of her success may not have happened if it weren't for a woman named Mo McKnight-Howe, who owns a shop in the NuLu District of Louisville called Revelry Boutique Gallery.
McKnight first met Schook at a festival where she had a booth set up selling her jewelry. McKnight was impressed by her up-scaling spent bullet casings and asked if she can sell Schook's jewelry at her store.
Schook also volunteers with the American Legion, coordinating events and working with displaced veterans.
Joe Simon, history senior and Student Veteran Liaison, said he is impressed with the work she does with veterans.
"But I have to honestly say I was intimidated," Simon said. "Laura is an incredibly strong woman, and her strength emanates in everything that she does. Before you hear her story, you can already sense the iron will and inner strength that she possesses."
Schook said she has used her time at IU Southeast to think about what she wants to do in the future.
"The old version of me lived in a bubble, but now the world is my bubble thanks to school," she said. "It is a unique thing to be able to hit the reset button and be whatever you want to be."Schook said she is currently thinking about pursuing a master's degree.
"You want to pick something that will matter and make the world a better place," said Schook. "I want to dedicate my life toward social reform."