Inaugural First Savings Bank Speaker Series brings Ben Stein to IU Southeast
You may have been in class on Wednesday, Nov. 16 and just happened to look out the door to see economic and political speaker Ben Stein peeking in.
Stein came to IU Southeast on Wednesday, Nov. 16 to speak at the inaugural First Savings Bank Speaker Series in the Ogle Center at 6 p.m.
During this speaker series, Stein spoke about the recent election, politics and how it all ties into the economy. He said he does not see the recent election of Donald Trump as president affecting the economy as much as people think it will.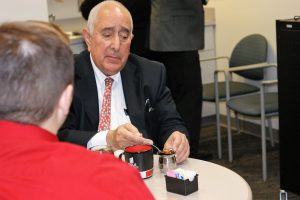 "I don't understand why the stock market is rallying quite as much as it is," Stein said. "I don't understand what he can do to make the economy change much. The economy already has very high employment, and the economy for the whole country is quite strong."
Stein also said that although the country has a high employment rate, the amount of people who are choosing not to work is also high.
"The real problem we have is people who have left the labor force and don't want to go back to work because they're being paid so much in unemployment and welfare benefits," Stein said. "I don't know how he's going to solve that problem."
With people concerned about the economy and those continuing to protest the Trump election around the country, Stein said he does not think there is a legitimate reason to protest.
"I don't think that anything was done that was illegal or unconstitutional by Mr. Trump to win the election," Stein said. "They're just sore losers and big babies, and I think they should just go back to class."
Stein said most of the protesters are students, and although he believes that Americans have the right to protest and a right to free speech, these protesters need to move on.
"We had a constitutional process by which the president is elected," Stein said. "That process is playing out. Once the Electoral College has voted, then it'll be done. I think the protesters are free to protest and that's the beauty of the free society."
Along with protesting, Stein said there is a huge problem with protesters blocking freeways in Los Angeles, where Stein currently resides.
"People need to get home on those freeways so that they can get a good night's sleep and go to work the next day," Stein said. "I think it is outrageous that the protesters are keeping people from getting home to get a good night's sleep."
Although Stein is a commentator for Fox News, CNN, and CBS Sunday Morning for both political and economic opinions, he did not start out that way.
Stein's dad was an economist and Stein said the work his dad did is what made him interested in economics.
"From quite an early age he let me read the papers he was writing about various issues and I found them interesting and compelling," Stein said. "When I took economics at college I found it to be an extremely interesting subject."
Stein said he decided to not get a Ph.D. in economics and went to law school at Yale after seeing the television show, Perry Mason.
"It was about a very famous defense lawyer and I thought 'Gosh, I'd like to be an exciting criminal defense lawyer,'" Stein said. "So that's why I went to law school."
After attending law school, Stein said he worked as a poverty lawyer, helping the people in a poor neighborhood in New Haven, Connecticut. Later, Stein said he helped administer a legal services program in upstate New York, which would help people who were poor in that area.
Soon after, Stein said he became a trade regulation lawyer. As a trade regulation lawyer, Stein said he worked on many cases that dealt with false advertising.
During Richard Nixon's and Gerald Ford's presidencies, and for a brief period of time during Ronald Reagan's campaign for president in 1980, Stein said he  served as a speechwriter. During the Nixon presidency, Stein said he found it exciting due to the scandal that plagued the president's second term.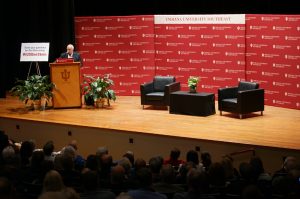 "Nixon's was really exciting because it was during Watergate and there was a big scandal and we were constantly in combat," Stein said. "It was almost like being at war, although nobody was shooting at us, but it was very intense, we worked long hours."
Stein, reflecting on Nixon's presidency, said he saw Nixon differently than the American people did.
"All of us who worked for Nixon felt it was not just a job," Stein said. "But it was a life-changing experience to work for someone who we truly believed was the greatest peacemaker that there's ever been in the White House. I still consider him to be the greatest peacemaker there was and I'm very proud to have worked for him."
Being a peacemaker while in the White House is something Stein said President-elect Trump should keep in mind when he begins his term in January.
"I think the best thing a country can hope for is peace," Stein said. "We are not at war abroad, except in a very, very small way, and I'd like to see the country more at peace."
Along with being a political and economic expert, lawyer and a speechwriter, Stein said he has also held roles in movies and television shows.
"I've done a lot of acting; a huge amount of acting," Stein said. "That just happened by pure luck."
 Stein said that while he was a columnist for the Wall Street Journal, he made trips out to Hollywood and loved it.
"I decided to move out there and was lucky enough to meet a producer, Norman Lear, who produced a very successful TV show called 'All in the Family,'" Stein said.
Stein said the day he worked on the set of "Ferris Bueller's Day Off" was the second best day of his life, the first being the day he married his wife. He said that acting was the most fun that he's had.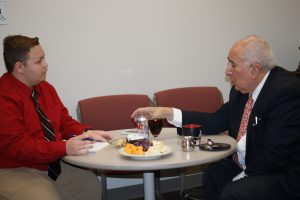 "Hollywood's great," Stein said. "If you can make a career out of it, there is no more fun place than Hollywood."
Stein's visit to IU Southeast was to kick off the First Savings Bank Speaker Series. The series will be an annual series with a different speaker each year.
Larry Myers, CEO of First Savings Bank, said he helped negotiate the series with with the university.
"We're very honored that we've been able to set up this unique opportunity," Myers said.
David Eplion, dean of the School of Business, introduced Stein to the stage.
"As Dean of the School of Business, we want to strengthen our ties to the community," Eplion said. "We want to be the first place people go for business questions."