A Valuable Resource for Non-Traditional Students
Every student has a different situation. Some students live on campus, some students commute, some students have jobs and some students focus all their time on education. No matter a student's situation, there are resources to help students succeed at IU Southeast.
IU Southeast's Adult Student Center is a place where students who consider themselves to be an adult or non-traditional student can go to connect with other students, study for classes, and even just relax.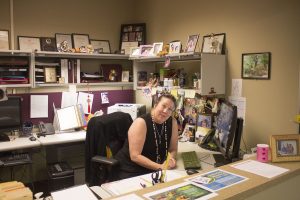 Kimberly Pelle, coordinator of Non-Traditional Student Programs, said she wants IU Southeast students to know that anyone is welcome to utilize the Adult Student Center.
Pelle said there are students of all different ages and backgrounds that regularly use the Adult Student Center for a variety of resources. She said the Adult Student Center is home to 12 computers, a scanner and printer, a microwave and refrigerator, a coffee maker and phone, a Veterans resource center, and countless other resources.
"I like to think of the center as their home away from home," Pelle said.
According to the Adult Student Center website, students who are over the age of 24, have children, are married, work full or part-time, have experienced a significant gap between their education, and those who self-identify as non-traditional students are those who benefit most from the Adult Student Center.
Due to the nature of being non-traditional, Pelle said that adult students often face unique challenges.
"The biggest challenge I face as a non-traditional student is juggling the two worlds I live in as a student and as a mother," Mollie Martin, strategic communication sophomore, said. "I have a lot of responsibilities and priorities outside of school, and finding that balance is a constant struggle."
Along with being a mother, Martin also said she felt her age gap and background categorize her as a non-traditional student. She said she came from a background that "didn't value higher education, especially for women."
Martin said college was the dream she thought she could never reach.
"I may be going to college a little later in life than most, but every day when I walk on campus I feel such pride in achieving my dreams, despite the challenges I face," Martin said.
In order to stay successful, Martin said it is important to stay focused and to refuse to let anything get in the way.
According to the Adult Student Center, some other resources they offer include a variety of programs, workshops and services to "ease the busy and oftentimes anxious adult student's transition to college life."
The Career Development Center, the Center for Mentoring and the IUS Library are some of the offices and resources on campus that Pelle said often work with the Adult Student Center to provide programs, workshops and services.
Pelle said they have family outings and special events at least every few months as well, so students and their families can be involved and enjoy a fun and educational event. She said these events and outings are often sponsored by IU Southeast through student activity fees, making it cost effective for the students.
According to the Adult Student Center, other events that occur each year for the Adult Student Center include two events to induct students into the Pinnacle Honor Society and the Metroversity Outstanding Adult Student Learner Awards.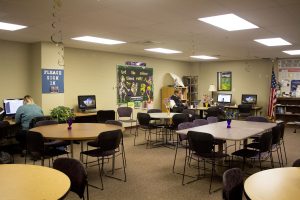 Pelle said the Pinnacle Honor Society is a national organization that honors students for their leadership and accomplishments, and is only for students who are considered adult or non-traditional students.
The Adult Student Center is located in University Center South, room 206 and has extremely flexible hours.
Martin and Pelle said the Adult Student Center is open for students to study and learn 24/7. Pelle said it only closes when the IU Southeast campus is closed so students can always have a place to go.
"You can pretty much always find me at the Adult Student Center working on homework and eating lunch," Martin said. "I've spent many hours there during the week, at night, and on the weekends."
Pelle said the Adult Student Center also offers support to students. Whether it is talking to her, getting a referral to a resource on or off campus, or anything they could need help with, there will be support for them. She said there are two students who work at the Adult Student Center who are well-versed with the campus and can offer support as well.
Martin said she is thankful for the resources from the Adult Student Center, the staff, professors and anyone else who has helped contribute to her success.
Martin said her advice for other students to be successful is to stay focused and refuse to let anything hinder your journey.
"Your goals will look different than anyone else's, and you will have challenges," Martin said. "Success isn't a destination, it's in the process."