#BlackArtMatters
Life stories and experiences aren't always easily shared with others through word of mouth alone.
Although some people share their experiences through writing, others share it through art.
With the stroke of their paintbrushes, the sensitive touch of the oil pastel against the canvas or a flash from one's camera becomes various pieces from different artists who represent black lives through black art.
The #BlackArtMatters, is an exhibit that opened Friday, Feb. 3 at the Carnegie Art and History Center in downtown New Albany.
Dan Pfalzgraf, the curator of the Carnegie Art and History Center, said this exhibit stemmed from the Black Lives Matter movement.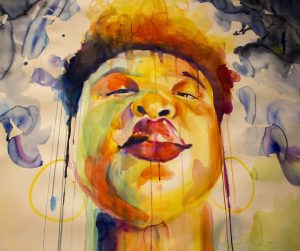 Pfalzgraf said the goal of the exhibit was to bring forward thoughts and feelings many share with the artists and to develop a sense of empathy with those unfamiliar with these experiences.
He said this show took a few years to pull together and that this was his first full exhibit he curated for the space. He said this was a time for him and the center to assemble putting together space for the community to see the stories of the culture the artists were trying to tell.
There are a mix of national and young local artists featured in the exhibit.
Delesha Thomas, public relations associate at the Carnegie Art and History Center, said she has seen many new faces at this exhibit.
She said the momentum has been good and the center has been receiving a lot of positive feedback. Thomas said she hopes the exhibit smooths out the misconceptions of what Black Lives Matters is.
One of the many experiences shared in this exhibit is self-love.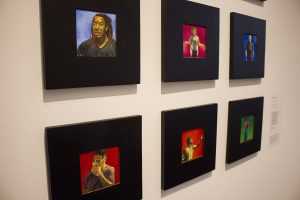 Lania Roberts, a junior in painting at Syracuse University, Louisville native and one of the artists in the exhibit, said expressing her journey of self-love was a huge part of her art.
Roberts said as a black woman and as a big girl, she is at the bottom of the social hierarchy. But with her art, she said she has broken down barriers of self-hatred and advertisements' definition of beauty.
She said she found a way to be successful, love herself and share with other people.
In terms of other people's artwork in this exhibit, Roberts said she hopes others will be open to new perspectives and to see what the world really looks like.
"The American dream is seen through ads [and] power structures but they don't include blacks inside galleries," Roberts said. "This [exhibit] shows the negative remnants of effects living inside a dream instead of reality. Take a taste of the reality we are in and realize we're not in a dream."
One of the negative remnants of the American Dream is the issue of police brutality.
In an article from the International Business Times, reporter Janice Williams said in Sept. 2016 that 173 blacks were killed by police.
Roberts said this past semester she was distraught and angered by the news of police brutality in the U.S.
She said she went to her mentor and asked what she could do with her art about this.
"I said to her, 'I don't think a self-portrait will be good enough,'" Roberts said. "But she  told me that something like this is what we need right now."
Roberts said Pfalzgraf had seen her videos and knew about her being a part of the Louisville Visual Art Associations. In the summer of 2016, Pfalzgraf emailed her that he'd be starting this show and he wanted her to be a part of it. When Pfalzgraf told her what the exhibit was about and that he wanted her to create something, she sent her artwork to him so it could be put in the show.
Roberts is currently studying abroad in Florence, Italy, but she said she hopes those who look at her work will take in her art however they please and take their thoughts home with them. She said if someone looks at her work and says it's overly confident and shallow, too much self love, she has done her job.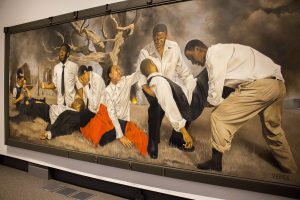 "My expression gives you the chance to react and you get to take that home with you," Roberts said. "Take it however you want."
Robyn Gibson, a Louisville native and first year graduate student in painting at the New York Academy of Art, said she wanted to create something that would combat silenced voices in a positive way during a time when many people feel they don't have a voice.
In the corner of the Carnegie Art and History Center, to the right of Shawn Michael Warren's "The Promised Land," are nine 5×5 panels of oil paintings of Gibson's family and friends from Louisville.
Gibson also interviewed and recorded the nine people she painted to develop an opportunity for others to learn about their lives and stories, and for others to develop an understanding on who they are. The recording of the interviews are on an iPad, which is on the left of the nine portraits.
Gibson said as far as scale, detail, presentation and interview questions, she wanted to entice the viewer to get close, interact, listen to understand, and really respect each individual she's painted.
"I believe my work is important not because it gives a voice to those who feel they don't have one but because it's a platform," Gibson said.
Gibson said she just wanted to create a space for each person to be true to who they are and paint them in a way that's consistent with who they are and draws people in.
With this piece, Gibson wants audience members to be patient and take the time to interact with her work. She said the interviews are important and she wants people to listen to them.
"I want them to get close to the portraits and see the details," Gibson said. "I also hope that they can kind of see a bit of each person's personality in the paintings as they listen to their stories. Each person is important, and their stories deserve to be listened to."
In terms of other artists' work in this exhibit, Gibson said she hopes the audience will take in the work and appreciate it from an aesthetic point of view, as well as come out of it thinking in a way they may not have before viewing the show.
"The work is both visually appealing and thought provoking," Gibson said. "I also hope it gets people talking and inspired to create something or participate in the movement through their own form of activism, whatever that looks like to them."
Gibson said she feels like she is part of something bigger than herself, and contributing to a movement that is both controversial and necessary.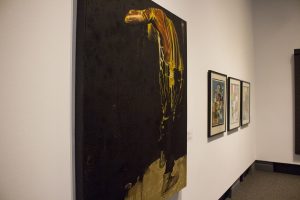 "Through these works the viewer can partake in a movement and each artist has contributed to that movement in their own relevant way," Gibson said.
Pfalzgraf said this was not an anti-white exhibit, but is an exhibit that takes the time to celebrate black lives.
He said compassion and fellowship are keys to overcoming the issues that have given rise to the Black Lives Matter movement.
"Celebrating the African American experience hasn't had enough due shared in the art world," Pfalzgraf said.
Pfalzgraf said by using the power of art, he hoped this exhibit would become a part of a greater movement to promote growth, love and healing within society.
"Until people see eye to eye with respect. Until we see ourselves in each other, there will be a need for the #BlackLivesMatter call," Pfalzgraf said.
On March 31 the center will be hosting a panel discussion from 6:30 p.m. to 8 p.m. with Fahamu Pecou, Stephen Flemister and Scherazade Tillet, artists whose work is in the exhibit. The program will explore artists' histories, ideas of public and private identities, and how current events relate and inform each other's work. The discussion will be moderated by Kaila Story and Jaison Gardner, WFPL's "Strange Fruit" podcast team.
This exhibit ends April 8, 2017.