Prior-Prior Year Policy Eases FAFSA Application
The U.S. Department of Education has made a key change in the seemingly everlasting financial aid process. According to The U.S. Department of Education, this year sees the Prior-Prior Year Policy, which took effect in October 2016 with the intention to end late filing of the Free Application for Federal Student Aid.
This new guideline will give college students the option to take tax records from the previous year rather than their prior year information when filing their FAFSA, according to Fast Web.
The Prior-Prior Year policy will align with the college application calendar, provide financial aid information in advance for all college decisions (including deadlines) and remove conflict with priority filing deadlines.
This is important because meeting these deadlines are required to qualify for various forms of financial aid, such as grants and scholarships aside from the FAFSA itself, all according to Fast Web.
This policy is new for students at IU Southeast and students nationwide. With this new addition, students can take advantage of filing  their FAFSA — and therefore their student aid — earlier, according to Traci Armes, IU Southeast's director of financial aid.
"This should allow a majority of students to feel more at ease with the sudden onslaught of the college burden," Armes said. "But, it will prove beneficial to students as they prepare their finances for the next year, well in advance."
For the FAFSA in 2015 and in years before, a person was able to report their tax income information only from the previous year.  Due to this policy, many students were not able to file their FAFSA until nearly April, despite the FAFSA forms being released on Jan. 1, according to Fast Web.
Where last year's policy was available in the spring semester on Jan. 1, it will now be available in the fall semester on Oct. 1. In addition, last year's policy only allowed someone to put in taxes from the previous year and make corrections to the data once taxes are filed.
"Everyone is different, and I believe this new policy will see much less stressed students coming into my office with their major concern being scattered deadlines and due dates," said Yvonne Young, IU Southeast's financial aid counselor.
This change is opening doors for many students to lighten the load of filling out their FAFSA in the new year. Young said this will allow students to report tax infor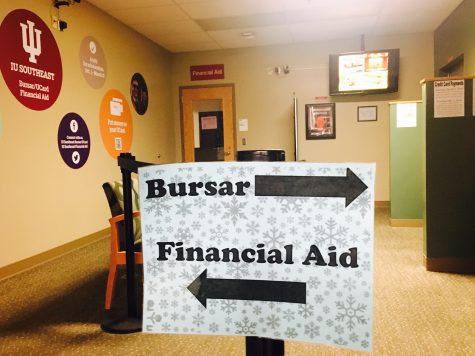 mation from a prior-prior (year before the year needed for filing) tax year, giving clearance to tax information from up to two years ago.
Now students will have their financial aid packages sooner, helping them make decisions about their college path, according to Fast Web.
Sarah Young, sociology junior, thinks the change in policy gave her a less stressed start to her spring semester.
"I was able to file my FAFSA back in November, after they changed the policy, and it really allowed me to come into my most stressful semester yet with a checkmark already completed on my January to-do list," Young said.
For Aleah Chow, elementary education sophomore, the change sparked confusion to their accustomed routine.
"I'm the type of person who is super organized and always quick to schedule things and, most of the time, complete things early on," Chow said. "It confused me when I got an email in my student account about filing the FAFSA earlier than January. I couldn't see how if I didn't even have my taxes yet."
According to the U.S. Department of Education FAQs on the FAFSA, this change in policy will not be effective for students who need to make a change to their FAFSA forms in the following academic year. Such scenarios include a responsible guardian losing their job, students taking over financial responsibility of their education and other circumstances.
Comparisons between the last year's policy and the Prior-Prior Year  include many benefits that students will be able to take advantage of. Now it will allow students to put in taxes from two years ago where data will have already been correct from the previous year, according to Fast Web.
Fast Web also explains the new policy will enable incoming college freshmen the chance to explore their options for financial aid before any fast-approaching deadlines.
The FAFSA for next year's 2017-2018 school calendar is available now until June 30, 2017. Students will be allowed to use their tax information from 2015 on this year's FAFSA application, according to Federal Student Aid.