Star Wars Celebration 2017: My Journey to a Galaxy Far, Far Away
Have you ever wondered what it would be like to be surrounded by all things "Star Wars"? Maybe you've thought about what it would be like to be submerged in a world of cosplay, celebrities and lightsaber battles? Star Wars Celebration covers all of that and more.
Not so long ago –April 13-16, 2017– in a galaxy far, far away –Orlando, Florida –, Star Wars Celebration 2017 commenced.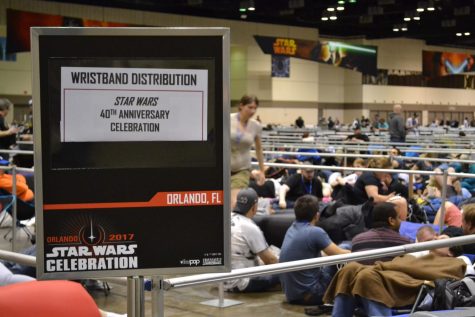 I attended my first Celebration in Orlando with my friend Kelsey. We decided to go for the full-immersion experience and do the sleepover on Wednesday night. The sleepover nights allowed fans to queue in lines for some of the largest, most anticipated panels of the weekend. Kelsey and I went straight from the airport to the Orange County Convention Center, the place we would practically call home for the next four days.
Arriving to a massive queue hall with thousands of people can be a bit overwhelming, but making line friends is key. This was made much easier by the fact that all of us were there to celebrate our love of "Star Wars." Our line friends, John and his wife, Alissa, from Tampa, Florida, were very engaging. Considering we struck up deep conversations involving fan theories at 4 a.m., the friends we made in line became the ones we came to know as "the troopers."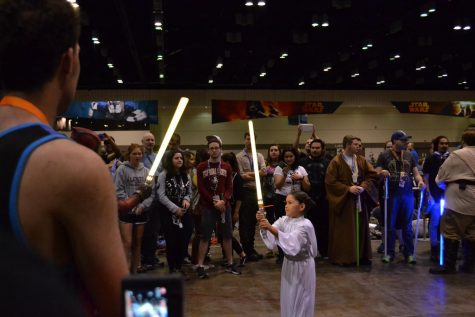 Add some impromptu lightsaber fight clubs where a 6-year-old Princess Leia dueled Deadpool and a round of applause each time one of the metal queue poles would hit the ground, and you have the first sleepover of Celebration.
My friend and I did not end up making it into the 40th Anniversary panel we had lined up for overnight (we were 250 people too far from the wristband cutoff), but we did get to stream it on a screen in the same building. It was explosive, really, being in the same building as Harrison Ford, Mark Hamill and George Lucas was a very crazy feeling. Add in that Ford and Lucas made a surprise trip to the fan stage in the exhibit hall, and the feeling was indescribable.
The tribute to the much-missed Carrie Fisher was a tear-inducing moment that touched everyone. I can attest that there was not a single dry eye in our theater during the tribute that was led by her daughter, Billie Lourd, and closed by the incredible John Williams.
The next day was "The Last Jedi" panel. This was probably the most anticipated panel of the entire weekend. People were lining up at 2 p.m. on the day before just to have a small chance of grabbing a seat in the panel. This one was another panel we were unable to physically attend, but, again, being in the same building as Daisy Ridley, John Boyega and Josh Gad was a crazy feeling.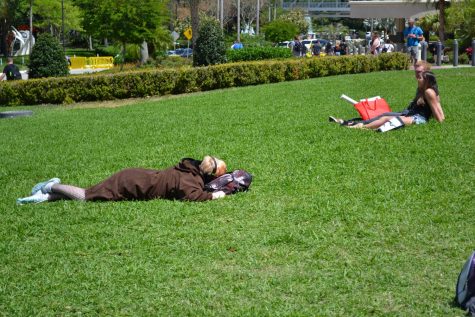 To briefly (as briefly as I can) talk about "The Last Jedi", my fan-self won't allow me to choose specific words. The trailer was amazing, the poster was amazing and the panel itself was very surprising. That's not mentioning the fact that Boyega made an unannounced visit to the fan stage where my friend and I had been watching. It was just insane.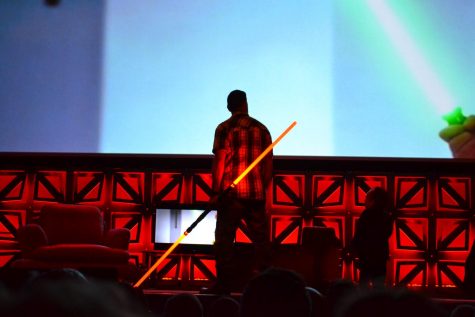 We took part in countless panels throughout the weekend, despite not being in the largest ones. I attended a panel with Ray Park, who portrayed Darth Maul in "Star Wars: The Phantom Menace" (Episode I). I think it is safe to say that it was my favorite panel of the weekend. Park is incredibly passionate about what he does and for whom he does it. The fans mean so much to him, which was evident by how he interacted with all of us. We were able to attend a panel on Sunday where he made a surprise appearance and watched as he got choked up about his love and passion about "Star Wars" and how it changed his life.
We also attended a panel with Warwick Davis, an actor who is known for many iconic roles that span decades: Professor Flitwick in "Harry Potter," the leprechaun in "The Leprechaun" and Wickett the Ewok in "Star Wars: Return of The Jedi." He is a snarky, hilarious person who is very much still in love with "Star Wars" and what it did for him when he was cast in "Return of The Jedi" at age 11.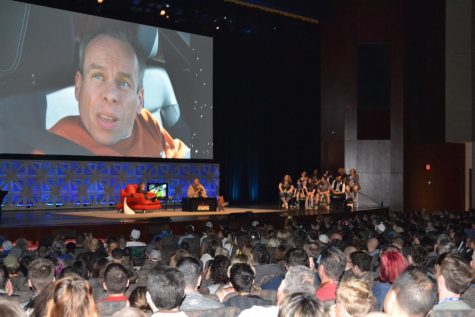 One of the coolest things we did was watch back-to-back screenings of "The Empire Strikes Back," "Return of The Jedi" and "The Force Awakens." OK, they are movies many people have seen a million times and movies that most probably own (I know I do), but it's not every day that you get to watch them in that setting.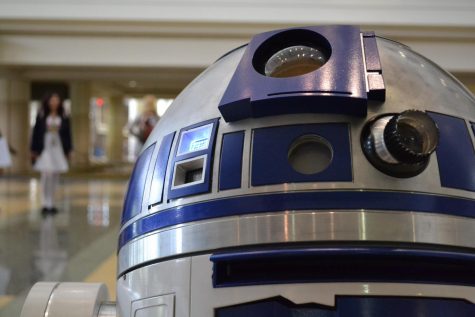 Picture a theater with more than 1,000 seats. Picture those seats filled with lightsaber-wielding fans who cheered and clapped every time a character walked on screen. The LucasFilm logo would appear to thundering applause; the opening crawl would induce cheers. Experiencing these films like that isn't something you get to do every day with that many people who love the films as much as anyone could.
There was so much to do every place you looked. The exhibit hall was wall-to-wall "Star Wars" merchandise and experiences. The Celebration Store was an intense exercise in patience, as the wait time to get in was as long as five hours at some points (the checkout line inside sometimes ran five to six hours). The convention center is the second largest in the United States, and it was like a daily scavenger hunt trying to navigate around to specific places.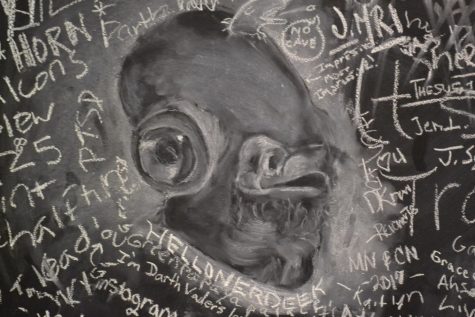 Sunday was the day Star Wars Celebration 2017 called cut and wrapped. It was a bittersweet day. There was no more going back the next day. There were no more sleepovers with line friends. There was no more running to be the first in line for your favorite actor.
The 2017 Celebration closing ceremonies took that feeling and amplified it for me.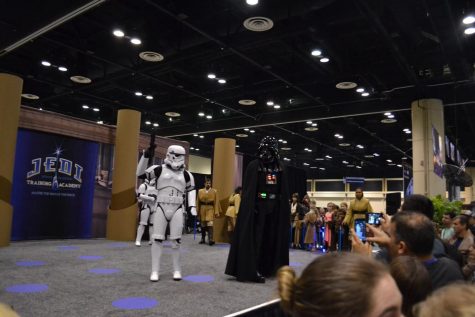 The closing highlight reel brought me to tears. To see thousands of people smiling so big and so much; to see the faces of all the kids who got to meet and interact with R2-D2 and BB-8, it really took my sad feeling of "the end" and lessened it.
This was my first Celebration, but it will not be my last. The friends I made and the experiences I was able to have won't be forgotten as the months wear on until the 2019 Celebration.