Habana Blues: an immigrants story
As soon as you step into the kitchen of Habana Blues you start to smell the familiar scents of Hispanic and Latino cooking.  White rice and black beans cooking, plantains being peeled and various herbs like cilantro that are traditionally used in Caribbean cuisine.
Flavors that I remember from my childhood are reproduced in Southern Indiana.
Habana Blues Tapas restaurant is the creation of immigrant Leo Lopez. Originally from Cuba Lopez and eight others built a raft in September 1994.
This was a time when Cuban leader Fidel Castro was allowing Cuban citizens to leave the country legally. Lopez took advantage of the situation and set out onto the Caribbean ocean bound for the Florida coast.
Parts of that original raft survive in the restaurant.
"We were picked up by the U.S. Coast Guard and taken to Guantanamo Bay, Cuba," said Lopez.
After being picked up Lopez spent the next 16 months in detention at Guantanamo Bay while being processed. While Lopez left Cuba in September 1994 he didn't actually set foot on American soil until January 1996 when he was taken from Guantanamo Bay to Miami, Florida.
While in Miami Lopez found work doing but the work wasn't enough. The cost of living was too high.
"Miami has no jobs and everything is so expensive," Lopez said. "I had to work for three weeks to pay my rent, with the last weeks' check I would buy food. I was living better in Cuba, I couldn't even buy a car."
Looking for a better life Lopez came to the Kentuckiana area in December of 1996.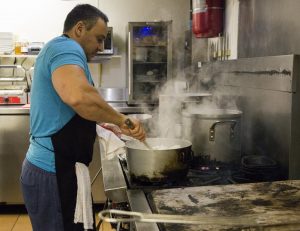 Lopez spent the following 12 years working at a cement factory in Sellersburg. At the same time he was a part time bartender in Louisville. "After I was let go from the cement factory I started working as a fulltime bartender," said Lopez.
Soon thereafter the owner of the restaurant Lopez was bartending at put it up for sale. Before the sale occurred Lopez and the restaurants chef had become close friends. Lopez calls him his brother.
In April 2010 the two decided to go buy the restaurant and move it from Louisville to Jeffersonville.
"The first restaurant was called Cuba Libre," Lopez said.
Within months Lopez decided to open Habana Blues Tapas restaurant at its original location on Market and Bank streets at the same time.
The stress of having two restaurants was to great and Lopez decided to close Cuba Libre.
Lopez tried to open a second location of Habana Blues in Louisville. But after this attempt at having two restaurants at the same time also failed. Lopez decided to focus all of his time and energy into Habana Blues.
Location being everything, Lopez decided to move the restaurant.
"In the summertime we made good money," Lopez said. "But during the winter because of The Grand next door there was never enough parking and if there was a wedding I had the same problem. This location became available and I went for it."
The current location of Habana Blues was an old bank. The location of the bar is where the tellers station was. It is hard to tell what the location originally was. Virtually everything was replaced of updated.
"The only thing I kept was the two chandeliers and the floor," Lopez said.
Leo Lopez is not just the owner, he also does some of the cooking. Lopez credits his father as his major influence. "My dad was a chef," said Lopez. He also likes to cook at home.
There are no plans for expanding or major changes in the mind of Leo Lopez.
"My dad is from Spain, and my mom is from Cuba, this is what I always wanted to build, which is that combination of tapas and Cuba," said Lopez. "In my restaurant I give you two choices, you can have the tapas or you can have the entree. I kind of created two restaurants in one."
All of Lopez's efforts are paying off. Habana Blues has become a successful part of the New Albany food scene.
The restaurant currently has a staff of 19 people, with 11 of them working fulltime.