Unusual combo takes stage in the Ogle Center
Sexual assault and humor is a combination not often paired together, but that did not stop Catharsis Productions from creating an interactive, unorthodox program to tackle the topic of sexual assault prevention.
Monday, Sept. 11, IUS Campus Activities Board and Sigma Kappa presented Catharsis Productions' Sex Signals in the Ogle Center. The purpose of the program was to prevent sexual assault by encouraging students to be "upstanders" instead of bystanders.
Actor-educators Jessamyn Fitzpatrick and Kyle Whalen improvised real-life scenarios in which they asked the audience to give ideas for pick-up lines, the personality of the characters and answer questions on how to prevent sexual assault.
"Studies show again and again that it is the most effective way to prevent sexual assault," Fitzpatrick said. "There are so many different forms of intervention, you can find one that will work for you if you are socially anxious or not as confident."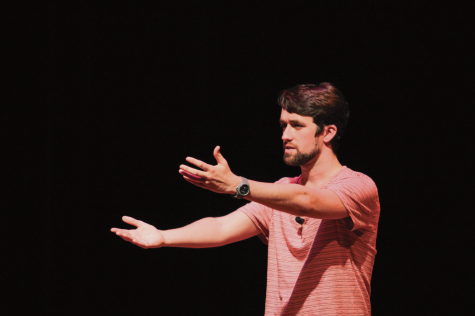 Whalen said it's powerful for students to hear these words from their fellow students. "It means much more if they say it than if we say it because we're brought in to say it."
Part of the program included a conversation with the audience about the sex education they did or did not receive. Fitzpatrick believed one of the biggest problems with sex education is the lack of education young people receive on the subject
"I think if we had comprehensive sex education – talking about relationships, consent, mutuality and pleasure. We would not find ourselves in situations where the first conversations students are having about sex is about sexual assault prevention, which happens a lot according to students," she said.
One of the more significant improvisations was one in which students questioned a character defending his friend, an alleged rapist, instead of allowing him to shame the victim.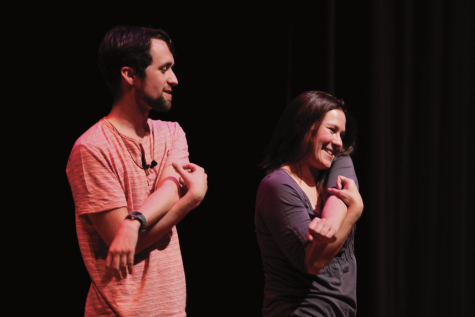 "Victim-shaming is a really hard problem in today's society," Whalen said. "The mindset of blaming the victim can be the easy way out and is easy to fall into and not know what to do about holding powerful people accountable."
The educators also tried to touch on taking down gender, sexuality stereotypes and hate-speech.
"We try to kind of umbrella out to that," Whalen said. "Standing up for people and calling any kind of dehumanizing out helps in all situations."
Educators see humor as the most appealing way to get the message across to their audiences and keep them involved.
"We talk a lot at Catharsis about 'fighting fire with funny,'" Fitzpatrick said. "Humor is one of the most effective tools at lowering a person's defense systems and if you get people to laugh, then you get people to listen."
IUS students in attendance received high praises from Fitzpatrick.
"The audience tonight was super participatory," she said. "You guys were such an amazing audience that was very responsive and engaged."
Students echoed the excitement and love for the performance.
"I heard good things about the presentation," Ethan Haverty, Kappa Sigma president, said before it began. "I wanted to come and check it out and support Sigma Kappa."
Jordan Cole, accounting junior, said he really enjoyed it.
"It was very funny and very informative," Cole said.
To find out more about Sex Signals and other Catharsis Productions' programs, visit http://www.catharsisproductions.com.