New Technology Comes to Knobview
The computer lab is closed and the lights are off. Screens glow as updates are made to the new computers that students will be using to finish their papers and projects starting in the Fall.
Over the summer IU Southeast replaced its computers in computer lab in Knobview Hall.
The upgrading of the computers have become a regular operation at IU Southeast.
Lee Stanton, director and IT media and communications, addressed what changes have come to the computer lab in Knobview.
"Over the summer UITS performed a life-cycle upgrade to the computers in KV 207," Staton said, "This just means the old computers were replaced after their 4 years in service and will be sold in a future computer sale."
Students who need a computer can find out more about hardware and software offered by IU Southeast on the University Information Technology Services website.
Staton addressed other changes that could possibly come to the computer labs on campus, as well as others that have already been completed on Crestview 112 student lab, top floor of Ogle Center, Hillside Hall mezzanine, Life Sciences and the Physical Sciences buildings.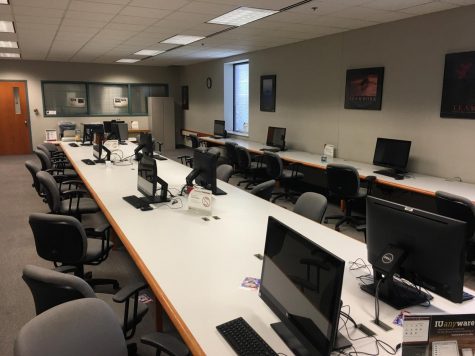 "The computers really are the only upgrade for now," Staton said."We've been evaluating ideas for a major change to the space, but are still in that exploratory phase. Any student suggestions are welcome. The only one left for a refresh is the one outside of Admissions. In all our remodeled spaces, we've tried to accommodate students studying in different ways, rather than simply providing computers."
Danny Clements, associate director of IT support services, shared his thoughts on the most important features for the computer labs at IU Southeast, stressing connectivity and collaboration.
"As more students bring their own devices we have to first provide the infrastructure for students to connect," Clements said. "The IU Southeast network has seen some expansion over the past few years, especially in our wireless network."
Clements also shared that most of the implementations and changes that have occurred with the computer labs on campus originated with either student suggestions or student-use data. Some of these include print and go stations, dual monitors, Bring-Your-Own-Device monitors, presentation television and collaboration hubs.
Clements shared that he doesn't have any specific items that he wants to see added to the labs at this time.
"I read surveys, listen to students at IT tabling events and take feedback on our labs," Clements said. "Those complaints and suggestions are used in coordination with lab remodels to try and fill those needs as the opportunity arises."
If a students are interested in sharing their thoughts on what changes should come to the student labs on campus they can do so by sending an email to helpdesk@ius.edu. They can also talk to an IT consultant in the student labs or IT technicians in the Support Center.
Information about where labs are located, lab hours and other facts about the labs at IU Southeast can be found on the UITS webpage.