Resisting in Kentuckiana: The Local Indivisible Movement
Nov. 9,. 2016 was either a day of joy or a day of uncertainty for Americans across the nation. It was the day after the presidential election that Donald Trump was unofficially called to be the President of the United States for the next four years. For some, there was a sense of victory. But for others, a sense of fear gleamed in their eyes.
However, it was that sense of fear, uncertainty and fire to fight back that drove a specific group to create something out of what they believed to be a disaster. The Indivisible Movement was created to protest the Trump administration and to help overturn policies that are in place state and nationwide.
The movement started with the online publication of a 23-page handbook called "Indivisible: A Practical Guide for Resisting the Trump Agenda." The authors of the document were former Congressional staffers.
In December 2016, the guide was created to explain how to make contact with congressional aides in the wake of Trump's victory. As the document went viral, a number of Democratic members from the U.S. Congress joined in to offer advice.
After this guide was published, hundreds of groups around the nation began meeting and identifying as "Indivisibles." Over 5,800 local groups are currently using the Indivisible Guide to aim to hold their members of Congress accountable. Indivisible organizations are "grassroots groups," meaning they are made up of volunteers that raise their own funds.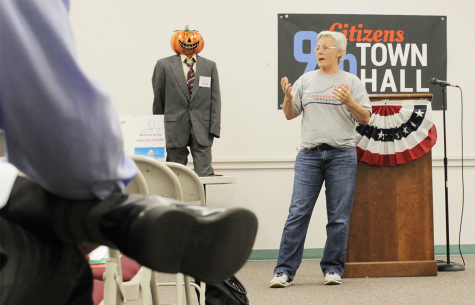 One group in particular, Indivisible Kentucky, is urging Louisville to "Ditch Mitch" with a billboard on the side of I-65 near Cardinal Boulevard. On the billboard is #DitchMitch2020. Chris Rowzee, who is on the board of directors for Indivisible Kentucky, says the billboard is one of many attempts to help lessen the popularity of Sen. Mitch McConnell for the upcoming election in 2020. The means to support the billboard came from an anonymous citizen who supports the Indivisible movement.
"All of our funds are completely donated and raised," Rowzee said. "I know the media likes to paint us as 'paid activists,' but I always say if somebody is paying us, then they keep forgetting to send the check."
The "Ditch Mitch" billboard is just one in many acts against the Trump administration by the Indivisible movement. The Kentucky branch protested Vice President Mike Pence and President Donald Trump at the state fairgrounds. The national Indivisible movement coordinated a weekly anti-Trump protest for local groups called "Trump Tuesdays."
Each group in every state, county and region has a completely different task with one common ground: the Indivisible guide book.
"Our focus is on holding our members of congress accountable," Rowzee said. "We are lobbying them and attempting to influence them for what we want to see come out of legislation. We do not harbor much thought that we can change Mitch McConnell's mind on specific policies. We want to bring public pressure to his circle and to those who keep him in power."
Across the river, Southern Indiana Indivisible, or SoINdivisible, is making moves as well. On Oct. 9, SoINdivisible, Bloomington Indivisible and the Progressive Feminists of Orange County held a town hall style meeting at the Orange County Community Center in Paoli. Here, citizens pronounced their concerns of gun control, minimum wage, factory jobs and Trump's fitness for office. The meeting was filmed, and the finished product will be sent to Sen. Todd Young in hopes of being heard.
Jim Hayes, an attendee of the event, addressed his concerns regarding Trump.
"Senator, one of your colleges from Tennessee, Sen. Bob Corker, is not running for re-election," Hayes said toward a mannequin which took Young's place at the meeting. "He has said that most of his colleagues in the republican conference in the United States Senate share his concern about the president's fitness for office. I would just like to ask Sen. Young if he happens to be one of those colleagues."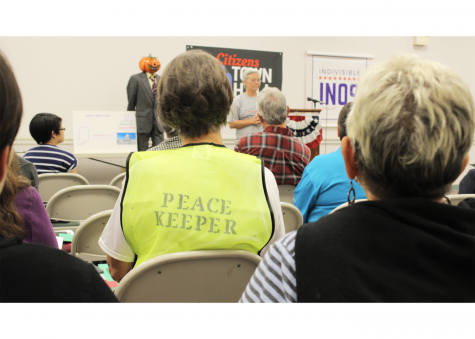 After Hayes addressed his concerns, Kimberly Smith walked to the podium, turned around to the bright pumpkin head behind her and brought up several concerns of two people that were unable to attend as well as personal concerns.
Smith is a prominent leader for SoINdivisible and she works at IU Southeast as the persistence coordinator. She runs communications campaigns to get students ready for the upcoming semester. Her work at IU Southeast and her involvement in the SoINdivisble stay separate, but running campaigns are what tie the two together.
Smith was involved with the Indivisible movement from day one. She started out by operating the local Twitter page after attending the first meeting and said she was hooked ever sense. She specifically helps out with the events that are put on.
"I would say I'm pretty involved in SoINdivisble," said Smith. "A lot of what I do is social media work. We try to post a call to action every couple days like sending a postcard, making phone calls or writing a letter to one of your representatives."