What goes bump in the night at IUS
It wouldn't be October without mentioning the things that go bump in the night. Every campus has its fair share of ghostly tales and IU Southeast is no exception, with stories floating around about mysterious occurrences in the lodges to others that warn against studying in the library after dark.
In 1973, the New Albany campus that we know today was established. The first buildings enacted were Crestview Hall, Physical Sciences and University Center South. Since then, countless rumors have arisen regarding which buildings contain traces of the paranormal.
Ed and Lorraine Warren, the famous paranormal investigators whose cases have been the inspiration behind famous horror movies such as "The Amityville Horror" and "The Conjuring," made special appearances at IU Southeast back in 1984 where they discussed their then-recent investigation of the Amityville house and gave students a special midnight showing of the movie.
Cari Edwards, an employee of Campus Life, recalls October of 2011 when Patrick Burns, a paranormal investigator, came to campus and conducted tests for activity. Burns was the star of the TruTv series "Haunting Evidence," which followed him as well as a psychic profiler and a medium as they traveled the country investigating homicide and missing persons cases.
Burns came with his crew and led a group of about 20 students around campus. They set up machines in different buildings and monitored for activity.
"He felt that Crestview [Hall] had the most activity, so we went to Crestview [Hall]," Edwards said. "There was activity throughout the building, but when we went in the basement, the activity was going crazy. I know that several of us were skeptical before going on this adventure, but by the end, it raised many eyebrows."
Students have their own stories as well. Jordan Hubbuch, a freshman living in Forest Lodge, claims that unexplainable things will happen in her room. She and her roommates aren't sure what could be causing them.
"I'll be eating in the kitchen and the TV will just turn on by itself. It happens way too much to be normal," Hubbuch said.
Nick Nixon, a senior, has also experienced the unexplainable in Grove Lodge.
"My friend took a selfie in my room when it was pitch-black. In the background, there were two bright lights, the same shape and distance apart as eyes would be. We looked around for any trace of light or reflective surfaces. We couldn't find anything to explain it," Nixon said. "It was hard to get any sleep that night."
Courtney Block, one of IU Southeast's librarians, has arranged an upcoming event where a local paranormal studies group will lead a walking tour of camp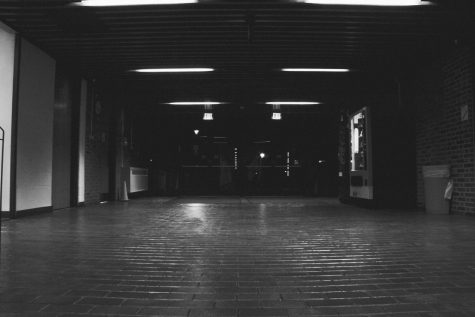 us. People will be
able to share paranormal encounters at IU Southeast as well as other places in the New Albany area.
"I can tell you that the campus police have a lot to say about the library," Block said. "There have been multiple encounters there, there have been encounters in Hillside [Hall] and I have it on good authority that a certain spectral entity has been known to show up in Orchard Lodge."
However, Block makes it clear that arguing over whether or not ghosts exist is not what she intends the focus of the tour to be.
"The goal of this program is not to debate the proof or existence of the paranormal, but instead
to engage in storytelling," she said. "Stories have always entranced humans, especially the spooky ones."
The group that will be partnering with the library for the tour, ISRAE (Institute for the Study of Religious and Anomalous Experience), was founded by Brian Laythe, one of IU Southeast's adjunct professors. They are a local group that study the paranormal.
Their website states: "Our primary goals are to conduct research studies and experiments, provide reliable education to the public, develop methods and technology for investigating paranormal phenomena and publish our findings in peer-reviewed journals whenever possible."
ISRAE's investigation equipment will be available for people to see and touch. They will answer any questions as well.
The Haunted IUS Walking Tour will take place on Tuesday, Oct. 24 and Monday, Oct. 30 from 7 p.m. to 8:30 p.m. Anyone wanting to attend needs to meet in McCullough Plaza.