Who said make-up has to be for beauty?
IUS theater class, which focuses on stage make-up, held a make-up competition based off the popular reality show "Face Off."
Five pairs of students competed in a Halloween-themed competition for their stage makeup class. Natalie Bowman, the professor of stage makeup, borrowed the idea for the unique project off of the popular show Face Off. Just like the show, each team had a certain amount of time to prepare for the judges. Every teammate had 30 minutes to do their partner's makeup, they could not touch their partner after the time was up.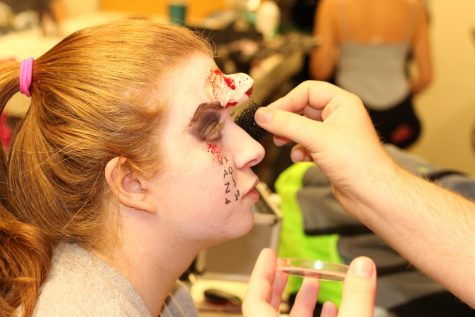 On the day of the event, everyone moved to the costume shop and began applying their base makeup. The competition rules allowed for certain preparations to be made before the time started, included creating prosthetics to add onto the face and applying a base layer of makeup.
Four of the groups had different themes: Kentucky weather, fairy tales gone wrong, a witch and her victim, and dueling fairies. The fifth group decided to use two completely different ideas that had no correlation.
The fifth group decided to skip coming up with a theme and instead just had fun. Carmen Miller went with a single bullet sticking out of her cheek. Jill Recchio had Miller use latex and toilet paper to create a large gash on her cheek. Then, Recchio added a few feathers to her temples to show that she had been attacked by a mutant bird and was slowly transforming into one as well.
The first group decided to comment on the constant Kentucky weather. Alex Conn and Sean Turley decided to show their love for Kentucky by dressing up as burn and frostbite victims. Conn used latex to make Turley''s skin look ragged and flakey. She added fake snow to his chin to finish the look. It was then Turley's turn to smother Conn's face with a gelatin called Third-degree. After it hardened, he added different hues of red to make the skin look raw. For the finishing touch, Turley crushed up an alkaseltzer tablet and sprinkled it on Conn's skin. When they sprayed it with water, the powder bubbled up to add a beautiful effect.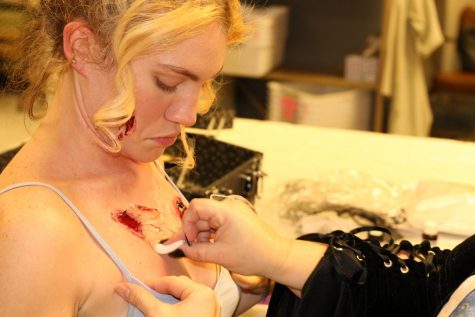 Miller and Faulds also made scratch marks on her cheek with a few different types of blood so it looked as if she had lost a fight. Faulds dressed up as the evil queen. She had a wax prosthetic across her forehead that when finished, looked as if someone had dug the crown she was wearing into her head. She also had a few scratches around her face that added to the detail.   
Sticking to the idea of a classic Halloween, Nicole Dunaway and James Dezern worked on making a witch and her victim. Dezern had made a fake eyeball out of a bouncy-ball and wax before the competition. After gluing the third eyeball onto Dunaway's forehead, he added cryptic lettering under her eyes to bring the look together. For the victim, Dunaway proceeded to add blood under Dezern's eyes as well as glue thread to his mouth to make it look as if she had sewn his mouth shut.
Copeny Pruitt and Amanda Chaster wanted to play with opposites in their theme. Pruitt was the "good fairy" and Chaster was "turning evil".  For the good fairy, Chaster applied hues of blue and purple along with glitter to evoke a sense of "goodness". Pruitt covered her partners face in a fishnet before applying brown and green make up that ended with a scaly look.
After the contestants had finished, three judges were brought in to inspect the results of all their hard work. Sabrina Haas, Dodie Simms, and Rebekah Meixner-Hanks talked to each group and made their decision. The winner of the IUS Face Off was Miller and Faulds with their theme fairytales gone wrong.  
Delighted with the results of the project, Bowman said, "I knew I had wanted to do at one point a Face Off competition because it just breaks the monotony of 'I'm on my own.' A lot of theatre is not on your own, you're doing team stuff and you're working with each other."