Horizon Radio now streaming
A new semester brings the sound of the student voice to life
A tune echoes throughout the halls of University Center adding an ambiance of optimism for the upcoming semester as The Horizon welcomes a new endeavor for the IU Southeast student voice.
Horizon Radio is officially underway and only available for streaming online at iushorizonradio.com. The adviser of the radio station, Adam Maksl, assistant professor of journalism and media, intends for the station to incorporate news, sports, talk radio and music.
Horizon Radio managers will include two graduate students from the IU Southeast Master of Interdisciplinary Studies Graduate Program, Jose Aponte and Jen McNelly.
"
"I feel our vision is to provide the students, faculty and staff an audio platform for the free exchange of thoughts and ideas.""
— Jose Aponte, Horizon Radio manager
Aponte and McNelly are both photographers with experience in visual art, and now they will be emerging into an art form dedicated to audio; therefore, Horizon Radio will be a learning process for all involved.
"We are all just as new to the radio station as the students will be," said Aponte. "Both Jen and I have spent time over the winter break learning and testing the equipment and software. The program will continue to develop as the semester progresses."
Creating Content
Horizon Radio will begin with a music library including over 18,000 songs broadcasting 24 hours a day, 365 days a year. DJ's may play from their own collection of music or select songs from the music library.
Maksl anticipates Horizon Radio to initially begin with the majority of the show broadcasting music but wants students to incorporate more news and talk radio as the radio station progresses.
In efforts to develop material for news and talk radio, Maksl said he will teach a course in the spring semester titled "Audio Storytelling" where students will create podcasts, live shows and work shifts as DJs.
As an avid podcast listener herself, McNelly wishes to create podcasts that reflect journalistic storytelling.
"Podcasts are growing and we have a potential with a radio station to do more than just music," McNelly said.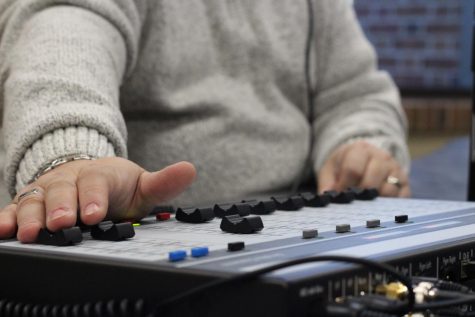 Impact on Campus
Construction for Horizon Radio completed at the end of the 2017 fall semester. The new station replaces the room previously occupied by the Credit Union and is located in between the Student Government Office and University Police department. All new professional broadcasting equipment and multiple televisions will allow Horizon Radio staff to monitor continuous news while on air.
Speakers installed outside the station project the radio's sound and large windows allow people passing by to observe what's happening inside the station at all times.
Daniel Smith, senior strategic communication major, specifically looks forward to seeing student organizations use the radio platform to engage with the community.
"I see it as a new way for students to get involved with the campus and share their voice," Smith said.
Students from any field of study are encouraged to join and those who are interested in joining Horizon Radio may contact Adam Maksl at amaksl@ius.edu or 812-941-2892 or send an email to iusradio@ius.edu.