Grenadiers Baseball Hope to Build on Historic Run
Last season, the Grenadiers were one game short of the NAIA World Series, but this season, it's eyes on the prize
The grit of a baseball diamond can go unnoticed to the average student. While the team and student body share one campus, the work success requires is often overlooked when stats are revealed, while the blood, sweat and tears linger in the minds of those who produced them.
Ben Reel, IU Southeast baseball head coach, is approaching his 10th season with the Grenadiers. With a fiery 329-178-1 record, he has his 10th team under him coming in as preseason favorites to win their conference.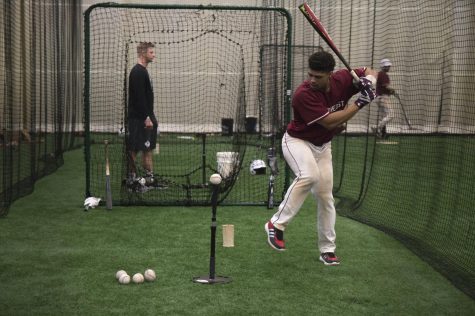 After getting bounced from the tournament one game short of the World Series last year, Reel says expectations are high coming into the season.
"This is crazy. Every meeting that we have to start the year off, we have a number where we set a tangible goal for the season. It's like every time I put a number up there, we eclipse it. This year, I put 50 wins up there," Reel said. "We're always striving for more."
Reel said though he enjoys his goals he sets for season, he wants his team to focus less on expectations and more on moments and experience, calling this the best time of their lives. In midst of success, Reel said he looks for qualities in young men over qualities of young players.
With a team led by 15 seniors, and a preseason All-American in Richard Rodriguez at shortstop, Reel said it would be storybook to be able to take this team to the World Series.
"To be rated the best shortstop in the country, preseason, [he] is extremely deserving. [Rodriguez's] motivation is unbelievable. He's come a long way as a player and a person here, and he brings us a lot of focus," Reel said.
Bigger Than One Player
Along with focus, Reel said Rodriguez brings an energy to practice that is contagious to the other players to stay motivated and focused on the goal ahead. Rodriguez said his preseason honors is a reflection of the work of his program and his teammates.
"
I think this year we're just really focused on doing things the right way and really empowering our older guys to lead."
— Ben Reel, IU Southeast head baseball coach
"It feels amazing. It feels like all the hard work is paying off, but honestly it feels better to see our team get that recognition," Rodriguez said. "We have a lot of guys coming in, so I think that preseason stuff just kind of shows that our team is taking steps forward and in the right way."
Being conference favorites, seniors Rodriguez and John Cecil believe the team is confident to correct the mistakes of last season, and said they're ready to prove they are the best team.
"I'm definitely ready to get after it, and to show everybody that we deserve to win the whole championship," Cecil said.
Cecil, a fifth-year senior pitcher, said he's watched his team get better every year, and said this year is the best team he's ever been on. According to Cecil, if the team can keep up with their pace, they have as good a chance as any to win it all.
Rodriguez said the leadership mixed with talented transfer players has helped everyone buy into the winning mindset.
"I feel like this year the work ethic is a little bit stronger," Rodriguez said. "Guys are definitely more focused. I'm just really excited to win this year. We've just got to keep grinding it out week-to-week and hopefully we should be better than last year."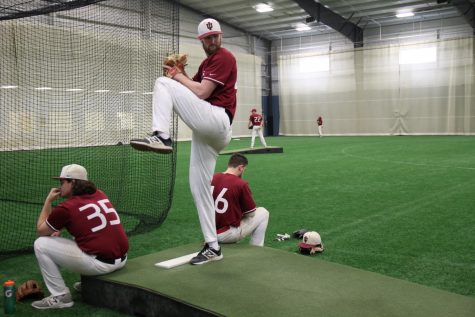 Creating a Winning Culture
Cecil said the upperclassmen are essentially molding the younger players for a rebuilding season after the loss of 15 seniors once this season is concluded, but knows they'll be left in more-than-capable hands.
"Obviously, coach has goals for us. We, as players, have goals for each other and as a team," Cecil said. "We're just going to take it one game at a time and see where it goes from there. I've been here for five years,
Coach has been here for 10 years. Everybody in our coaching staff has been a part of the IUS Grenadier forte. We know what it means to be a Grenadier."
A focus on positivity and leadership has made IU Southeast baseball a winning culture, according to Rodriguez. Going into his second year, Rodriguez said as a team, the hard work will show for itself in light of adversity if the team can focus on positive factors, without dwelling on the past.
The Grenadiers will open the season on Friday, Feb. 9, at noon, with the Tornadoes o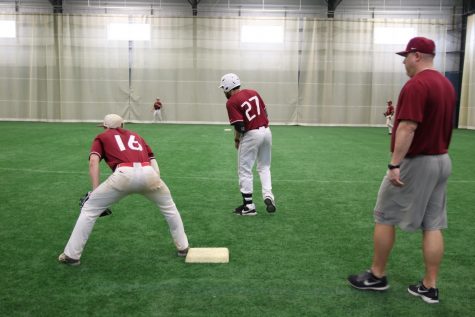 f Talladega College, who were in the same bracket of the tournament last year as IU Southeast. Reel said playing this type of experienced team is helpful in learning how quickly to focus into the season, claiming they'll be a good test of the team's discipline.
"I think it's a good start [for the season]," Reel said. "They're good, they're athletic, they're going to be aggressive [and]
when we make mistakes, they're probably going to make us pay. I think the matchup is good … Our whole team in general has a lot of length to it. We're going to go eight hitters deep. It's going to be rowdy down there. I'm just excited to see the guys."