Basketball Bromance — A tale of two seniors
Demetrius Stanton and Joe Jackson careers as Grenadiers are coming to a close, though the duo's friendship goes far beyond the hardwood
As the men's basketball season at IU Southeast comes to a close, so does the dynamic duo of Demetrius Stanton and Joe Jackson's seven-year stint of playing together on the hardwood.
The two Grenadiers became allies as sophomores at Fern Creek High School, in Louisville, where the center-guard tandem developed into a record-breaking force at IU Southeast. Now, the two 1,000-point club members have one goal in mind — win a national championship.
After a 4-1 start to the 2017-18 season, the Grenadiers took on NCAA Division II's third-ranked Bellarmine Knights.
The first true road test of the year for the Grenadiers saw the Jackson-Stanton duo combine for 28 points and 12 rebounds. Though IU Southeast fell short of Bellarmine 84-82, the Grenadiers knew exactly what they had to work with.
"I don't care what anybody says. I feel like we're one of the best teams in the nation," Stanton said.
Where it all started
Long before marking their names in the IU Southeast record books, Jackson and Stanton were battling head-to-head as freshman in high school trying to make names for themselves.
"The first time we ever played together was at Basketball Academy our sophomore year of high school," Stanton said. "But we played against each other freshman year a few times when I was at Male and he was at Fern Creek before I transfered."
Before making the move to Fern Creek, Stanton wasn't too familiar with the post presence Jackson brought night-in and night-out. It didn't take more than a few games to get the chemistry down.
"
People asked me, 'If you could pick anyone to play with in college, who would it be?' and I always said 'D.'"
— Joe Jackson, senior forward
"We played four or five games over a weekend. He was out there shooting the three-ball and everything and then he realized I could shoot it too," Jackson said. "We just had that chemistry."
It wasn't long before the two faced the end of their careers at Fern Creek with their sights set on college. While the bond between Jackson and Stanton was noticeable, the two weren't positive their time playing together was going to continue past Fern Creek.
"We had some [Junior Colleges] in California looking at us, a few in Texas that were looking at both of us together," Jackson said. "We were kind of like a package deal".
Jackson added that while some schools were looking at the two together, both had opportunities to continue on by themselves.
With no general direction to go toward, Fern Creek head coach James Schooler mentioned to Stanton the potential of playing at IU Southeast with Jackson, something Stanton hadn't put much thought into.
"[Schooler] said, 'D would you want to go to IUS too?' and I said, 'Shoot, if Joe's going there I'm down to go too,'" Stanton said.
Without much more thought put into a future at IU Southeast, Stanton and Jackson ended the 2013-14 season with a loss to Pleasure Ridge Park in the 6th Regional tournament.
Called into his coach's office during school one day, Stanton walked in to find Wiley Brown, IU Southeast head coach, and Derek Sims, assistant coach, ready to talk.
"[Coach Brown] said he liked my defense and thought maybe I'd fit his system and that he could work with everything else," said Stanton.
Jackson, heavily sought after by IU Southeast, was ready to make his commitment to the Grenadiers, with his good friend Stanton doing the same.
"People asked me, 'If you could pick anyone to play with in college, who would it be?' and I always said 'D,'" Jackson said.
Joe Jackson got his wish as his former high school teammate, now his freshman roommate, was a Grenadier as well.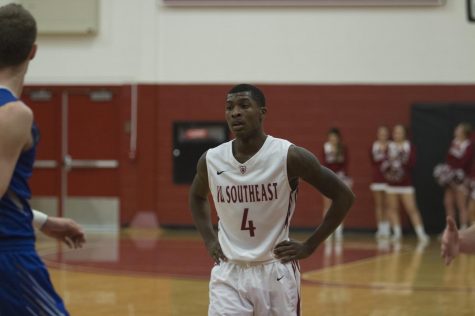 Leaving their mark
Before their first collegiate season, the two Fern Creek alumni got some experience at a higher level of play in open gyms, a time where athletes get a chance to showcase their skills in scrimmages.
"Open gym helps you get ready for the season because you play against all the great talent we bring in each year," Stanton said.
With Jackson and Stanton already having plenty of experience playing together, a solid start to the 2014-15 season earned the two solid minutes either starting or coming off the bench.
From then on, Jackson and Stanton became a force to be reckoned with across the Ohio River.
Through their four-year career as Grenadiers, the Jackson-Stanton duo has racked up over 2,000 points, 300 assists and 300 rebounds, though their final product isn't quite finished just yet.
"First, we're trying to put up a conference championship for the school," Stanton said. "We owe IU East a game and then after that, we're going to go to the national tournament and try to make some noise and bring back that trophy."
Fans are encouraged to come out to celebrate Senior Night for both the men's and women's basketball teams on Tuesday, Feb. 13, against Midway University. The women's game will begin at 5:30 p.m., followed by the men's at 7:30.