Defense Carries Grenadiers into Postseason
As they wrap up the season, the Grenadiers hope to continue their defensive effort and take better care of the ball as they approach the conference tournament
Swish goes the net as sophomore guard, Jamie Johnson, takes his turn shooting free-throws, winding down an intense Sunday afternoon practice. The team gathers for a huddle before they go change and wrap up for the day. Everyone is focused, holding serious faces as the conference tournament approaches.
A defensively dominant season has the Grenadiers in first place in the West Division of the River States Conference, leaving their chances high for an extended run in postseason play. Led by Jamie Johnson, named RSC Player of the Week from Feb. 4 to 11, and senior forward, Joe Jackson, this year's basketball squad has been more efficient defensively than last year.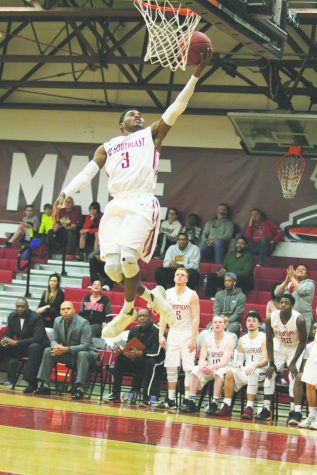 New Unit, New Year
Last season, the Grenadiers were ranked No. 21 in total steals in Division II NAIA play. This season, they rank fourth, and rank second in steals per game at 10.5.
Wiley Brown, IU Southeast head men's basketball coach, attributes their success to a mental commitment on defense.
"I have noticed [a change]. Guys, right now, are anticipating where the next pass is going to go," Brown said. "I always tell them 'you don't play defense when your man has to ball, you play defense earlier.' And that's what they're doing right now."
Brown said the defensive effort his team is showing has him satisfied, but despite their efforts, the Grenadiers are turning the ball over roughly 15 times a game. Brown said that has been a focus since day one, and his team has improved when it's mattered most.
"We've been focusing on [turnovers] since day one. We got some really good guards but sometimes they can get out of control, because they're so quick. I tell them all the time, 'you can be quick, but don't be in a hurry.' We can slow the game down and try to minimize those mistakes," Brown said.
Double Threat
The combo of Jackson and Johnson is responsible for a majority of the defensive production on this year's team. Jackson is leading the nation in total blocks (83) and blocks per game (2.964), and Johnson is second in steals per game (2.62).
"
I think the ceiling is tremendously high for this team, they could carry us a long way."
— Wiley Brown, IU Southeast head men's basketball coach
Though a major focus for both players, Johnson attributes his teammates to giving him the best chances to force turnovers.
"I feel like it starts in practice. You got Joe getting blocks and me getting steals," Johnson said. "And it's not only me. My teammates, like Kerry Smith, he gets a lot of deflections that come into my hands so sometimes it looks like me, but there's other guys working together to accomplish those things."
For Jackson, his personal goals prior to the season have carried his defensive motivation throughout the season. He said he feels the team's goals have propelled them as a unit this far, but said there's some unfinished business left.
"For me, I set a goal at the beginning of the season to lead the nation in blocks. At the end of the day, we have a goal [as a team]. We set the same goals every year, to win the regular season conference and then to win the conference championship," Jackson said. "We're probably not going to win the regular season, but I feel like we owe it to IU East, because they'll probably make it to the conference championship."
Experienced Leadership
Jackson and Johnson attribute their success to the hard work put into practice, and the standard of intensity Brown holds them to. They said slacking doesn't fly in practice, and if a player messes up, Brown and his championship mentality will let you hear it.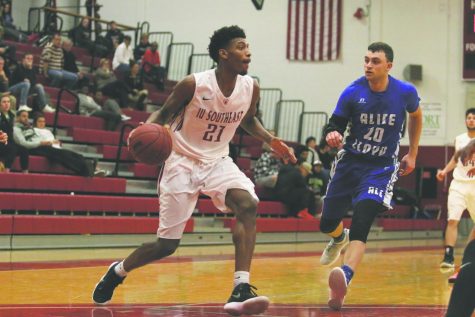 "It's just no days off, it's that simple. We come in every day and work hard. Even if you don't feel like it, you always end up working hard because Coach is always on your back. He's on everybody's back," Johnson said. "It's natural now. All the running we do in practice, all the crazy stuff. Once we get in the game, it's easy, you know. The other team gets tired."
Johnson said he learned a lot from Jackson and will carry those lessons with him after Jackson is gone next year. Jackson said he's hoping to use his last bit of time with the team to focus in on the task at hand with his players. He said he aims to make more memories with them as they hope for a national tournament run.
"Not a lot of players stay here all four years. I've seen so many players come and go," Jackson said. "I know the ropes, and I know what Coach is expecting for us. I try to lead by example. It's going to be bittersweet, I'm going to miss all my guys, all the coaches, all the hard practices and everything, but at the same time, you have to move on in life and go on to the next chapter."
Brown said if this team can 'gel' together — offensively and defensively — then there's no limit for what this team can do come tournament time.
"I think the ceiling is tremendously high for this team, they could carry us a long way," Brown said.
The Grenadiers finished the regular season ranked 15h with a 21-7 record. They will face Carlow (Pa.) University (6-20, 6-11 RSC) to open the conference tournament at home on Wednesday, Feb. 21, at 7:30 p.m.