Yes Louisville: Growing an Empire
In a world full of no's, Louisville provides a yes
Positivity is becoming harder to find as our society spins deeper into the depths of controversy and negativity; however, Yes Louisville provides a positive outlook as a safe haven to the Louisville community.
Yes Louisville is a positive content based company that strives to uplift its local audience through a variety of social venues, blogs, merchandise, podcasts and more.
Supply and Demand
Yes Louisville is a spin-off of the store formerly known as WHY Louisville. WHY Louisville was a local artistic store that sold t-shirts and various other Louisville themed items such as jewelry, decor and homemade creations from local Louisville artists. CEO of Yes Louisville, Jason Mudd, saw the closing store as an opportunity to turn his dreams into a reality.
"There was a big outpour of people saying, 'where are we going to get these shirts?' There was an immediate gap in the marketplace," Mudd said. "We did just t-shirts for awhile, then I was personally going through a self-discovery and stuff so I started writing about it and doing some videos, and people responded."
Mudd explains how Yes Brand, which is an extension of Yes Louisville, wanted their content to be educational in a way that centers around mindfulness and self-awareness, which can help people relate to one another.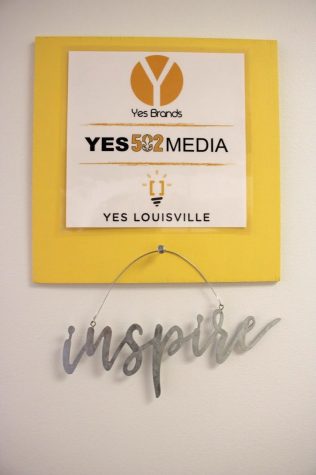 "There is no instruction booklet for being a person. That's our mission, to make people feel better," Mudd said.
Yes Louisville began in 2015 but hasn't officially launched yet. Mudd states that he wants the time to be right and has several large scale events planned for the grand opening of the company.
However, Yes Brand does have a website which includes merchandise, blogs, podcasts and interactive maps that show activity around Louisville. The company obtained a large following on social media sites such as Instagram, Facebook, Twitter and Snapchat. Mudd even shares how they began to see their own brand recognition and how it's a humbling feeling to see people wearing Yes Louisville's clothing.
From the Ground Up
Yes Louisville's website hosts a podcast series called the "502leaderseries." Mudd describes the podcast as an inside look into the road to success for local entrepreneurs and business owners.
"We want to highlight the fact that success doesn't happen in a linear way," Mudd said. "It doesn't happen overnight. There's a lot of misconception, people see people blow up overnight and they think that it happens that way. I want to tell the stories of the 10 years that you spent eating ramen noodles and hot dogs because everybody goes through that. That's the meat, that's the best part of the journey."
The 502leaderseries sheds light on local entrepreneurs' downfalls and successes which may have otherwise gone unnoticed in the media.
When asked what advice Mudd would give to people interested in starting their own business, Mudd jokingly replied, "Don't do it."
"
You can't pour from an empty cup, you have to invest in yourself before you can make anything else around you better."
— Jason Mudd, CEO of Yes Louisville & Yes Brand
Mudd wants to stress the fact that having one's own business isn't always as glamorous as it is made up to be and owners have to be willing to use their own resources and put in lots of hard work.
"It's really really hard work, but you get a level of satisfaction that I don't think you can get from anywhere else," Mudd said.
Yes Worldwide
When talking about goals for Yes Brand, Mudd describes his dislike of the word "goal" as it means there will eventually be an end-point. Instead, Mudd strives to do the very opposite and grow the company into a franchise eventually.
"In five years you will see a 'yes' derivative in every major city in the United States," Mudd said. "This will be everywhere. You will see Yes China in ten years. You will see Yes Europe, Yes Worldwide."
Tanya Hahn, Chief Story Officer of Yes Louisville, discusses how Yes Brand needs to further solidify itself in Louisville before reaching out to other cities who have already made contact with them.
"We want to make sure we are very well grounded. We are creating our demand," Hahn said.
Mudd describes the Yes Brand as a universal concept that will never expire. Yes Brand aims to empower people through their ideologies of self-love and positivity.
"A quote that I like is, 'you can't pour from an empty cup' you have to invest in yourself before you can make anything else around you better," Mudd said.