The Aftermath of the 2018 Flood
The community rebuilds after the largest flood since 1997 hits Kentuckiana residents
Hayley Blount, a senior at Clarksville High School, was left without a place to stay while her home, which sits just feet from the Ohio River in old Clarksville, was completely submerged from the inside.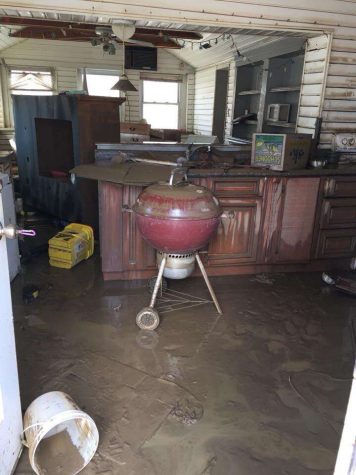 "All the furniture got water damage, the water was up to the ceiling on the second floor," Blount said. "It was flooded for about a week and a half."
Unfortunately, this was not the first occurrence of flooding for the Blount family. Their home was flooded seven years prior due to their close proximity to the riverfront.
The Blount family has since decided to move from their previous location in order to avoid any further flood damage in the future.
"We just don't have time to get up and move all of our stuff again and again if this keeps happening," Blount said.  
Jason Wynn, New Albany resident, was trapped inside his home after the flood waters rose around his property, prohibiting anyone from entering or leaving for four days.
"I was able to stay in my home, I knew it would happen prior and went to the grocery store and stocked up," Wynn said. "My girlfriend and kids had work and school and stayed elsewhere while I worked from home."
Luckily for Wynn, the waters did not rise high enough to affect his house.
While the recent flood did not beat the record-breaking 1997 flood, the water did manage to do a considerable amount of damage to local businesses and communities in the Kentuckiana area.
Businesses on Hold
In addition to people's homes being damaged, local restaurants have also felt the effects. Among the damaged was KingFish Restaurant in Louisville which sits on River Road, a road that was completely flooded.
Greg Wortham, executive vice president of KingFish, said that the business was closed for a week and a half due to the waters blocking off the entire road. Although the water did not enter the building, the flood did cause damage to the parking lot, the boat docks and completely swept away a playground that sat outside the location.
"It did do some damage to our outside stuff, but thankfully it didn't get in our restaurant," Wortham said.
Cunningham's Creekside, which also sits on River Road in Louisville was hit even harder.
Brent George, owner of Cunningham's Creekside, states that the restaurant has been closed since Feb. 20 and is estimated to remain closed until the beginning of April due to extensive flooding inside the restaurant.
"We had approximately five to six feet of water in the restaurant. It's too early to tell, but there will be a significant amount of money lost due to this," George said. "We also had three attached cooling units outside as well as fridges and freezers that have been damaged due to the flooding."
George adds that a combination of skilled electricians, plumbers and laborers on his own team will be helping restore the restaurant back to its former glory within the month to come. George is hopeful that the restaurant will be back in business by the first of April.
IUS Students Aid in Clean Up
There have been numerous efforts to clean up the mess the 2018 flood brought. Among those efforts have been IU Southeast's Sustainability club and the TKE Fraternity.
Grant Brown, outreach officer for the sustainability club, explains how the flooding left quite a mess at the Falls of the Ohio State Park. The damage was so bad that the facility located on the park sought volunteers through Facebook.
"We were all thinking about cleaning up the waterfront somewhere but after seeing that call for help we thought it would be most appropriate to help the state park," Brown said. "We would like to go in and take care of all the trash that now litters the waterfront at The Falls of the Ohio."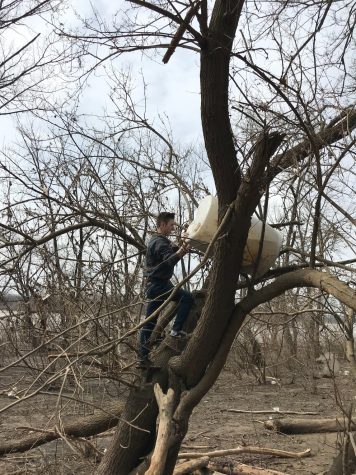 Bryce Alford, TKE president, and Reilly Gray, TKE vice president, organized a day to clean up the falls as well.
On March 10, the fraternity spent three hours cleaning debris and trash. They plan on doing more service in the near future at other places that have a need for clean-up.
Gray said the group brought 20 trash bags and filled up every bag, over a perimeter of about 100 yards.
"We learned more about ourselves and what we can do to impact our community," Gray said. "We didn't gain a satisfaction, we had more of an eye-opening experience to the opportunities we had to make a difference to those around us."
When asked what they should tell other students who are willing to help in clean-up efforts, Gray urged everyone to be open to anything even though it may seem like a lot of work, because in the end, it made them more excited to do good for the community.
"As men of TKE we strive to be better men for a better world," Gray said. "So anytime we get a chance to better ourselves we are going to jump at that chance."