Welcoming the Class of 2022
An inside look into Induction Day for IU Southeast's newest Grenadiers
Students packed into the activities building to listen to speeches given by Chancellor Ray Wallace, Candyce Clifft, anchor for WDRB, Cassie Goodrich, student body president and other
faculty members.
Chancellor Wallace began the morning by giving a speech to the students before passing the podium to Clifft, who then gave a speech about endurance and personal growth when entering college. Clifft described the long journey from changing majors from pre-pharmaceuticals to journalism, where Clifft excelled and worked her way to the top of the industry.
Following Clifft's speech, Goodrich gave the new students five tips they all should know when entering college and what to expect.
Swearing In
Chancellor Wallace instructed the new students to take out their pins they were given during the walk-in and fasten them to the shirts of the person they were sitting next to.
In doing so, the new students were now officially Grenadiers and part of the ever-growing IU Southeast family.
To celebrate this occasion, Chancellor Wallace instructed all the new students to take a "selfie" to look back on four years from now when they graduate.
Even Chancellor Wallace got in on the selfie action and took a photo with a student who came up to his podium on a bet made by his friend.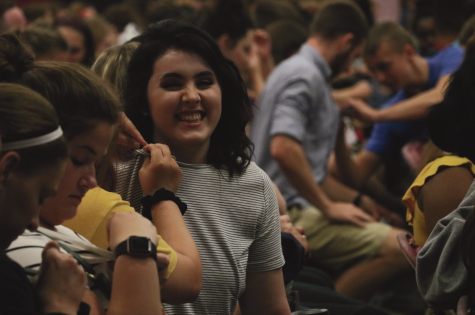 New Student Excitement
Whether students are coming fresh from high school or transferring universities, the change can be both scary and exciting.
Dylan Cain, nursing major and first year student to IU Southeast, describes his feelings towards the big change.
"Induction Day has been so exciting. Meeting all these new people, I didn't even realize how many different things you can do here," Cain Said.
When asked what Cain will miss the most about high school, he replied, "I think it'll be more the friends I had
to leave behind and the friends who are going to different schools."
Cain is excited about his new journey at IU Southeast and is eager to meet new people and join new clubs, including the cheerleading team which he plans on trying out for.
Making Connections
After students had their fill on food provided in the cafeteria, they were encouraged to check out the booths and tables set up behind the University Center.
Booths included greek life, Horizon Media, religious groups on campus, marketing club and many more.
Students had over an hour to walk around the booths to see what clubs and groups they were interested in joining, if any. Students were also able to walk around campus to find their classes in order to be prepared when school officially starts back up on Monday, Aug.20.