Monica Loftus Rises Up
A look into Monica Loftus' career and life in volleyball
Monica Loftus' life has revolved around volleyball and mastering the game. She started as child, picking up the game in her backyard. Now she's a captain of the IU Southeast volleyball team.
Loftus, senior outside hitter, started playing volleyball in first grade and hasn't looked back since. She learned to play from her older sister.
Loftus starred on her volleyball team at Holy Cross High School in Louisville, and she said her college decision was an easy one.
"I chose IUS because I knew I didn't want to move far from home, and I knew that a small college would be a good fit for me," Loftus said. "I also knew that I wanted to be a special education teacher and IUS has a great education program."
Teaching is squarely on Loftus' mind, as it is not only her career passion but her responsibility as a senior on the IU Southeast volleyball team.
"This year our team has a lot of new people and I believe that we are really going to need to focus on working together as a team and finding our chemistry," Loftus said. "I know my job as a senior is to keep the team focused on maintaining our intensity and staying consistent throughout the season."  
An 11-2 to start the season has Loftus feeling quite enthusiastic about this team.
Even though Loftus' job as a senior leader is to keep this team focused on the path to a great season, she said she enjoys having fun outside of the lines.
Family is quite important to Loftus, since she is the youngest. Loftus, 21, has older siblings in a 26-year-old sister Maureen — who played volleyball at Bellarmine — and a 25-year-old brother, Stephen.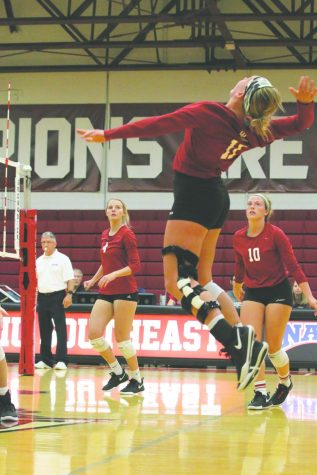 Loftus has had an interesting change in roles. Growing up as the youngest, she learned the game from her sister and coaches at Holy Cross and now at IU Southeast.
Role Change
The roles have now changed though. With her college career as a player and as a student coming to a close, the student is now becoming the teacher.
"In my volleyball career, I have had many excellent coaches and team captains to look up to, which has helped me tremendously when taking on this role as a senior and team captain," Loftus said. "When it comes to leading my team, my main focus is to keep a positive and enthusiastic attitude. I try to be the captain that my teammates know they come to with any questions or advice they may have. But most importantly, I just want to be the best teammate I can be."
For Loftus, she'll always cherish the time with her teammates and always will have a passion for the game of volleyball.
"Since I was 9-years-old, I have been playing volleyball year-round on school and travel volleyball teams. I don't remember a time that volleyball wasn't in my life and wasn't my absolute favorite thing to do," Loftus said. "Not only do I just love and have a passion for the sport, volleyball has taken me to so many different places and has allowed me to meet so many amazing people."