2018 State of the Campus Address
A New Start with a Balanced Budget
The Hoosier Room was host to IU Southeast's State of the Campus Address on Friday, Sept. 21. Chancellor Ray Wallace delivered the annual speech in front of staff and faculty, covering topics like enrollment, new programs, campus budget and IU Southeast's bass fishing team.
In last year's address, Wallace announced a budget reduction plan to cut into a $1.3 million deficit. This year, he announced that the university started this fiscal year with a balanced budget. He said the budget cuts were focused on personnel vacancies, part-time faculty and staff, travel, hospitality, sponsorships, memberships and general operating experiences.
"The significance of this accomplishment cannot be overstated," Wallace said. "One of the key features of the rightsizing process was ongoing communication and consistent messaging to the campus community on a regular and frequent basis."
Wallace said the budget plan was successful in more ways than one.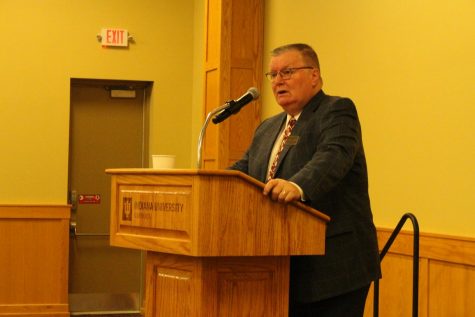 "The thing I'm most pleased with is that we didn't go after student accounts, that we tried to keep that as close to standard operating procedure as possible and that was great," Wallace said.
Dana Wavle, vice president of Administrative Affairs, said that he was happy with the State of the Campus Address.
"It provided a great follow-up to last year's speech where he outlined where we were and what we needed to do to improve our finances so we had a really great story to tell," Wavle said. "This year I think when you look at all of the accomplishments and pride points, it's something we can all be very proud of."
Kirk Randolph, director of the Ogle Center, said he feels like times are changing and enrollment will start to increase.

"I feel like we have a manageable budget, which is great, and [we can] look forward to the future," Randolph said.
Chancellor Wallace said he would like to avoid becoming complacent with the balanced budget by increasing enrollment and increasing outreach activities. Wallace said the University has to ensure graduate programs have space for new students and that undergraduate students are being taught efficiently.