The Vocalists of IUS
An inside look at the IUS Concert Choir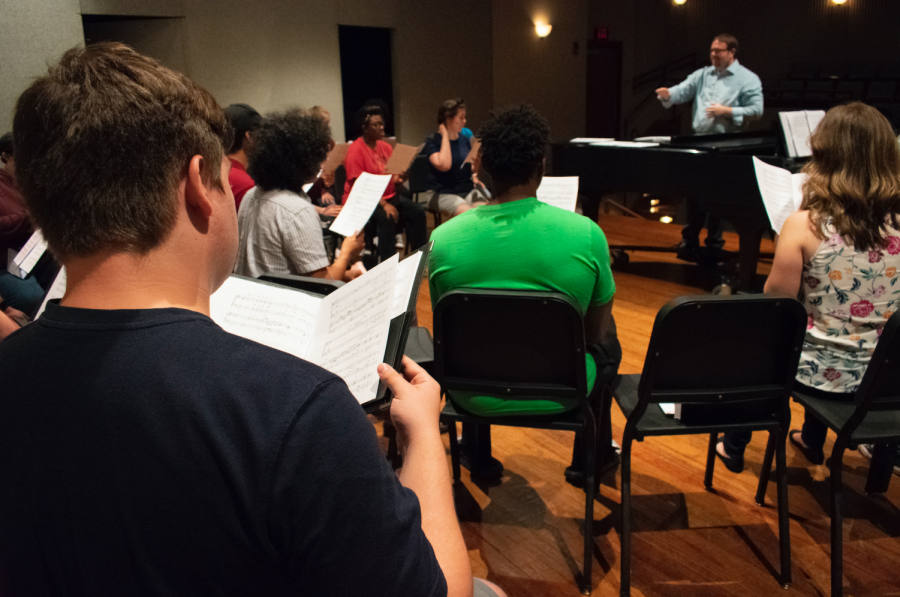 You walk down the steps into the basement, or "ground level," of Knobview at IU Southeast. You first hear a piano followed by a loud, yet beautiful, singing voice escaping through the cracks of one of the many closed doors. As you make your way down the halls, you notice each room is occupied by a vocalist and an instrumentalist. Who are these people, and why are they singing?
The IUS Concert Choir is the main choral ensemble on campus, mainly including music majors and students that have previous singing experience.
The IUS Concert Choir is a class offered on campus for any student to join. Although all majors are welcome, the Concert Choir is a required seven-semester course for all vocal and instrumental majors.
Concert Choir Director Jeramy Nichols encourages everyone to audition because it is free of charge and an opportunity to enhance vocalist skills.
"Music should be for anyone who wants it," Nichols said.
Rachel McCrorey, a music business junior in the Concert Choir, emphasized that "it is never too late to audition."
"The audition isn't scary," McCrorey said. "It isn't a judgment of how good or bad you are as a singer, but rather an opportunity for Nichols to see where you are and which choir you would best
fit into."
What's a Normal Class Like?
This semester, the IUS Choir meets as a class on Mondays and Wednesdays from 4:15 p.m. to 5:30 p.m., and the Community Chorus meets on Tuesdays from 7 p.m. to 9 p.m.
Nichols stated that his main purpose as the director is to "bring people together."
"I want to show my passion through music to [the Concert Choir students], and, in return, their reflection to the audience would show what my reflection is," Nichols said.
McCrorey revealed that going to rehearsal is her favorite part of the week, and the choir is like one big family.
"
"Music should be for anyone who wants it.""
— Jeramy Nichols, IUS Concert Choir director
"The Concert Choir has taught me about things like leadership and working together with others and challenging myself as a musician, but I think mostly I just love being there," McCrorey said.
Concert Choir and Community Chorus
IU Southeast offers both the Concert Choir and the Community Chorus. Although both of the choirs sound similar, there are distinct differences between the two.
"The Concert Choir is an all student ensemble with students from all different majors, and it is the only all-student ensemble that we have," Nichols said.
As stated before, an audition is required for the Concert Choir. However, the Community Chorus is open to IUS students, faculty, staff and community members.
Participants interested in the Community Chorus must schedule an appointment with Nichols.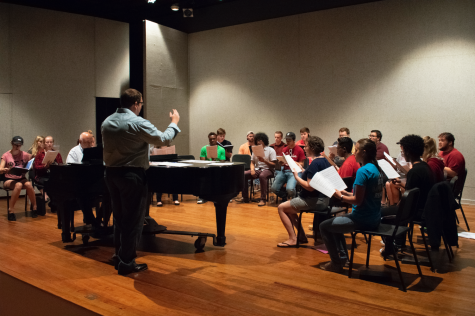 Both the Concert Choir and the Community Chorus perform four to five concerts in the Ogle Center each year, including some off-campus performances.
During the concerts, both choirs sing separately and perform a few pieces together.
"We have both combined pieces with the Community Chorus and pieces just for us [Concert Choir]." Brandon Visetchaisri, sophomore vocal music education major, said.
Upcoming Concerts and Events
The Concert Choir and Community Chorus' upcoming concert together is on Sunday, Nov. 4 at 3:00 p.m. at the Stem Concert Hall in the Ogle Center.
The concert's theme is American composers featuring works by Gershwin, Porter and Carmichael. The ticket prices at the door are $12 for adults, $10 for seniors and $5 for students.
After the fall concert, the Concert Choir will focus on preparing for the Holiday Pops concert in December. The Concert Choir will collaborate with the Community Chorus, the IU Southeast Orchestra, and the Concert Band. Due to reserved seating, the ticket prices are $15 for advance seating, $7 for students and $18 at the door.
"We [The Concert Choir] will be singing at Harvest Homecoming in New Albany, and we will also be part of a concert with contemporary Christian singer Sandi Patti in December," McCrorey said.