Adventure Awaits
Where you can visit on IU Southeast's newly-implemented fall break
Looking for something to do over fall break? There are plenty of places within a reasonable driving distance to travel to. Taking trips are one of the best ways to relax and explore new places. So, jump in the car and head to any of these midwestern paradises for a little getaway.
Indiana Dunes National Lakeshore
4-hour drive from campus
First on our list is the Indiana Dunes. You can visit the state park or the national lakeshore. If you choose the state park, there are 116.5 miles of trails for every hiker, regardless of experience. If you go with the national lakeshore,you can sit back, relax and enjoy the beautiful Lake Michigan.
Gatlinburg, Great Smoky Mountains National Park
5-hour drive from campus
There is a seemingly endless amount of activities to do in Gatlinburg. The Smoky Mountains have many hiking trails that are breathtaking, a ski lift that provide a scenic view of mountain vistas and a wildlife park.
Haylee Mcevoy, strategic communications senior, said, "Anakeesta is super fun, you ride a ski lift to the top of a mountain and once you're there they have rope courses, zip lining, food and shops."
If you're looking to be outdoors on your trip this is a good spot. If you're not an outdoorsy person, there are shopping outlets, art galleries, specialty shops and Ripley's Aquarium in Gatlinburg. If you are of age, there are trademark wineries and distilleries to check out and taste test. The Gatlinburg moonshine outlet is a local favorite.
Red River Gorge
3-hour drive from campus.

This vacation spot is a hidden treasure. Here you can climb, camp, zipline and hike. This spot is one you don't want to pass up in the fall season when the leaves change. If you're feeling like exploring the fresh outdoors and experiencing the leaves changing, they offer mountain horse trail rides and, if the weather is right, you can even kayak with Red River Adventure. Also, if you're a pizza lover, they have a famous pizzeria called Miguels.
Nashville, Tennessee
3-hour drive from campus
This is a city known for their music and atmosphere. If you're a big concert goer, you might have visited this fine city a few times. Nicknamed "The Music City," there are always concerts going on in the city. If you're a big country music fan, you can visit the Country Music Hall of Fame and Museum, or the Grand Ole Opry.
Taylour Corbett a senior studying psychology said "I've been to Nashville more times than I can count, I'm quite the concert goer there and it's where I want to move after I graduate."
If you're looking to explore the city, there are endless shops, bars and restaurants. Everywhere you go, you're bound to end up with food, drinks and music. If you want a little fresh air, visit Centennial Park, where you can see the Parthenon replica surrounded by green space.
Cincinnati, Ohio
1.5-hour drive from campus
Stop by this thriving city of Ohio for your fall break. There you can visit the Cincinnati Zoo and Botanical Gardens. If you're more of a thrill seeker, you can visit the famous Coney Island Amusement Park and have your own adventure. Looking for something a little more relaxing, visit the Cincinnati Art Museum, with a collection of 67,000-plus pieces.
Chicago, Illinois
4.5-hour drive from campus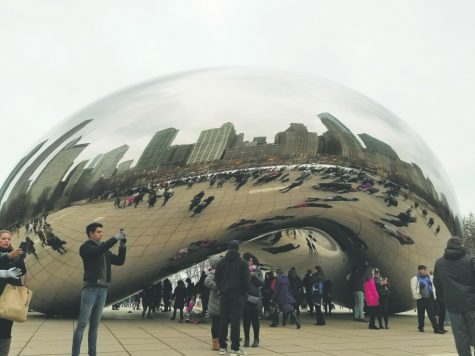 Otherwise known as the "Windy City," this beautiful city on Lake Michigan offers endless adventure, starting with the Willis Tower, which takes you up 110 stories to the Skydeck. The Skydeck overlooks the expansive views of Chicago. If you're not one much for heights, then you can check out the Navy Pier. There you can find carnival rides, restaurants, shops and even firework shows. If you're looking for some fresh air, you can head towards Grant Park, with a 319-acre centerpiece of downtown. Sports fans are already on top of visiting the famous Wrigley Field on their getaway to Chicago. Enjoy a baseball game at the 2nd oldest stadium in the majors.
Cumberland Falls State Park
3-hour drive from campus
This beautiful state park offers outdoor activities for the cool and crisp fall weather. At Cumberland Falls, you can go gem mining, rafting, horseback riding, fishing, hiking, and if you're a true outdoorsman, you can camp there for the week and get the full experience of southern Kentucky. They offer all different lengths of trails and difficulties for all hikers.