$300,000 grant for sexual violence prevention awarded to IUS
How the money will be used and current programs already in place
IU Southeast has been awarded a federal grant of $300,000 for sexual violence awareness and prevention. It was the only university in Indiana to receive the grant this year.
The Department of Justice's Office on Violence Against Women (OVW) chose dozens of college campuses across the nation to receive grants, totaling $18 million. IU Southeast was announced as a winner in early September.
The grant money will be awarded over three years, according to Chuck Carney, director of media relations for IU. The first disbursement of the funds is expected in October.
The funds will be used for the Reduce Sexual Violence and Stalking Project Initiative, which includes a new bystander intervention course and training for students, teachers, university personnel and others. The one-credit-hour bystander course is already being offered to students.
Chancellor Ray Wallace said while IU Southeast is ranked as one of the safest campuses in the United States, the funds will greatly help with on-campus safety.
"We are honored to receive this impressive grant," Wallace said. "We will employ this federal funding to both maintain and improve our on-campus safety record."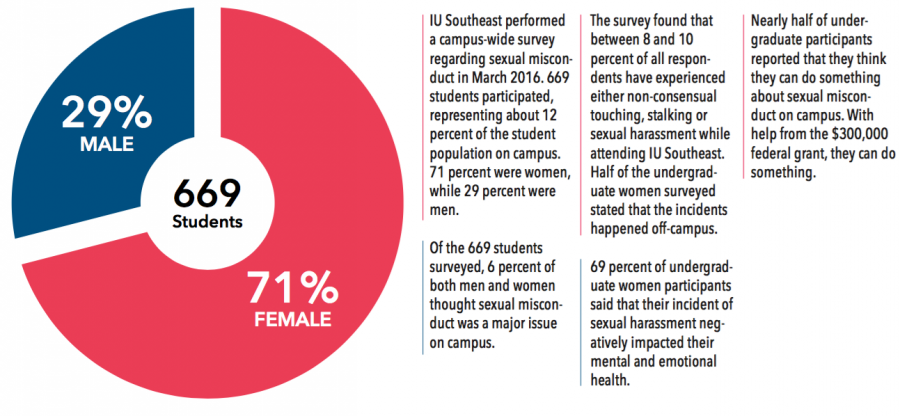 Where the Grant Goes
The $300,000 grant will help fund initiatives aimed at reducing sexual violence on campus. Plans include partnering with the Center for Women and Families to provide support to students and victims, working with the Floyd County Prosecutor's Office and offering students a bystander intervention course.
The Green Dot Bystander Training course will help students know how to recognize and respond to situations of harassment, violence or similar situations.
The grant also helps support the annual human trafficking awareness summit at IU Southeast. Funds from the grant will provide a three-year salary for a coordinator for these initiatives.
Seuth Chaleunphonh, dean of student life, said IU Southeast is committed to being one of the safest campuses in the country and that doing so requires a lot of coordinated effort.
"Our commitment to [safety] requires a strategy that includes bystander intervention, healthy relationships, education and self-efficacy programming," Chaleunphonh said.
This grant will be used for educational programming and to fund a new full-time position called grant project coordinator. They will be in charge of overseeing and implementing an intervention course that's a one credit-hour class taught by Kim Pelle.
Why IU Southeast?
IU Bloomington also applied for the grant, but did not make it to the final round. IU Southeast was the only college in Indiana to receive this award.
"IU Southeast's view is that you can not implement a one-time program and then expect to see a bunch of results, in addition to the bystander prevention class we do try to bring in several programs that are related to sexual assault," Amanda Felton, associate director of campus life, said.
The grant was given for education on signs of sexual assault and educating bystanders on the signs of sexual violence.
Chaleunphonh said that IU Southeast has been taking many steps in order to prevent sexual violence on campus. With the grant money, IU Southeast will continue to invest more in ensuring that the safety of students comes first.
"We have been taking a more proactive approach since around 2015," Chaleunphonh said.
Chaleunphonh said that the goal of this new approach is to address sexual assault before it occurs rather than after. One of the ways this is being done is by first defining what constitutes as sexual assault.
Chaleunphonh said that IU Southeast did a Diversity Climate Survey in 2016 and one of the questions on the survey was, "Can someone who is 'buzzed' give consent to have sex?" The survey found that men were 10 percent more likely than women to think that consent can be given while buzzed.
IU Southeast uses the My Student Body website to educate incoming first-year students on what exactly constitutes as sexual assault. It places emphasis on when consent can and cannot be given. One of the main points the website said is that a person cannot give consent if they are under the influence of any substance.
Sexual Harassment Movements on Campus
"It's On Us" is a social movement that was created in 2014 by Barack Obama and the White House Council for Women and Girls. Abby Valkovci, a senior general studies major and psychology minor, brought this specific social movement to the IU Southeast campus. Valkovci's main focus is to raise awareness for sexual assault on college campuses.
"It's On Us at IUS is more of an awareness and education movement than a club or organization, therefore you do not have to be an official member or dedicate a lot of your time to get involved," Valkovci said.
Valkovci added that she has events planned over the next year to spread the It's On Us message and educate students on bystander prevention and what consent means, so there will be plenty of opportunities to get involved if their message resonates with you.
Culture of Care was another initiative started by students at IU Bloomington that was designed to foster a culture throughout campus that encourages bystander intervention in any kind of concerning situation and encourages students to genuinely care for one another. This culture is beginning to develop not only at IU Southeast but on all IU campuses.
In its effort to prioritize bystander intervention, IUS has partnered with Greek Law, a student organization at the University of Louisville dedicated to providing education on sexual assault.
"Unfortunately, sexual assault is and continues to be a huge problem on college campuses and a lot of those cases have to deal with greek life, so these two students are wanting to bring in awareness and education to all fraternity and sorority chapters in an effort to drastically reduce the amount of sexual assault," Felton said.
Greek Law is a program that's designed to bring sexual assault awareness and education directly to the greek community, made up of two U of L graduate law students, both involved in greek life.
"I was never taught about sexual assault prevention," James Wilkerson, Greek Law member, said.
Wilkerson said it is important that they provide this education because he feels as though sexual assault prevention is not taught as much as it should be. He said that Greek Law's goal is to change the culture.
Wilkerson said that right now, the culture surrounding sexual assault is concerned with what to do after the fact. Greek Law's goal is to provide methods that can be used beforehand to prevent the situation from happening in the first place.
"We want to make greek life into a proactive culture instead of a reactive one. Instead of dealing with the fallout that comes from sexual assault, we want to make greek life an environment where people are safe," Wilkerson said.
The Greek Law: New Member Consent presentation was held on Sunday at 2 p.m. in the Hoosier Room and was broken down into two presentations; "Consent is ___," for men and "The One About Consent: Intervention and Girl Power" for women.
Bystander Intervention
In addition to educating students about sexual assault, IU Southeast has recently started focusing on and investing in bystander intervention as a method of combating sexual assault.
Chaleunphonh said that it is important that students feel comfortable intervening in a potentially dangerous situation that may be happening at a party. He said that sometimes students may feel uncomfortable calling the police because they themselves are underage and have been drinking.
This is the exact reason why the Indiana Lifeline Law was created. The law is designed to protect people who are put in dangerous situations due to alcohol. The law will protect any intoxicated person under 21 from prosecution if they call the police to report a potentially dangerous situation, as long as they stay near the person who may be in danger.
Once a bystander is comfortable enough to take action, Chaleunphonh recommended two things to look out for: is someone using force on the person you are concerned about and is the person you are concerned about incapacitated? If either one of these things are taking place, Chaleunphonh said to take immediate action.
There are ways for a bystander to take action in a dangerous situation and several of these strategies and methods are discussed in further detail in the new bystander prevention course that IU Southeast introduced this fall.
The new course, taught by Pelle, is one credit-hour and meets once a week. The course specifically aims to discuss safe ways in which bystanders can intervene in potentially dangerous situations.
"The main objective of my course is to teach students how to intervene when they see a harmful situation amongst their peers," Pelle said.
She emphasized that harmful situations aren't limited to sexual assault and can include other things such as bullying and harassment.
Pelle stressed that the most important thing for a bystander to consider when intervening is safety. She mentioned that it is important to know what your skills are and not to offer hurtful help.
"Before you step up, make sure you are not going to make the situation worse, and be careful. My advice is to take my class and you will know what do, what's helpful, and what could be potentially hurtful," Pelle said.
Claudia Scharrer, criminal justice senior, is currently taking the course and she has learned that it is important to step into potential harassment situations in an appropriate way and with being on such a small campus it is important for students to look out for each other.
"Safety is the number one priority." Scharrer said, "There is always something you can do."
About the Contributors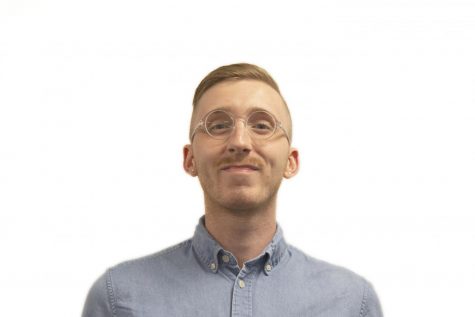 Bryce Shreve, Editor-in-Chief
Bryce is passionate about storytelling and objective truth. He's seen the entirety of The Office more times than he is comfortable admitting.