A look at the correlation between enrollment and unemployment
IUS isn't immune to the national trend of college enrollment decreasing since the recession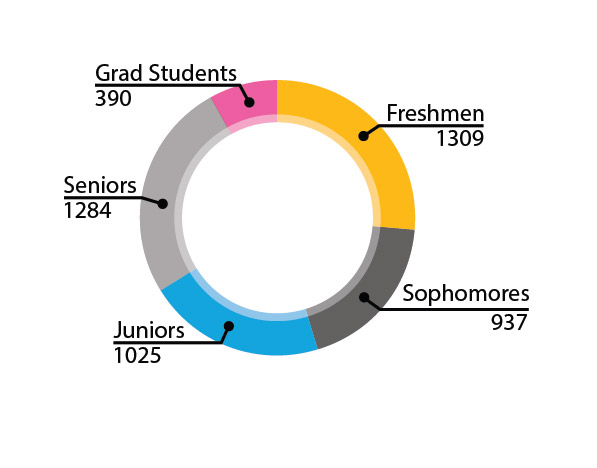 In 2014, Izaak Prats graduated from high school and enrolled at the University of Louisville to study mathematics and actuarial science. However, he quickly realized that his college education wasn't offering him the kind of life experiences he thought he needed.
After he taught himself the coding skills he needed to pursue his goals, he left the university and obtained a job at Interapt, a technology company that aims to "transform clients and empower humans through technology," according to the company's mission statement.
Prats said he wouldn't give his job up for anything and has no plans to re-enroll for the purpose of earning a degree.
Across the nation, young adults are choosing to join the workforce instead getting a college degree. Jay McTyier is the registrar at IU Southeast and works with other administrative office directors to evaluate enrollment techniques in times like this.
"Together, we monitor what's happening with enrollment and try to figure out what's good, what's bad, what are we doing that's working, that's increasing enrollment, what are we doing that's maybe retarding enrollment in some way, McTyier said. "That's why we have them all together because then each piece, each director has a little bit of understanding about what's happening and what's not happening."
How unemployment and enrollment correlate
According to the US Department of Labor, America's unemployment rate declined to 3.7 percent September 2018, nearly a 47-year low for the country. Additionally,  the national enrollment rate decreased by 7 percent between 2010 and 2016 (from 18.1 million to 16.9 million students), according to the National Center for Education statistics.
"It is a known fact that the unemployment rate and college enrollments are at a direct relation," said Joseph Wert, professor of political science at IU Southeast.  "Unemployment goes up, enrollment goes up. 
IU Southeast and colleges across the nation are not only competing with each other for students but with employment opportunities. This correlation is affecting the campus in many ways, most notably financially and enrollment-wise. In terms of total enrollment, IU Southeast is down this year. The number of how many students this campus had decreased 1.8 percent from the year before.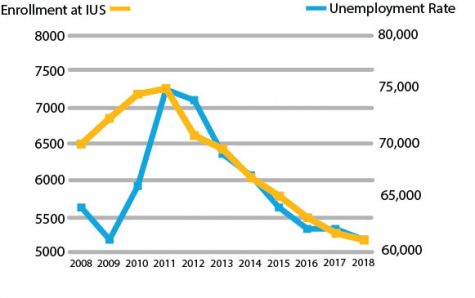 "Sometimes we feel we're not competing with Spaulding or UofL or IVY Tech for students, we're competing with Amazon. We're competing with UPS because they're out there recruiting folks in your age range to say 'Hey, come work for UPS, come work for Amazon," McTyier said.
This trend has affected IU Southeast and other colleges nationally since the recession in 2008. According to a report from the U.S. Census Bureau, "Total postsecondary enrollment increased from 17.2 million students in 2006 to 20.4 million students in 2011, and subsequently decreased to 19.1 million students in 2015."
When universities enrollment declines, they get less money from the states because they get a certain amount per student. Private universities have to cover all costs through tuition. Public universities cover costs through tuition and state appropriations. State appropriations are given to us according to number of students enrolled.
Financial effects from decreased enrollment
Dana Wavle, vice chancellor for administrative affairs, said, "When the job market is hot, some students will put their studies on hold, causing a decline in enrollment."
McTyier said the total number of students enrolled is considered when creating the budget, as well as the amount of credit hours students are taking. According to the Fall 2018 IU census, student enrollment has decreased by 1.8 percent and total credit hours enrolled have decreased by 1.1 percent since last year.
Amanda Stonecipher, IUS vice chancellor for enrollment management and student affairs, said, anytime a campus faces a significant enrollment decline they have to make tough decisions, especially if it impacts their budget. At IU Southeast when tough decisions have to be made, it's done slowly, strategically and with input from all stakeholders.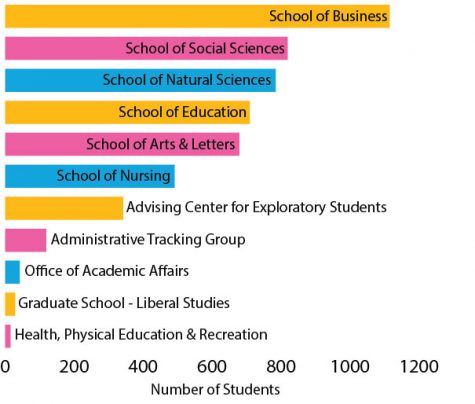 Wert said when any institution or business's revenue is declining, they have to decrease their costs. Colleges have "rainy day funds" or reserves they can fall back on temporarily until they have to start cutting costs.
"The best thing a campus can do to prepare for such a drop is to build up sufficient reserves for the proverbial '"rainy day,'" Wavle said. "In our case, we had built up reserves but the extent of the seven-year decline ended up being greater than our level of reserves."
This could be accomplished by failing to fill faculty positions. Some universities have let tenured professors go or shut down programs. We build revenue up in good times and run it down in bad times, Wert said.
"Even if enrollment declines, we want service to students to still be at the same high level that they've come to know and appreciate," Stonecipher said.
Impact on Students
Regardless of the trend between enrollment and unemployment and in an environment where potential students can get a job immediately and still have a modest income, Stonecipher said the role of the campus is to articulate the value of a degree.
Students stand to benefit from "not just in the immediate gratification of that degree, but the long-term gains. Those gains are not just monetary, they are social, they are giving back to communities, they volunteer more, they have better physical health because they typically have access to a healthcare provider," said Stonecipher. "There are all these intangible things too that come with a college degree."
People with higher levels of education and higher income have lower rates of many chronic diseases compared to those with less education and lower income levels, according to Health, United States, 2011 – the government's annual comprehensive report on Americans' health.
Wert said, "Long term effects happen with individual students. With a college degree, you make a lot more money throughout your lifetime, hundreds of thousands in difference. Job security is greater as well as money is greater."
McTyier said IU Southeast has introduced new graduate programs as well as graduate certificates to accommodate the growing graduate student market.
As well as a 17 percent increase in graduate student enrollment, full-time undergraduate students have increased 3 percent this year, according to Stonecipher.
"An exciting thing is we've welcomed 1,309 new undergraduate students to this fall that are new freshmen, new first-year students combined with transfer students."
Stonecipher said this statistic bodes well for future semesters since these new students will be likely to continue their education with IU Southeast next semester and continue to build IUS enrollment.