Stout defense leads way in men's win over Miami-Middletown
The IUS men's basketball team dominated Miami-Middletown the second half of the annual Homecoming doubleheader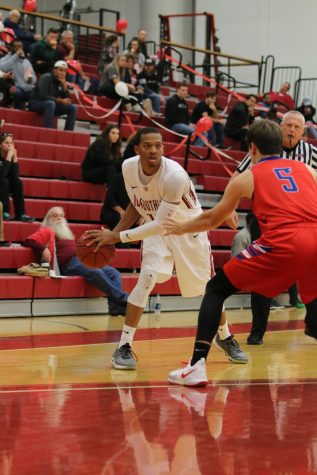 The men's side was back in action in the second game of Saturday's, Nov. 3, Homecoming doubleheader, hosting the Miami-Middletown ThunderHawks just four days after their impressive 82-78 road win over No. 16 University of the Cumberlands.
Though his squad lost some of its size before the season even began, Wiley Brown, head men's basketball coach, and company were seeking to stretch their unbeaten home streak to 15 games dating back to the 2017-18 season opener.
"I felt good out there to play in front of my home crowd for the first time in a long time," senior guard Jamie Johnson said.
Starting for IUS alongside Johnson were Nick Tinsley, Kerry Smith, David Burton and Lukas Burkman, the same five starters from the team's first game earlier in the week.
The Grenadiers set the tone early in their home opener, starting the game forcing two-straight ThunderHawk turnovers leading to open layups for Smith and Johnson.
After forward Lukas Burkman recorded his first basket of the day and the Grenadiers opened with a 6-0 run, Miami-Middletown was forced to call an immediate timeout.
"We try to get the intensity going early," Smith said on the quick start. "Defense first, and then buckets come easily."
Continuing to add to their defensive effort, Brown's squad would force three turnovers in the first three minutes of the game, leading to a 13-2 run.
"That's why we always start out in our press," Brown said. "We don't sit back because I want to get the adrenaline going, slide everywhere and get active. That's how you get involved in games."
Thanks to offensive production from not only their starters but also guys coming off the bench, the Grenadiers stretched their lead to 40-15 with just over seven minutes remaining in the first half by the time Johnson returned to the court.
IUS would enter the break with a commanding 61-27 lead, forcing 23 ThunderHawk turnovers while Smith and Johnson combined for 25 first half points.
Though his team's defensive numbers were impressive through the first 20 minutes of play, Brown said his guys have room to grow.
"We're playing a match-up zone, so guys are still learning how to do it," Brown said. "We'll get there. We just need more games."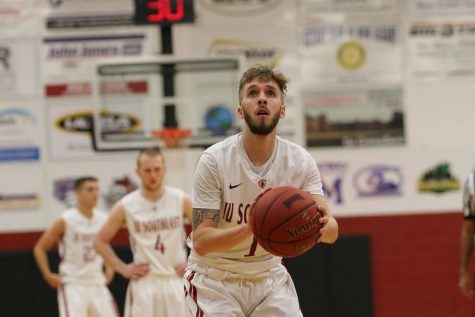 The Grenadiers began the second half in similar fashion to the first, forcing several turnovers and opening on a 15-4 run to stretch the lead to 45.
With nearly 15 minutes remaining in the game and an 81-33 lead, Johnson and other starters were subbed out. Although, it didn't stop the Grenadiers from continuing to showcase their offensive threats.
Freshman guard Brian Alvey went 5-7 from three point range while sophomore guard Jared Osborne added another 14  points for the Grenadiers.
"It's huge, because it shows me that they're not scared of a challenge," Smith said on his teammates. "Even though we were already ahead, they still came in and played their hardest so I just feel like it's good knowing we can come in the game and people pick up where we left off."
Both teams traded baskets for several minutes before the game wound down and both sides pulled back the reins.
Behind their 32 total forced turnovers, the Grenadiers went on to win Saturday's Homecoming game by a score of 113-64 as they improve to an impressive 29-2 home record since the 2016-17 campaign.
"Even though it was a good win for us, against a better team those games would've been close because we gave up a lot of open shots," Brown said.
The Grenadiers will have a chance to continue improving their defensive side of play this week as the men head to the IU East Classic. Their first matchup comes against the College of the Ozarks. Tipoff is set for 7 p.m. at IU East on Friday, Nov. 9.
Score by Half:
Miami-Middletown 27 37 – 64
IU Southeast 61 53 – 114
Miami-Middletown (0-2): Braxton Lawwill 13, Rodney Jones 13, Zach Haeseker 9, Tiyon Mincey 8, Clayton Erbaugh 7, Ryan Haeseker 7, Kamren Clay 5, Thomas Arrington 2
IU Southeast (2-0): Jamie Johnson 23, Kerry Smith 17, Brian Alvey 16, Jared Osborne 14, Lukas Burkman 13, Brandon Johnson 10, Stephen Cook 7, David Burton 5, Chayton Howard 4, Nick Tinsley 3, Zeke Smith 2
3-Point Goals:
Miami-Middletown: 10 (Rodney Jones 3, Zach Haeseker 3, Braxton Lawwill 2, Ryan Haeseker, Kamren Clay)
IU Southeast: 19 (Brian Alvey 5, Jared Osborne 4, Jamie Johnson 3, Kerry Smith 2, Brandon Johnson 2, David Burton, Lukas Burkman, Stephen Cook)