Partial government shutdown brings financial aid uncertainty
The longest shutdown in our nation's history has far-reaching impacts
Since midnight on December 22, 2018, the United States federal government has been partially shut down. President Donald Trump won bigly by drawing it out to be the longest shutdown in our nation's history.
Around 800,000 federal employees have been furloughed or working without pay, according to the Wall Street Journal. The Washington Post reported almost 10,000 companies with contracts with the federal government are at risk of not being paid, and the effects will only worsen as the shutdown drags on.
CNN reported 42,000 active duty US Coast Guard members received no paycheck last week. Millions of low-income Americans will be impacted if federally-funded programs like Supplemental Nutrition Assistance Program (SNAP) and Women, Infants and Children (WIC) run out of funding.
While the US Department of Agriculture implemented a stopgap measure to keep SNAP funded for another month, experts are unsure of its fate should the shutdown last through March, according to reporting by CNBC.
The government shutdown impacts millions of Americans: federal employees, individuals and families relying on publicly-funded assistance programs, and even college students.
The Shutdown and Financial Aid
The partial government shutdown has left IU Southeast students and college students across the nation wondering how the shutdown will affect their student loans. Jessica Edwards, a general studies junior, said she's anxious about what the shutdown means for students and anyone affected.
"So many students rely on loans and grants and the whole situation is really uncertain," Edwards said. "It's just scary."
The United States Department of Education remains open since the shutdown is partial and only applies to certain departments of the federal government.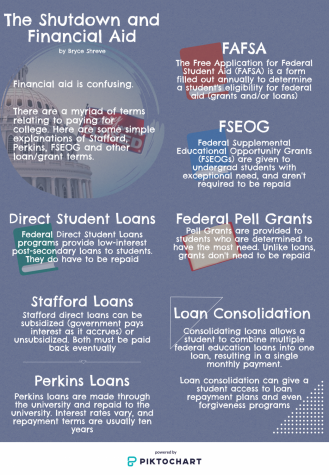 According to the Department of Education, loan programs like the Free Application for Federal Student Aid (FAFSA), Federal Pell Grants, Federal Supplemental Educational Opportunity Grants (FSEOGs), and Direct Student Loans are unaffected by the shutdown and will be processed.
Students will be able to make loan payments and connect with customer service representatives during the shutdown should any issues or questions arise.
However, students pursuing a consolidation loan are in a different situation. Applications for loans such as the Stafford, Perkins, and subsidized or unsubsidized loans are on hold. Pending consolidation loan applications will not be completed, and new applications will also not be accepted.
Students that have already had their consolidation loan accepted are still able to make payments.
However, if for some reason a student is unable to pay on their loan, there are some resources that can provide assistance, such as the Higher Education Solutions (HES.) HES provides students with understanding and repaying student loans, as well as helping students who are behind on payments.
Solutions at IUS
According to IU Southeast financial aid counselor Brandon Reams, the most significant issue students have had with financial aid is the inability to receive their tax return transcripts. Luckily, there is another way they can be retrieved.
"The vast majority of students have the option of using the Data Retrieval Tool within their FAFSA which replaces the need for the Tax Return Transcript in most cases." Reams said.
To make sure your student loans are taken care of, Reams has some suggestions on how to keep up.
"Students are often notified early enough that they should have plenty of time getting the required documentation so long as they submit their FAFSA on time," Reams said. "It is also important to monitor their To Do List in one.iu.edu and their IU email address for communication from our office."
Reams also suggests students get any financial aid issues situated as soon as possible.
"We seek to help clear any confusion a student may have regarding processing their financial aid and encourage student to reach out early before they'll be put in a time crunch." Reams said.
The financial aid office encourages students who are having trouble with this issue to come by their office at UC South 105, either by appointment or walk-ins. Some questions may also be assisted by phone or email.