Grenadiers bounce back against Midway
IUS baseball sweeps Eagles despite snow and cold
A cold snowy day at Koetter Sports Complex made for an interesting game last Thursday when the IU Southeast baseball hosted River States Conference rival Midway University in the first game of a two day, three-game series. The nine-inning affair was originally scheduled to begin at 2:30 p.m., but snow showers caused tarps to be put on the infield, resulting in a weather delay.
"It was a little weird, I never would have guessed that I would have to warm up twice," Grenadier starter Jack Wohlert said, "I was ready to come into the game then had to wait an hour, so it kind of threw me off a little bit."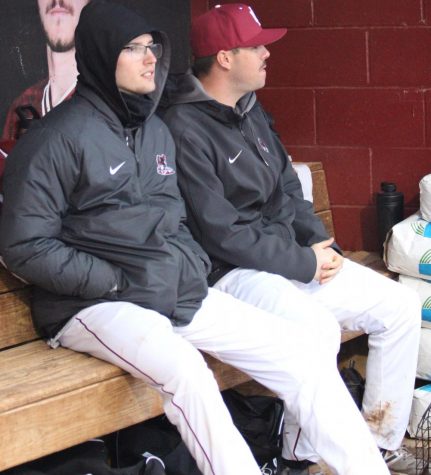 Play On
After an hour and a half, the tarps would come off and the game would commence just after 4 p.m. Despite giving up a run in the top of the second, Wohlert's pitches were finding the strike zone early on. The same could not be said for Eagles southpaw Anibal Salado. Through 1.1 innings, Salado walked five Grenadiers before being replaced by right-hander Mark Taylor.
Taylor fared no better, allowing three more walks in the inning, two of which came with the bases loaded, giving the Grenadiers a 3-1 lead without the benefit of a hit. In the third, that would change courtesy of a two-out double by Jordan Branz, who would then score on a single by Santrell Farmer to increase the Grenadier advantage to 4-1.
Wohlert would not allow another Eagle run to score until the eighth inning when Graeham Luttor grounded out to third, allowing Layne Peavler to score, reducing the Grenadier lead to 4-2. That would be all for Wohlert that night, being replaced by closer Kyle Hawkins, who would get the final out of the eighth, as well as a 1-2-3 ninth to convert the four-out save, his fourth of the year.
After the game, head coach Ben Reel credited Hawkins' save from his experience a week before against Rio Grande. In game one of that series, Hawkins allowed three runs in the ninth, leading to a 5-4 RedStorm win.
"What was crazy was that it was the same scenario, starting the ninth with Hawkins up 4-2 with 6-7-8 [hitters] up," Reel said, "He proved to be a leader and a senior, he came out and he didn't allow the past to affect the present."
Wohlert gets the win, pitching 7.2 innings, allowing two earned runs, striking out four while only walking one. Salado takes the loss, as he and Taylor allowed a combined nine walks in the game.
The Next Day
A doubleheader was originally scheduled for the following day starting at 1 p.m., but snow early Friday morning caused the contest to be moved to St. Xavier High School in Louisville, starting at 6:45 p.m.
Game one of the doubleheader saw the two teams go back and forth both on the mound and at the plate. The starting pitchers, a pair of lefties in Grenadier freshman Chas Adams and Eagles junior Gus Garrison each allowed three runs in as many innings before the game turned into a pitcher's duel in the middle innings.
In the seventh, Garrison was relieved by junior right-hander Andy Melgoza. The Grenadiers would take advantage of the pitching change, scoring a pair of runs in both the seventh and eighth to take a 7-3 lead.
From then on, Adams would pitch into the ninth but would allow a two-out walk to Tyrin Orr, ending his outing. Reliever Brendan Bube would allow a single to Peavler but would strike out Tyson Orr to give the Grenadiers the series win.
"Chas is just a bulldog," Reel said of Adams, "For a freshman, he truly is mature beyond his years."
Adams, a freshman transfer from Western Kentucky University, got the win after going 8.2 innings. He allowed only three runs while striking out seven. Melgoza takes the loss.
Nightcap 
In the nightcap, the Grenadiers struck early against Eagles lefty Brandon Aoki. After leadoff man Clay Woeste reached on an error, Daniel "Danny" Brescia brought him home with an RBI triple. Derek Wagner would bring Brescia in with a sacrifice fly to make it 2-0 Grenadiers in the first.
That would be the entirety of the offense for either side, as Andrew Yates would allow only three hits and walk one as he fired his second consecutive complete game, a seven-inning shutout. This performance would earn him RSC Pitcher of the Week honors.
"It felt great to end the sweep with a shutout and make a statement," Yates said, "I predominantly threw my four-seam fastball and was able to locate it very well, which was all I needed to be dominant on the mound in game three."
With the sweep, the Grenadiers move to 4-2 in RSC play. After playing Campbellsville on Tuesday, they will travel to face West Virginia Tech in a three-game series, which starts with a doubleheader on Friday at 11 a.m., concluding with a third game on Saturday at noon.
——————————————————————————————————————————————–
Thursday 3/7 (9 Innings):
Midway 0 1 0 0 0 0 0 1 0   2 7 0
IU Southeast 0 3 1 0 0 0 0 0 x   4 6 0
Win: Wohlert (IUS), Loss: Salado (Midway), Save: Hawkins (IUS)
2B: (IUS): Branz (Midway): Lindsey, Luttor
Friday 3/8 Game 1 (9 Innings):
Midway 1 0 2 0 0 0 0 0 0   3 7 1
IU Southeast 0 1 2 0 0 0 2 2 x   7 10 3
Win: Adams (IUS), Loss: Melgoza (Midway)
2B: Brescia (IUS)
3B: Ullom, Mitchell (IUS)
Friday 3/8 Game 2 (7 Innings)
Midway: 0 0 0 0 0 0 0   0 3 1
IU Southeast 2 0 0 0 0 0 x   2 3 1
Win: Yates (IUS), Loss: Aoki (Midway)
2B: Woeste (IUS)
3B: Brescia (IUS)