What's up with the hole in front of Crestview?
For nearly two months, IUS students had to walk-or wheel- around a small construction zone near the doors of Crestview Hall.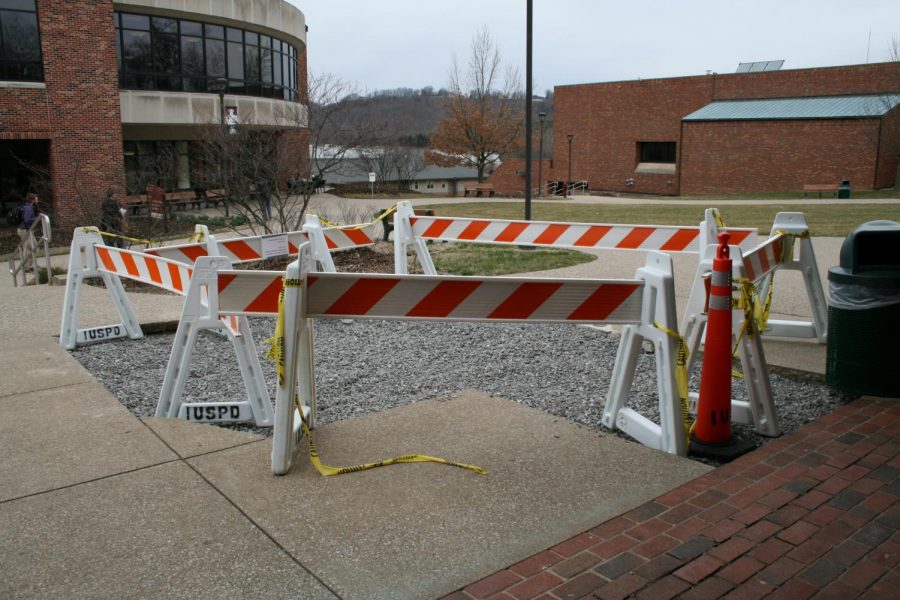 If an IUS student has a class in Crestview Hall, he or she might have noticed some caution tape and temporary barricading around a hole in the sidewalk. The hole, which is just a few feet away from the entrance to Crestview, was caused by a water line break on Jan. 21 of this semester.
Since the water line break occurred on Martin Luther King Jr. Day, not many students were on campus.
Facility Operations fixed the water line break that day, but they could not pour the concrete. Robert Poff, executive director of facility operations, said, "Because of weather conditions and scheduling conflicts, we had to cancel pouring the concrete sidewalks on several occasions."
Poff said that pouring the concrete is the last component of fixing the entire sidewalk from the water line break.
Concern for Safety
Since the hole has not been able to be repaired for several weeks, there is a concern for the students' safety.
There is caution tape and temporary barricading, but neither of those would hold a person if a he or she were to trip or fall. Also, at night, those warnings are difficult to see. If a student is using a wheelchair, there is limited space to get in the door, or else they'd be forced to wheel to the other side of Crestview. 
"The barricades were intended to be a short term warning signal to keep people from entering the affected area," Poff said. Since the pouring of the concrete kept getting delayed, the hole has been there longer than intended.
For some people, the hole was a question of safety, since the cautionary signals were not very secure.
Poff said, "We are concerned about student safety every day."
The pouring of the concrete is scheduled to take place on Friday, March 15, which will finalize the repair.