A tasty take on outer space
Funky '50s diner brings retro space vibes to New Albany
Sweet and savory aromas rise off Summer Sieg's grill as Darth Vader watches closely and Yoda keeps an eye on the customers. Seig is the owner and founder of Lady Tron's, a one-of-a-kind fifties-style diner with a unique take on outer space.
Upon walking into Lady Tron's, customers are filled with a simultaneous rush of both hunger and nostalgia from the appetizing smells and retro ambiance.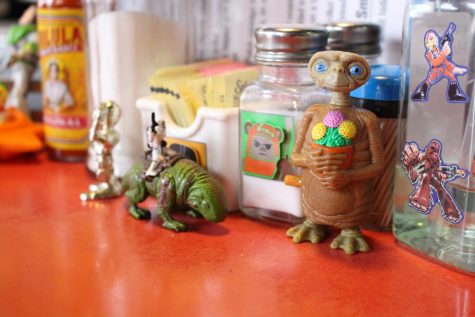 It Came from Outer Space
Opening back in January 2017, Lady Tron's offers customers an eccentric dining experience with its interior covered ceiling to floor in an assortment of memorabilia from dozens of franchises related to outer space. Sieg said she has been collecting everything related to outer space alongside her mother for years and has acquired pieces of her collection everywhere from flea markets to eBay.
Sieg said she has a lot of outer space decor that hasn't made it into the restaurant.She is currently in the process of installing more shelves in the restaurant in order to display more of her collection for all to see.
Smaller Menu
The menu at Lady Tron's is as as small and unique as the diner itself. Sieg filled her menu with a small variety of distinct menu items which all offer something different. The most showcased dishes on Lady Tron's menu are the sandwiches, both reasonably priced and massive.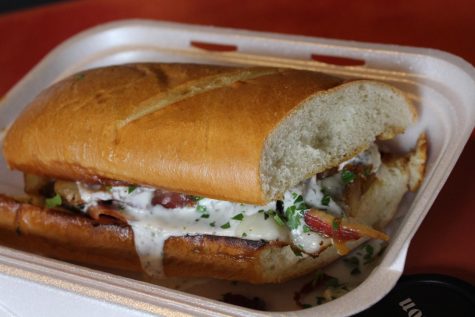 "I had to keep the menu small so there are only five main sandwiches, but there's a beef, a pork, a chicken, a fish and a veggie so there's something for everyone," Sieg said.
Sieg also offers a specials menu that is changed once a week. She said the specials menu normally consists of three soups, two sandwiches and one or two sides.
Lady Tron's food is all fresh and cooked by Sieg herself. The diner features unique dishes like a blueberry molasses chicken sandwich with sesame slaw and a grilled cheese with a sweet twist.
As far as a favorite menu item goes, Sieg said they're all her favorites.
"Everything on the menu is good, otherwise I wouldn't have put it on there," Sieg said.
This week the special menu features a local favorite known as the Hot Brown. Sieg has recreated the local favorite as turkey, roasted tomato, Mornay, bacon and cheddar piled atop a toasted bun.
About Summer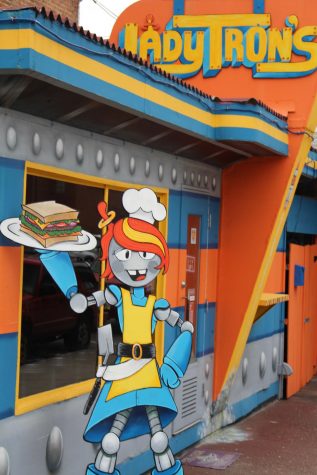 Sieg purchased the location in September of 2016. The restaurant's name is inspired by a nickname she was given years ago.
"I always thought that when I opened a restaurant it would have Summer in the name but then I thought that'd be kind of boring," she said. "But I had the Lady Tron nickname and I thought a sci-fi theme would be super cool."
Sieg started her career at Lynn's Paradise Cafe in Louisville around 25 years ago during her culinary training. Lynn's Paradise Cafe was a popular restaurant in the highlands of Louisville and was featured on multiple television shows like "The Oprah Winfrey Show" and "Man vs Food Nation."
"I always knew I wanted a weird quirky kind of place but sci-fi was never in my head. Everything in here is here because of that nickname," Sieg said.
Before Lady Tron's
Lady Tron's building has not always followed the outer space style. The diner's original design was white with red lining — it kept those colors until Sieg had the building repainted neon blue and orange with metallic grey.
The diner was built in 1957 by the Valentine Manufacturing Company, based in Wichita, Kansas. Originally the diner was open 24 hours a day seven days a week and went by the name The Little Chef. The Little Chef closed at the end of 2011 and the building went through a couple more owners before Sieg bought the property in 2016.
Even though The Little Chef has been closed for seven years, some of Sieg's customers had no idea.
"Sometimes I'll have someone come in asking for a burger and fries because they still think the place is Little Chef. Once they look at the menu they either decide the food is a little exotic for their taste or they order something and they love it," said Sieg.
Business Comradery
Across the street from Lady Tron's sits a small antique store called The Odd Shop. It opened in October of last year and features several '50s-style antiques similar to Lady Tron's, but many of its antiques are a lot older than the 1950. One example is a seismograph from the mid-to-late 1800s, still in good condition.
The Odd Shop is owned and operated by mother-daughter team Amy Jo and Christian Johnson who frequent Lady Tron's up to three times a week.
"Everything on the menu is so good and my daughter and I love all of it." said Amy Jo.
Lady Tron's adds a retro blast to the booming small business market of New Albany.