Winter is coming…this month
The final season of Game of Thrones is quickly approaching.
On April 14, the eighth and final — and much-anticipated — season of Game of Thrones (GOT) will air its first episode. GOT is a TV show on HBO, based on George R. R. Martin's book series, "A Song of Ice and Fire." The series first premiered in April 2011.  
Since its premiere, the series received 47 Primetime Emmy Awards, including Outstanding Drama Series in 2015, 2016 and 2018, which is more than any other primetime scripted show. Other awards include three Hugo Awards for Best Dramatic Presentation (2012-2014), a 2011 Peabody Award, and five nominations for the Golden Globe Award for Best Television Series Drama (2012, 2015-2018).
According to SBS Broadcasting group director Helen Kellie, GOT has one of the highest fan-engagement rates. Although the fan engagement is significant, according to IGN, GOT is ranked eleventh among the most watched TV series of all time (not by viewing numbers).
Statistics on the Throne
Although the show premiered roughly eight years ago, GOT has not always been what we know it as today. In season one, GOT had an average of 2.5 million viewers per episode in the United States. Every year since then, the numbers have increased significantly.
By 2014, GOT had became the networks biggest hit, even surpassing The Sopranos.
According to the New York Times, viewership for GOT is still growing. The finale of season seven was up 36 percent in viewers versus the previous year's finale, which had 8.9 million viewers.
During the sixth season in 2016, the show set a record breaking 25.7 million viewers per episode, including live and delayed platforms (such as HBO Go or HBO Now). In 2017, during the seventh season, the finale had 12.1 million viewers. HBO later said the views on their app added an estimated 16.5 million.
In August of 2017, a poll was conducted by Statista, a website designated to market and consumer data, showing that between season six and seven, there was a 210 percent increase of viewers in Germany, a 61 percent increase in Italy and a 50 percent increase in Singapore.
The success behind this show is shown in the numbers. The budget for this series is the fourth highest among television (The Crown ranking at number one).
The sixth season alone had a budget of $100 million for the ten episodes aired. According to Entertainment Weekly, the estimated episode that took the most expense came from "Battle of the Bastards," including 600 crew members, 500 extras, 160 tons of gravel, 70 horses, 25 stuntmen, 4 camera crews, as well as taking a total of 25 days to shoot, whereas most TV dramas take approximately 8 to 12 days to film a whole episode.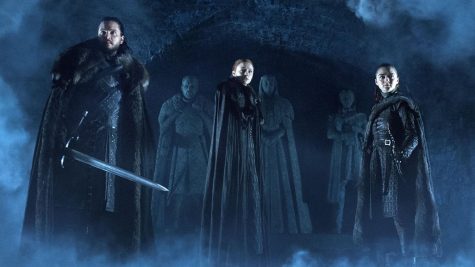 What to Predict (Spoiler Alert!)
Esquire, an entertainment website, posted an article featuring fan theories for the final season.
One theory is that Ned Stark is actually alive and will return. Esquire writes, "[… ] people die all the time on this show and come back. Jon Snow, The Hound, Beric Dondarrion, The Mountain, and, in the books, Catelyn Stark—they all are resurrected in some form or another. Yes, everyone watched as Ned's head was very clearly severed from his body and placed on a spike on the ramparts of King's Landing. But, what if that wasn't actually Ned Stark who was beheaded in front of his entire family, the fancy royalty, and a bunch of angry, dirty commoners?"
The theory is backed up by how Ned Stark and Jaqen H'ghar (the faceless man) were both being held prisoner in the Red Keep at the same time. Arya, in season one, meets Jaqen when he is being transported.
The theory says, "it is logical to believe he [Jaqen] was captured on purpose. That purpose was for Varys to pay Jaqen to replace Ned Stark at his execution with an imposter."
Another popular theory is that Jamie will kill Cersei, his lover/sister. At the end of season seven, Cersei tells Jamie she plans to betray Jon and Daenerys. This was the last straw for Jamie, so he decided to head North to fight. Now the two are on opposite sides of the war, which means Jamie might be faced to kill his sister.
The End of the Beginning
There is no need to sweat if you are a die-hard GOT fan, as there has already been talk of a spinoff. For the prequel, which is set to release a year after the series ends, casting was suspected in September of 2018. It was confirmed that the spinoff will not include anyone from the original GOT.
GOT will return on April 14, 2019. HBO recently revealed that there are going to be a total of six episodes, two of which will run roughly 60 minutes, and the remaining four 80 minutes.
Winter is here, so brace yourselves.