Proposal sparks SGA public forum
A recommendation bill proposed to redesignate campus' all-gender restrooms draws a full house to Student Government Association meeting
The IU Southeast Student Government Association voted 7-1 Friday, April 12 against student senator Joseph Bortka's "Recommendation on the Present Gender Discourse."
IU Southeast has four all-gender restrooms on campus. One in Knobview, one in University Center and two in Crestview. On April 4, Senator Joseph Bortka proposed a recommendation bill to change the restroom signage back to a male or female only description.
"From the Senate Chairs, my only two main goals are that everyone treats everyone with with civility and to get everything on the agenda to be voted on and done with by the next meeting. Those are the only two things from my authority and position," said sophomore student senate chair and political science major Grant Hill.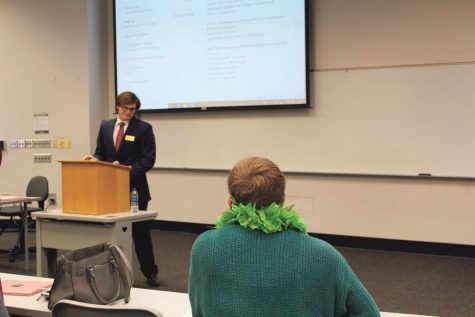 During roll call at the beginning of the meeting Joseph Bortka announced, while wearing an all green outfit, that he prefered to be addressed as Sycamore as he now identified as "tree-gendered." He was asked to be silent or leave the meeting.
"I would have been in a suit if it weren't for this. Being able to identify as whatever you want with no regard for society at large," said Bortka, a senior Biology and Neuroscience major.
The bill was discussed at the Student Government Association meeting on Friday, April 12 in Hillside Hall. The police-staffed meeting began at 4 p.m. with student forums where IUS students and faculty alike expressed their opinions on the bill.
"[When people propose bills like this] it shows there's a lack of fundamental understanding," said sophomore gender studies and sociology minor Rena Andrews.
Throughout the student forums, several students expressed not only their opinions on the bill, but how it personally affected them.
"It has been difficult for me, hard to focus in class because of anxieties, targeted at me because of this bill," Andrews said.
Others argued about the proposal's technical aspects.
"I believe really strongly in the First Amendment. I'm troubled in society in the general ignoring and misuse of scientific information occurring this week," said Meghan Kahn, associate professor of psychology and neuroscience, co-coordinator of the Psychology Program and chair of the IUS Safe Zone Committee.
Other faculty also spoke out against the bill, regarding the language and its effects on students and faculty.
"
This is the first time in four years that I have felt unsafe on this campus. I think [Bortka] has a right to his First Amendment, but I think it is very harmful and I worry about the emotional well-being of the students targeted.
— Jennifer Ortiz, Associate Professor of Criminology and Criminal Justice
Other faculty members also debated the technical aspects of the proposal.
"Gender is far from being binary," said Senior Lecturer in Sociology and Coordinator of Sociology Program Greg Phipps. "I am here in two capacities saying I definitely oppose this bill."
"This is not an appeasement issue, it is giving the students what they need," said SGA Press Secretary Rachel Ronall.
Many attendees took specific issue with the language of the proposal.
"My main issue with the bill is the derogatory language used in it," said sophomore and student Sen. John Pillow. "I'd be fine with a debate on the bathrooms, but my concern is the language in it."
Others mentioned the language and what they thought it meant in reference to the student and faculty body.
"Based on the language of the bill it was intentional, he meant to stir something with this," said senior business major Stephanie Devore. "I feel it is reprehensible."
The IU Southeast Police Department had several officers at the meeting, one of whom spoke up during the forum.
"I want everyone to know the IU Police Department supports all matters of ethnicity, sexual orientation and the LGBTQ community," said IU Police Lieutenant Travis Huntley. "We are more than happy to walk you to your car or walk you to your class. If anybody has any concerns, please come to us. We love the students here. Come to us and we can help you out."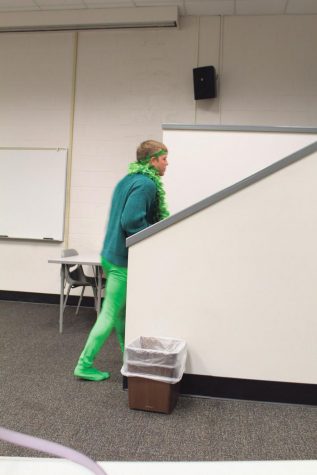 After the student forum Bortka was allotted time to speak. Bortka was warned about disruption on the floor and due to his returning comment was voted out of the meeting by the committee at 4:47pm.
"I do not regret what I did," said Bortka.
Another topic at the meeting was the upcoming SGA elections. Voting will be open to students April 15. Students will receive an email, which can be used to vote until Friday, April 19, when voting closes.
"It matters who the students vote for," Hill said.
Bortka is running for reelection and currently there is only one candidate running against him. Rachel Ronall is running for president on campus with her vice president being Mitchell Henry.
"I do urge everyone to vote in the upcoming elections," said Devore.
After the committee spoke, the proposal was voted on. The committee voted against the proposal 7-1.
"I think I am pleased the bill was voted down 7-1 because it shows the majority supported our LGBT students," said Ortiz.
Many attendees of the meeting expressed how they felt about the meeting and about the stance of the student body and their involvement.
"I feel the student body was incredibly strong, especially with students at this time of the year. This could have been something that broke people, and I am amazed how strong the student body is," said Kahn.
Some of the SGA members also expressed how they felt about the student body's involvement on this issue.
"The amount of students that came out, that alone, it validated what we came here to do at SGA, to represent the students," Hill said. "It's so encouraging."
After the vote took place an applause followed from the attendees of the meeting, shortly after the meeting ended at 5:43pm.
"I think it's really important to understand or to be open to understanding the experience of others," Kahn said. "This is a place to grow."
Borkta's petition, which he began asking students to sign on Monday, April 8, got 81 signatures.
In a Wednesday interview, Borkta said although this proposal is what he is currently focusing on, he joined student government to introduce a bill asking for more equipment for IU Southeast's gym.
"That's what I got into student government to do," he said.
But now, Bortka is working on legislation he thinks will make a difference in the university.
"This is an issue of normal and abnormal," Bortka said in the Wednesday interview. "How much do we conform?"