Judy Shepard visits IU Southeast, speaks about human rights
The Common Experience program's guest speaker shared her story in the Ogle Center on Tuesday, Oct. 8
Judy Shepard spoke about equality, tragedy and inclusivity during her visit to IU Southeast's Ogle Center on Tuesday, Oct. 8. The event was presented by the IU Southeast Common Experience program.
Shepard is the mother of Matthew Shepard, a 21-year-old gay man who was beaten, tortured, tied to a fence and left to die in Laramie, Wyoming on Oct. 12, 1998.
After her son's murder, Shepard co-founded the Matthew Shepard Foundation with her husband Dennis in 1998 and became an advocate and activist for LGBTQ rights. Additionally, Shepard also rallied for the Matthew Shepard and James Byrd Jr. Hate Crimes Prevention Act to be passed.
"This backlash against the gay community and immigrants and people of color is happening worldwide, not just here," Shepard said. "This is a worldwide phenomenon. It's not one I ever thought I would experience again in my lifetime. I am not happy about it."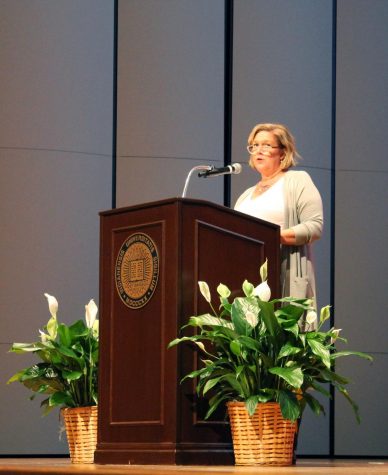 Common Experience and "The Laramie Project"
Kimberly Bonacci, senior lecturer of mathematics and participant in the Common Experience program, discussed the meaning of the Common Experience program and how it related to the event before Shepard stepped onstage.
"The primary purpose of the Common Experience program is to develop a common dialogue between students, faculty and staff, and members of the local community. This year our theme is Tolerance and the Struggle for Human Rights in Communities," Bonacci said. "To go along with our theme, we have chosen the text "The Laramie Project" by Moisés Kaufman."
Bonacci also gave some background on the book "The Laramie Project".
"This book tells the story about how the town of Laramie, Wyoming responded to the beating, torture and death of a young gay man named Matthew Shepard who was a student at the University of Wyoming," she said. "This case became one of the most highly profiled cases highlighting hate crimes against the LGBTQ community."
Shepard Speaks
"
I'm just a mom. This is not my career, this is not my training, this is my story."
— Judy Shepard
Shepard began the evening by speaking about how difficult and dangerous it is around the world for those who are not straight, white, Christian and male.
"Since you're here tonight I am making a big assumption that you want to see the same world I do, which is one where everyone cares about each other," Shepard said. "Let's go back to the world where we can agree to disagree but not really hate each other. Let's do that. Let's at least do that."
Shepard then shared what she wanted the audience to take away from her speech.
"There is no one more powerful in this country or in this world than the citizen," she said. "No one is more powerful than the citizen. You hold the key to everything. Everything."
On the topic of the power of citizens, Shepard stated that voting is a vital step in making sure the world is safer for everyone in the future.
"The most important thing to understand is that the right to vote is not only your privilege, it is your responsibility," Shepard said. "It's in your hands that the future of this country lies."
Shepard then discussed tragedy when sharing her victim impact statement that she gave in 1999 at Russell Henderson's sentencing. Henderson was one of her son's murderers.
"There was a kind of relief that Matt was no longer suffering, but also the realization that our suffering was just beginning," she said in the statement.
Shepard told those who wondered what they can do for Matt and other victims of hate crimes that they need to educate, feel and understand in order to reduce hate.
Moving on to the topic of equality, Shepard spoke about how tolerance and acceptance may not be the best words to use when speaking about the gay community.
"We really don't tolerate people, you tolerate bad hair days. Also, why do I need your acceptance? It's just who I am," she said. "Why is that required or needed or asked for? I would love your respect, but I don't need your acceptance."
Shepard said the gay community deserves to feel like they are able to come out despite the reasons that might be holding them back.
"You cannot live your full authentic life living half your life and living the other half looking over your shoulder."
Audience Q&A
After speaking, Shepard answered questions from the audience. The questions were written on slips of paper and were collected before the program began and they were then given to Bonacci, who asked Shepard the questions on stage.
Only first names or first initials were allowed to be put on the questions for the sake of privacy and the intimacy of the questions.
One question that Shepard answered was about the moment when her grief turned to activism.
She stated that Parents and Friends of Lesbians and Gays (PFLAG) parents convinced her and her family to share their message and use their voices of acceptance for the gay community.
"It was a culmination of moments when Matt was still alive in the hospital," she said. "We decided to do all we could to encourage folks to accept their gay friends and loved ones as they should."
Another question that Shepard answered was about what audience members could do to support the LGBTQ community.
She said the best thing the audience can do is become informed about what is happening to the gay community.
"In sheer numbers, people who are not part of the gay community outnumber the gay community," Shepard said. "We need every ally with us because the power that the ally holds is immeasurable compared to the power of the community."
After Shepard made her closing remarks, she was met with a standing ovation from the audience.
If you are interested in learning more about Matthew Shepard's story, the IU Southeast Theater Department's production of "The Laramie Project" is set to run in the Ogle Center on Dec. 5-8.